This informative article describes the total actual costs of owning a pool – from installation to running the pump on a daily basis. Many, many costs are explained and detailed.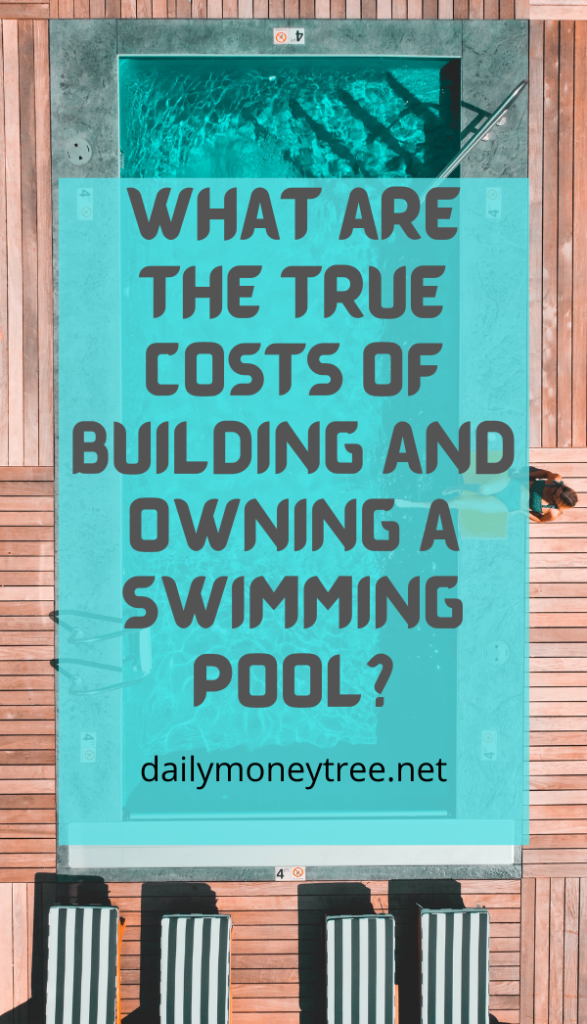 Have you ever wondered how much it would cost to install a beautiful in-ground pool in your backyard? Then once you have the pool, what would be your on-going costs to keep it maintained?
This article will discuss, and show, the true costs associated with building and maintaining an in-ground pool.
If you would like to know what would be your cost, per month, to own and maintain a pool, please read this very informative article to its end.
GENERAL POOL COSTS
The cost of installing a new in-ground swimming pool is going to vary widely. You could have a decent size pool installed for as little as $10-12,000, or one that could reach towards 6 figures and upwards, depending on whether you want a gold-plated pool or not. Actually, I don't think gold-plated pools exist but you get the idea about the expense. We obviously we will focus on the lower end.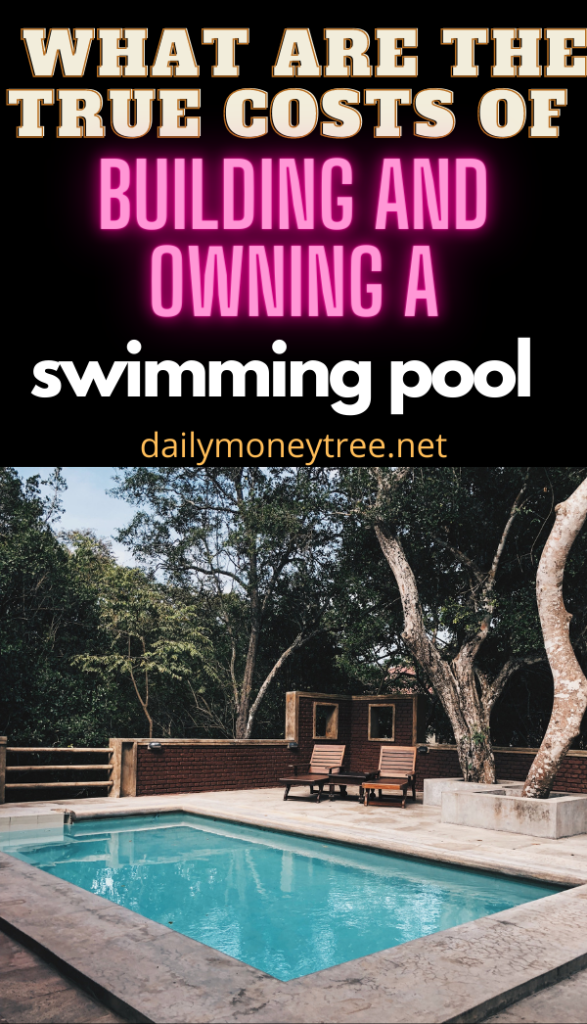 TYPES OF POOLS
Now on to the details, the first factor that will determine pool cost is the type of pool. Your choice will probably fall into one of the three following types:
1.) steel-walled, vinyl-lined pool
2.) fiberglass pool
3.) cement (or unite) pool.
OTHER POOL FACTORS TO CONSIDER
The second factor is the size and shape. It should be obvious that the larger pools are going to cost more, but fancy shapes will also be expensive. You could potentially get an 18 ft x 36 ft rectangle for a cost similar to that of a 16 ft x 32 ft kidney-shaped pool. You get the idea.
From here on, we'll deal exclusively with the cost of a vinyl-lined pool, but please keep in mind, that fiberglass and gunite pools should be competitively priced depending on where you live. In fact, in some markets, there are so many pool builders that the gunite pools are cheaper than the vinyl ones.
Furthermore, some environments require a gunite pool. If all this is true, then why are we talking about a vinyl pool? Well, simply because the company I worked for only installed vinyl pools, and the pool that was installed at my home is a vinyl pool. I think we'll all be better off if I go with what I know best.
THE MAJOR COST OF POOL INSTALLATION
The first thing to remember is that one of the major costs of building a pool is labor. In fact, I heard once that materials for gunite pools are actually cheaper than vinyl-lined pools because the only material is basically cement mixture, rebar, and piping. But this type of pool is quite labor-intensive. On the other hand, the kit for a vinyl pool includes things that cost a bit more, like the steel walls, framing, steps, and the vinyl liner, but many pool builders prefer to install these vinyl pools because they are much quicker and easier to install.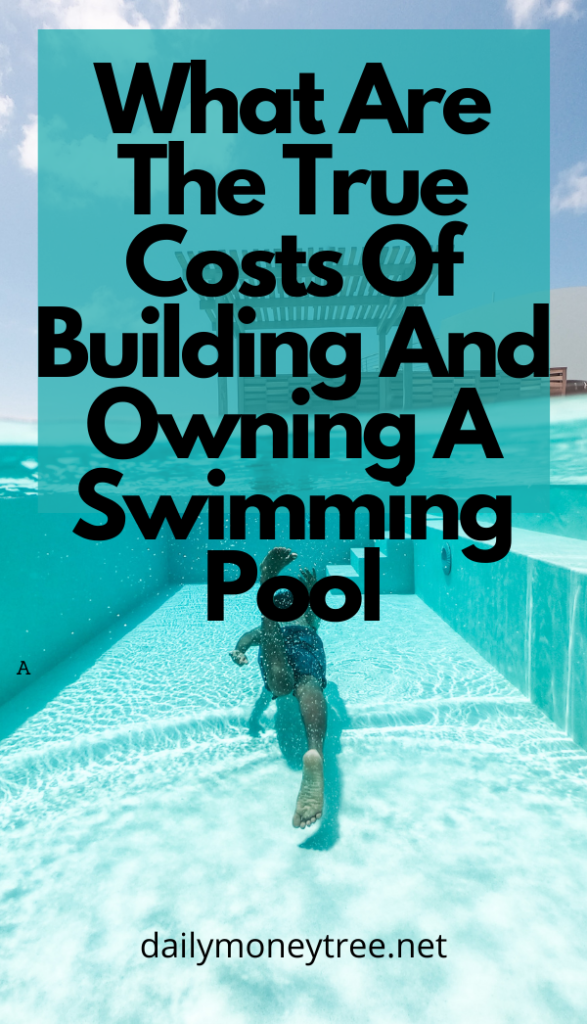 HIGH-END SWIMMING POOLS PRICING
Indoor Pool Costs
Indoor pools are a great investment if you want to swim year-round or avoid some of the common cleaning issues with an outdoor pool, such as debris and leaves. Indoor pools allow you to swim no matter what the weather or time of year. Without sunlight, they may grow algae more easily and require continuous maintenance. They may also have additional heating costs for the pool and the surrounding area in cooler weather and may become hot and muggy during warmer weather. The pool itself costs between $40,000 – $60,000 on average, with additional costs for the housing structure and surround.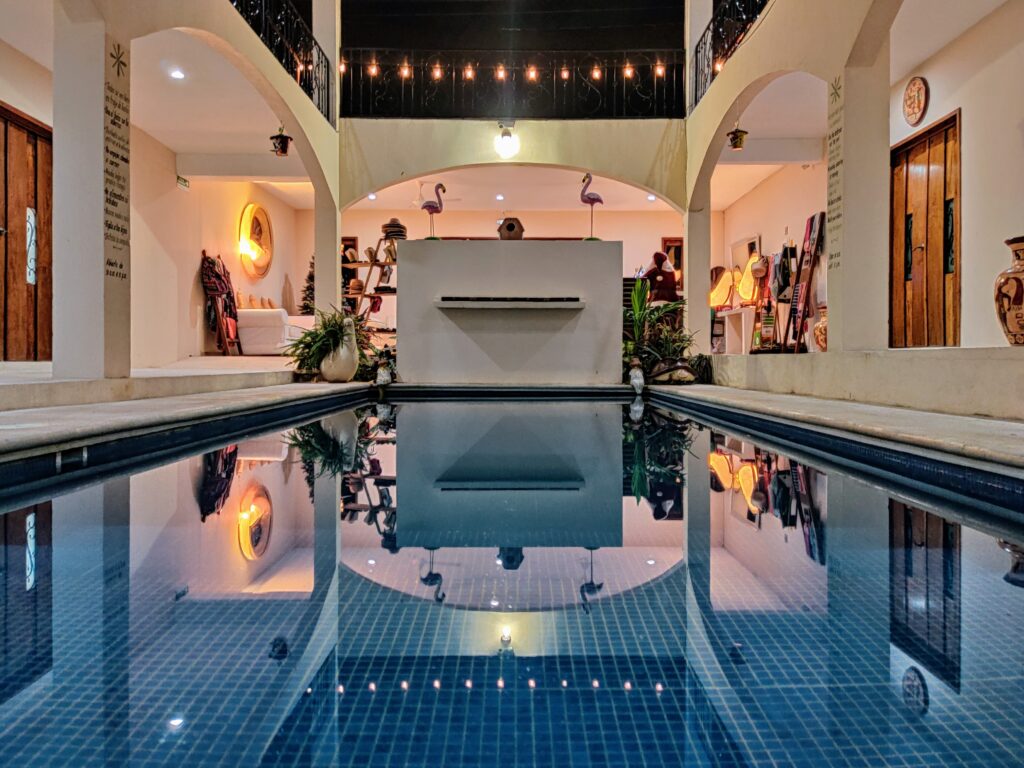 Infinity Pool Costs
Infinity pools make a beautiful addition to any yard or property. They create a waterfall illusion with the water flowing continuously over the edge of the pool into a small basin where it can be recycled. The pool creates a stunning visual effect, which can be very appealing. They are easy-to-maintain with the constantly flowing water, helping to prevent algae buildup. The small basin the water pours into can also make an excellent kiddie pool. Infinity pools are expensive, however, averaging around $90,000 – $105,000. They also require a sloping property to really show off their edge. Otherwise, they are not as impressive. A slope of this kind, however, can be dangerous to have near the pool.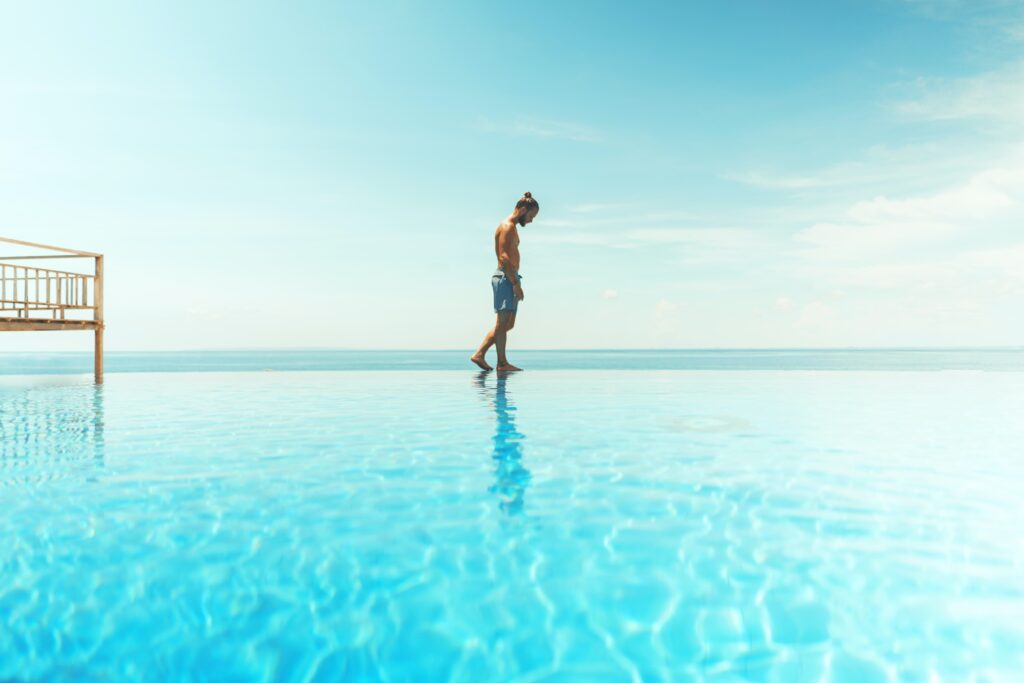 Lap Pool Costs
If you swim regularly for exercise, a lap pool can be a great addition to any property. This is a long, thin pool measuring roughly 8-feet by 50-feet. They can be made of vinyl, fiberglass, or concrete, and because of their unique dimensions, they often fit into spaces where a standard pool may not. They cost around $50,000 completely installed and require the same amount of maintenance as other pools. Like other pools, it should be fenced for security.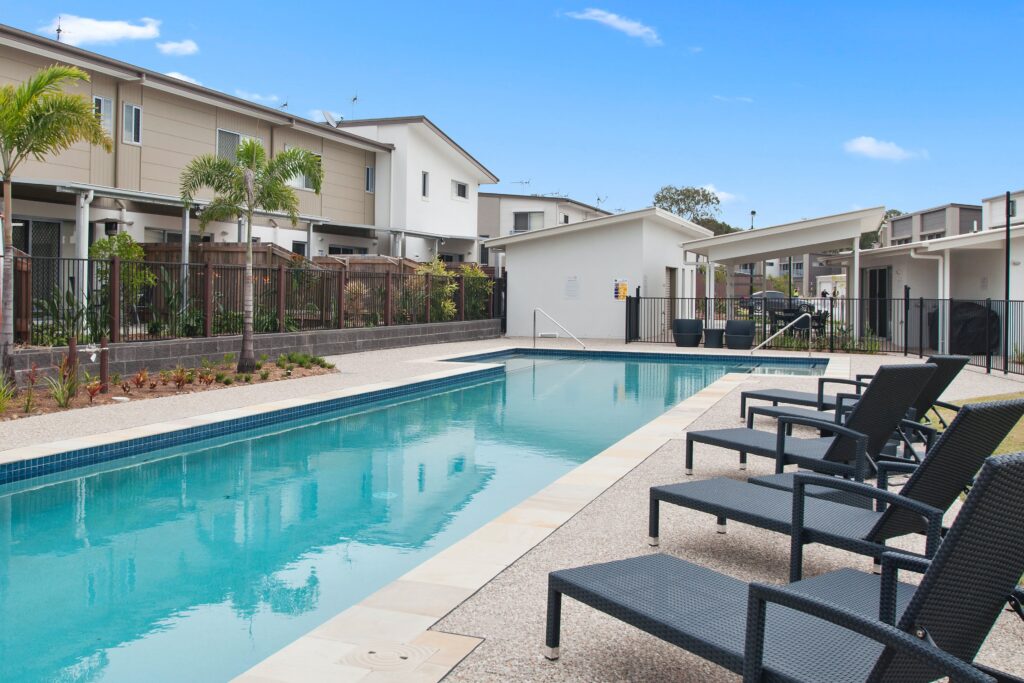 Natural Pool Costs
Natural pools make beautiful additions to many yards. This pool uses natural plants to filter the water, rather than chlorine or salt, so it is considered better for the environment. It consists of two parts – the swimming area and the regeneration zone, where the water is filtered. The two areas need to be roughly the same size, so they require about twice the amount of space. They can be made of a few different materials and can have many features, including waterfalls and infinity edges. The plant medium can also be made of various aquatic plants. The pool is low-maintenance once set up but can become home to aquatic animals and insects over time. They cost around $70,000 on average.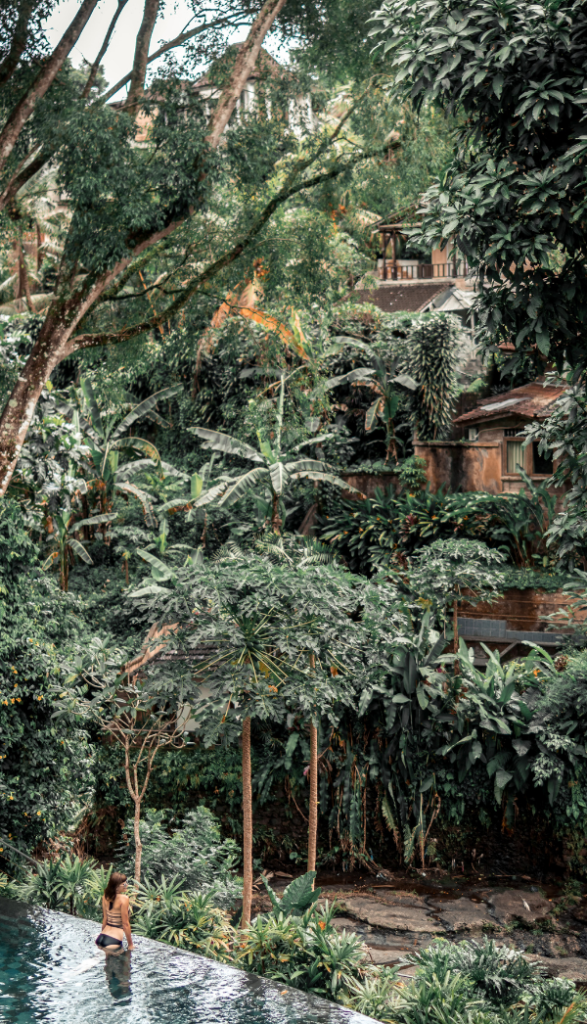 Saltwater Pool Costs
Saltwater pools are in-ground pools made of vinyl, fiberglass, or concrete that have a saltwater chlorine generator. They cost roughly the same as a standard pool of the same type, around $50,000 for a 12 x 24-foot fiberglass pool, but they have lower ongoing costs. The salt can feel better on your skin, with the water having a softer, silkier feel. The pools may need less maintenance because they do not need to be "shocked" like with chlorine. The salt can damage your landscaping, however, and may corrode some parts of the pool, such as the ladder, stone decking, or the O-rings in your filters.