During the second quarter, Cardano, one of the leading blockchain platforms in the cryptocurrency space, saw a notable increase in transactions showing a nearly 50% increase. This significant growth is mainly attributed to network improvement efforts and new user entries.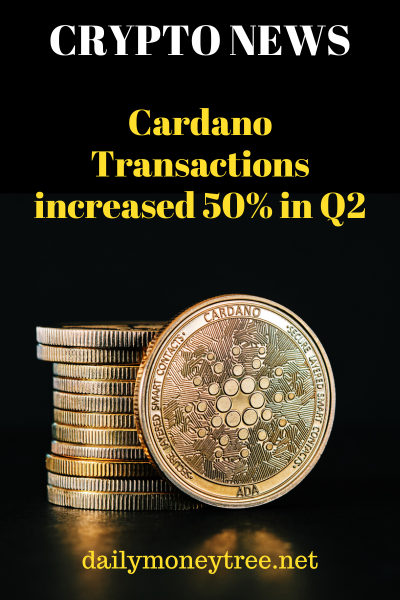 Furthermore, the load on the blockchain, indicative of the amount of data contained in the blocks in a given period, increased from 40% in the first quarter to 50% in the second quarter, even reaching an impressive peak of 81% in May.
A Significant Increase in Cardano Transactions on the Blockchain
Activity on the Cardano blockchain saw a notable expansion in the second quarter (Q2), both in terms of value-locked and transactional metrics compared to the previous quarter. This result is partly attributable to advances in technology and growing interest from developers.
The decentralized exchange Minswap recorded the largest increase in absolute terms, and several new decentralized applications (dApps) contributed to this increase.
However, even as transactional activity increased, the number of daily active users decreased by 4%, according to the report commissioned by Cardano Input Output. This represents the fourth decline in address activity in the past five quarters. Despite everything, however, an interesting trend emerges:
"The relationship between transactions and active addresses has steadily grown over the past five quarters, suggesting that the average user is now more active than ever."
Significant Developments and Expansions in the Cardano Ecosystem
The load on the blockchain, which measures the amount of data contained in blocks in a specific period, climbed to 50% in the second quarter, up from 40% in the previous quarter. The peak was reached in May, with a notable load of 81%.
Additionally, data from DefiLlama indicates that $175 million worth of tokens were locked up on Cardano, the highest level of the year, albeit below the all-time high of $340 million reached in May 2022.
This growth in activity coincides with major updates introduced to Cardano since the beginning of the year. In June, a change was implemented to reduce "epochal" transitions (specific periods of production of new blocks), making the blockchain more efficient for users.
In March, Milkomeda's feature allowed Cardano users to access Ethereum Virtual Machine (EVM) smart contracts using their Cardano (ADA) wallet, thus expanding the usefulness of the ecosystem.
Greater Utility for ADA Tokens affecting the volume of Cardano transactions
One of the most significant developments concerns the exclusive use of Cardano tokens in developed applications, unlike Ether (ETH), the native token of the Ethereum network. This reinforces the utility of ADA tokens to their holders, giving them more choice and flexibility within the cryptocurrency environment.
As of the close of this article, Cardano (ADA) is trading at $0.30, up 4.23% over the past 24 hours.