Let's dive into my Neo crypto review. Neo crypto coin is underrated. It will almost certainly hit $60 per coin. It's at $8.19 per coin now. So there's a good chance of a 7x on our hands.
NEO Crypto Review
What is NEO?
It was born in 2014 in China, but was completely renewed during the month of June 2017, also partially revolutionizing the concept of cryptocurrency itself and the type of transitions that can be carried out via the web.
Initially launched under the name of Antshares, it had several problems. These issues have slowed down its success and its main ambitions: to undermine Ethereum as anti-Bitcoin.
Indeed, the two cryptocurrencies, at least in the first period, looked very similar and this also caused some confusion in the minds of those who wanted to exploit their potential.
However, as mentioned, in June 2017, Antshares was renewed also changing its name. Which takes its cue from the Greek term meaning novelty. And, in fact, NEO tried to bring quite a few innovations, not only to its internal functioning but to the whole world of digital currencies.
NEO has offered several interesting ideas to those who intend to exploit this virtual currency to obtain various advantages. Think of the profits in the event of a sale. An example above all is the NEO blockchain, a system capable of supporting a number of transactions and users practically twice as many as those envisaged by the Ethereum system. Furthermore, the chain was created in such a way that it can support different programming languages for the decoding of the different blocks.

Java, Go and Solidity are just some of the different computer languages that can be used to carry out the various operations that make the various transactions carried out with this cryptocurrency possible. But there is also another important detail about how NEO works. That is to say, the fact that the different operations can also be made invisible, or rather blocked. This offers an additional shield against prying eyes who want to access sensitive data. Such as the origin and destination address that characterize the transactions carried out with this innovative and futuristic digital currency.
NEO Crypto Review – The History
NEO was born from the idea of Da Hongfei, one of the most important professionals in the field of digital currencies. It was launched through ICO (Initial Coin Offerings, a sort of crowdfunding to launch new projects and receive funds) but unlike many cryptocurrencies that ended badly, since they have teams that expose themselves to the pre-sale of the coin and its potential value, NEO embarked on the opposite strategy.
The team behind this cryptocurrency has always been contactable and deals with the real-world applications of the technology. So we were not dealing with scammers or improvised people who have launched a white paper (as ICOs are defined due to their being in all respects "a blank bill" without any guarantee).
How does NEO work?
The immediate synchronization of the virtual wallet that contains the NEOs during transitions was created in such a way that a user could immediately know the remaining amount of virtual money he has in his wallet, protected by a series of encrypted codes that protect him from any kind of attack by external figures. Especially hackers. It is also very simple to use NEO to purchase goods or services.
Just like Ethereum, smart contracts can also be used with NEO. That is, to carry out the sale of goods and services with merchants who allow payment using cryptocurrency. This means that banking or political institutions cannot get involved, for example by raising prices and taxing operations. Above all, think of the value-added tax, better known as VAT. A burden that holds back consumption and the sale of services, which our governments plan to continuously increase, effectively depressing the economy.
And so, thanks to NEO, but basically also to Ethereum, we are already talking about the smart economy (the term smart is now in common use, to indicate something modern and suitable for the needs of the end user. Think also of smart city) . But with NEO we are talking about something more, that is an implemented smart economy, where exchange operations are based on speed and above all on security, effectively allowing to prevent of a series of complications concerning the same operation.
Therefore it is possible to see how this cryptocurrency is managing to achieve good success among its users, guaranteeing the opportunity for online users to rely on an ever-growing and expanding tool.
The differences between NEO and Bitcoin
What are the differences between NEO and Bitcoin? First of all, NEO is preferred due to the fact that, like Ethereum, it also has the possibility of creating smart contracts. Therefore, NEO wanted to place itself as the main competitor to Ethereum.
However, regarding the differences with Ethereum, NEO has the advantage of exploiting the Java, GO and Python languages, unlike Ether which is based only on the Solidity language for its blockchain. Thus, NEO could attract more developers, precisely because it lends itself to more work tools , effectively expanding its community of followers.
NEO Crypto Review – NEO Price Prediction
I do think Neo can have gains in the next bull cycle, but they're not huge compared to what I think some of the other cryptos in the top 100 can do.
Its current price is $8.19 per coin.


Neo was priced very low back in the day, and it hit heights of around $160 in the 2018 cycle. In the previous bull cycle of 2021, it hit heights of about 120 bucks.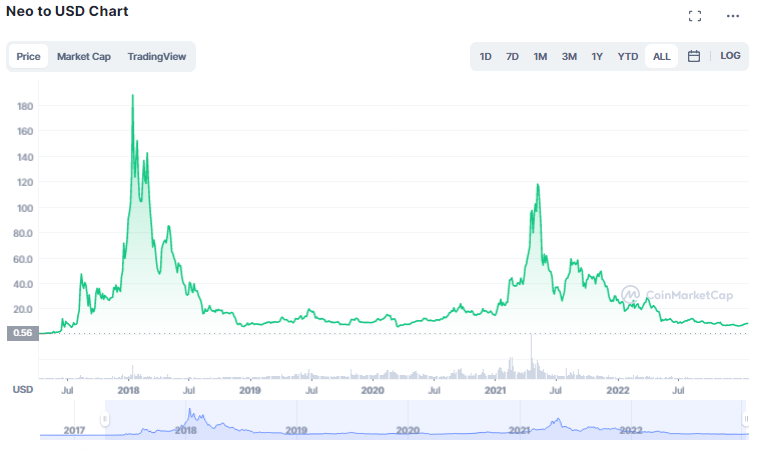 My belief is that we're probably going to see it lose half of its last year's high.
NEO is one of the oldest cryptos in the space, but there hasn't been real growth like we have seen with many other cryptocurrencies.
As a blockchain it's very good. When you're moving NEO you will spend nothing but GAS, and it doesn't cost that much. NEO is very fast, and in fact, they were called the Chinese Ethereum in the past.
Obviously, the biggest event that has had a negative impact on NEO has been China's decision to ban crypto. In fact we can see the price dramatically drop at the time the ban was announced in May.
The reason that I think it can still do $60 in the next bull cycle is that there are some positive things that the team has been implementing. They have a solid grants program, they moved to V3, they're working on being interoperable, developers can develop in Java, Python, etc.
But, there are reasons that are not in favor of NEO, and why I think it cannot reach its previous highs in terms of price; when we actually really break down the Dapps they're far from great when it comes to volume.
This is not a thriving ecosystem, and the marketing isn't really successful.
Flamingo would have success because it was launched by the biggest exchange in the world. Everything else is just so underwhelming.
Flamingo has had 800K transactions in the last 7 days, which is a decent volume, but the next biggest in line, NeoBurger, is at only 6000 transactions.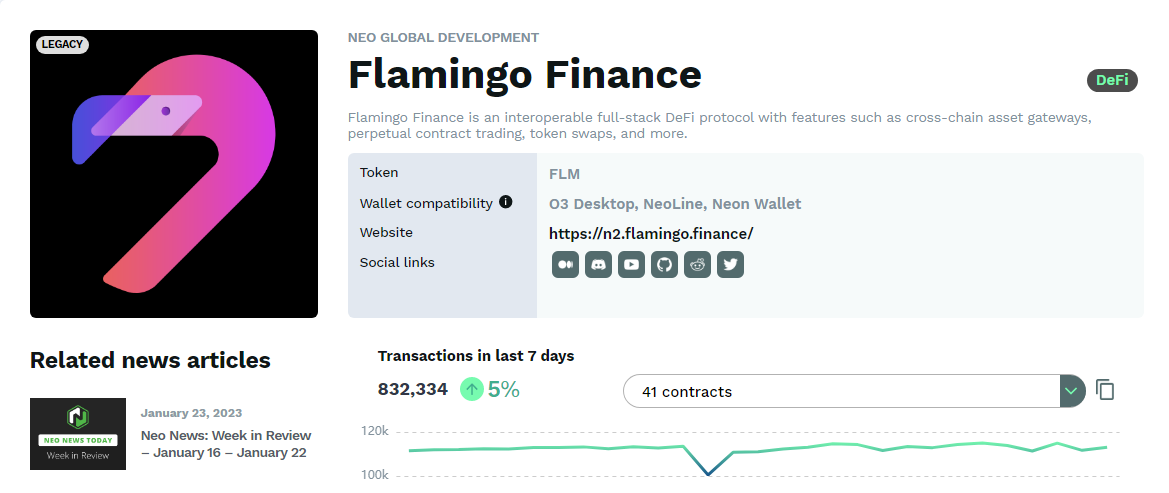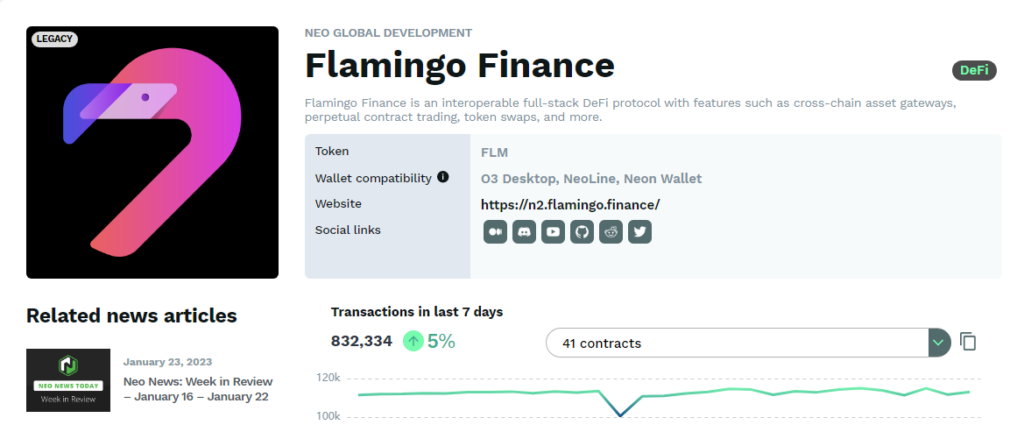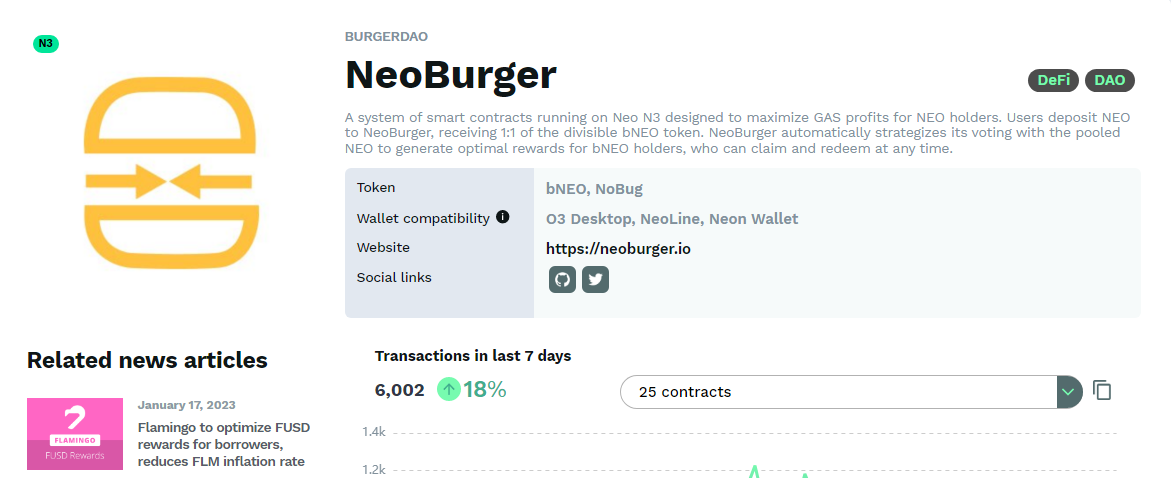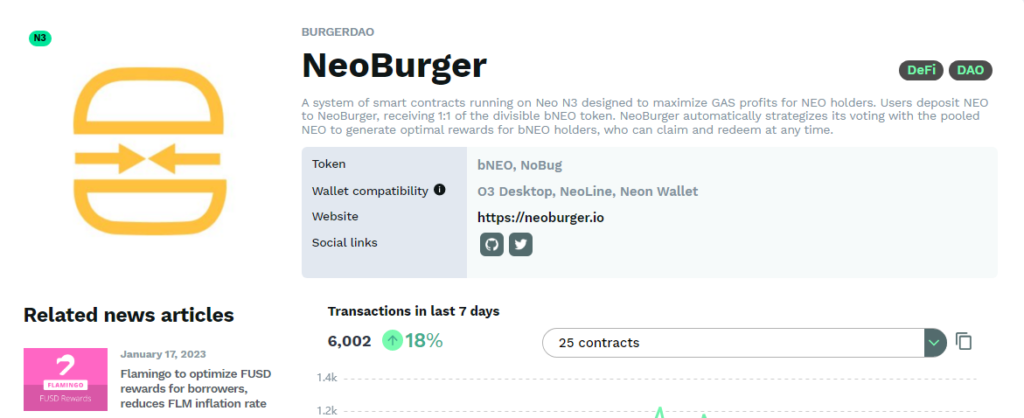 NEO Crypto Review – Conclusion
NEO has been around for a long time, and people tend to trust cryptos that they know and have been there for ages. If they successfuly start marketing outside of China, work on their ecosystem, I can see it reaching $60 – $90 in the next bull cycle.