The best SEO Copywriting techniques to create engaging and effective content, well-positioned and increase your blog traffic and conversions
SEO Copywriting has become the cornerstone of any successful blog. It is a set of techniques that can help you write content that is engaging and interesting for your readers and at the same time optimized for search engines so that they can rank in the top search results of Google.
We will take a look at these techniques in this article on SEO copywriting, where we will see together in more detail what SEO Copywriting consists of, all the techniques and tools you will need to become an SEO Copywriter and write SEO-optimized articles.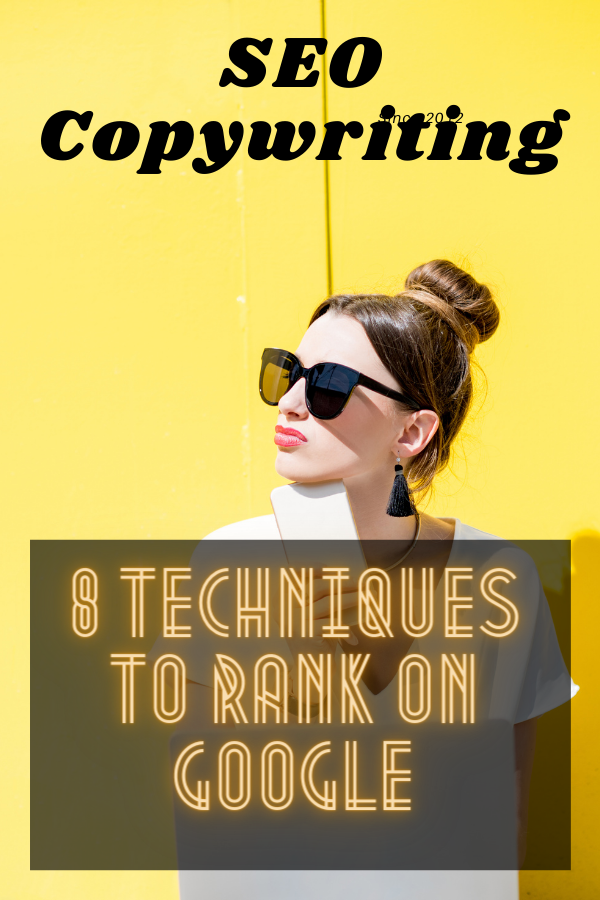 What is SEO Copywriting?
SEO Copywriting is creating content capable of attracting and engaging your readers and that is optimized from an SEO perspective so that they are able to position themselves among the top Google search results. Only by managing to keep these two aspects in perfect balance, in fact, can you really be sure of creating a successful blog. And the reason is as simple as it is banal.
When we start a blog, the 3 main problems we often see are:
little inbound traffic
the blog does not appear in the top positions on search engines
people visit our content and leave after a few seconds.
These issues are easily solved by applying certain SEO Copywriting strategies.
Differences between SEO and Copywriting
There are in fact two important judges who decide the results of your blog: your readers and the search engines, especially Google.
The purpose of Copywriting is to write captivating content, capable of attracting your readers and transforming them into customers. But you won't have potential customers if these readers never manage to find your blog. And to be able to find your blog, it is therefore important that your content is well positioned on Google. This is the purpose of SEO (Search Engine Optimization).
And that's exactly what SEO Copywriting means: the perfect combination of copywriting with the best SEO strategies. By implementing SEO Copywriting techniques, you can then write content that is capable of gluing your readers to the screen and turning them into customers, and optimized for search engines, so that your blog is highly visible on Google.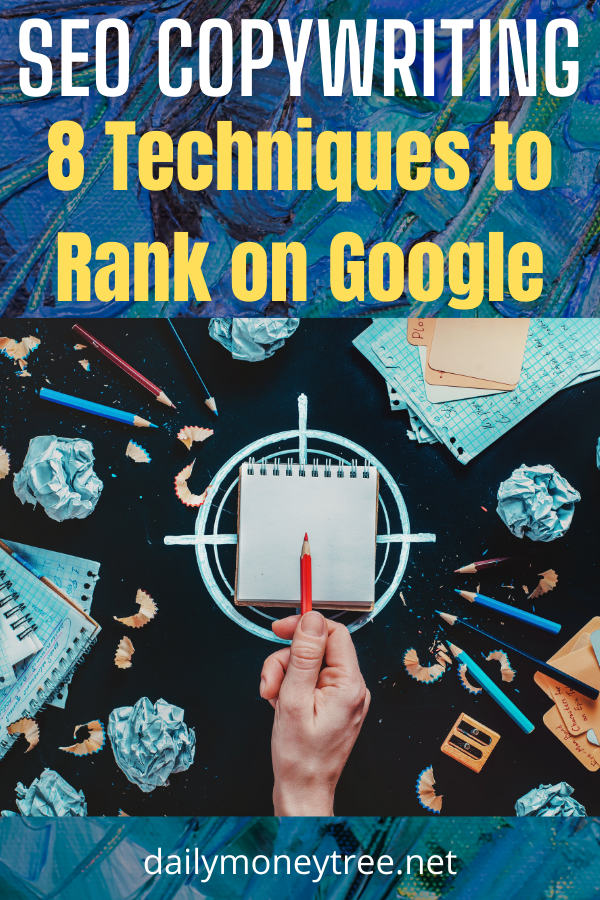 8 strategies for writing an article that both readers and Google will love
The purpose of those who deal with SEO Copywriting is therefore to write an article that is positioned on Google and very effective for your readers.
To do this you essentially need to:
Do a thorough keyword research
Prepare the draft of the article
Optimize the title
Write engaging content
Optimize text (SEO On-Page), metadata, and images
Do link building.
Other more technical aspects that play a fundamental role for the positioning of a blog on search engines are also Off-Page SEO and technical SEO, which we will not deal with here since they are techniques that are generally not an SEO Copywriter is involved but an SEO Specialist, that is a person who deals exclusively with SEO.
Normally, in fact, an SEO Copywriter (but also a simple web writer) works closely with an SEO Specialist who prepares the writer's work and guides him in the drafting of the articles.
And, while the SEO Copywriter is mainly concerned with the optimization of their articles, the SEO Specialist does a more well-rounded job in order to push the optimization of the entire website.
1. Do a thorough keyword research
The top 3 search results on Google get 60% of the total traffic. This immediately makes it clear why it is important to position yourself in the top 3 of the Google SERP.
To do this, one of the very first things you need is to do a methodical and structured keyword search, that is, a collection of keywords that can intercept searches made by people interested in your niche.
I'll give you an example. If you came to this article from Google, your search was probably with the terms:
SEO copywriting
what is SEO copywriting
How to become an SEO copywriter
If you can identify the most important keywords for an article, it will then be easier to position it on search engines, so that it is found by those looking for information on Google about the topic you are writing about.
2.
Create the draft of the text before writing it
Once you have selected the main keyword and the secondary keywords of your article, it is time to start working on the text.
A mistake that many people make is to write articles straight away, without previously creating a structure. Creating a structure, on the other hand, helps not only readers to orient themselves in the text but also Google to understand what you are talking about. The tidier your property is, the more your content will be rewarded, making it rise in SERPs.
So what does it mean to create a structure?
The best way to sort the topics of a blog article is to create the classic inverted pyramid structure, very common in journalism. Google also really likes this structure. Google loves ease, speed. What it asks you to do is to understand what the reader is looking for and to offer the answer as soon as possible.
3. Optimize the title for both readers and Google
Writing a headline also has the dual purpose of attracting readers and making the subject matter understandable for Google, so it is important to always optimize your titles.
4. Write engaging content
We have the keywords, we have the structure and we have the title. What's missing now? Obviously the content.
In order for you to get the maximum out of your content there are several bases you need to cover. You need to know your audience, and know how to target specificly the readers that fit your interest group. Make your articles an easy read, and write in a simple style. Don't forget to check for grammar mistakes. Even if you feel that your article is perfect, read it again.
5. Optimize your text for SEO (On-Page SEO)
As mentioned before, SEO is the discipline that deals with the positioning of websites and blogs on search engines.
It's not an exact science since no one knows Google's algorithm precisely. However, there are some practices that, if implemented, will be able to give our blog a nice little push up. A sub-category of SEO is what is called On-Page SEO, that is, the optimization that is done on every single page or article. To do this, you can help yourself with some plugins that you can install directly on WordPress, such as Rank Math or Yoast SEO.
Watch my video on 9 steps of On-Page Optimization checklist here:
6. Optimize images
Even the images, once inserted, should be optimized. Here are some guidelines for optimizing the images for a blog article:
Resize images to page size
Reduce the weight of images (I use this free tool)
Rename the images with the keyword or with a word related to the main topic
Once the image has been uploaded, also write the title and alternative text of the image.
7. Optimize metadata
Another aspect of SEO copywriting is the optimization of the article metadata.
But what is metadata?
Metadata is a data system used to describe other data, especially used to digitize information on the Internet or in electronic archives.
Don't worry … no codes, programming or technical stuff. In this case the Yoast SEO plugin comes to our aid.
Once installed, in fact, a box will appear under the WordPress article editor that allows you to edit those text elements that appear on Google search results.
From here you will be able to edit these metadata, namely the title that will appear on Google, the URL of the article and the small summary.
Always optimize these elements in a way that not only makes Google understand what you are talking about but also to attract new readers who seek answers to their questions.
8. Link-building
By link building we mean to relate certain articles, pages and websites through a link. For Google, links are a very serious matter. It is therefore important to learn how to create good link building without overdoing this functionality.
I will not go into the link-building discourse here, also because it is a rather long and complicated topic and we would risk going off-topic.
But I'll tell you a couple of important things about link building with regards to the optimization of a blog article.
One of the required aspects is precisely that of inserting links: internal links and external links.
internal links are links that refer to other content on your websites, such as a landing page or an in-depth article
external links, on the other hand, are links that refer to the contents of other websites.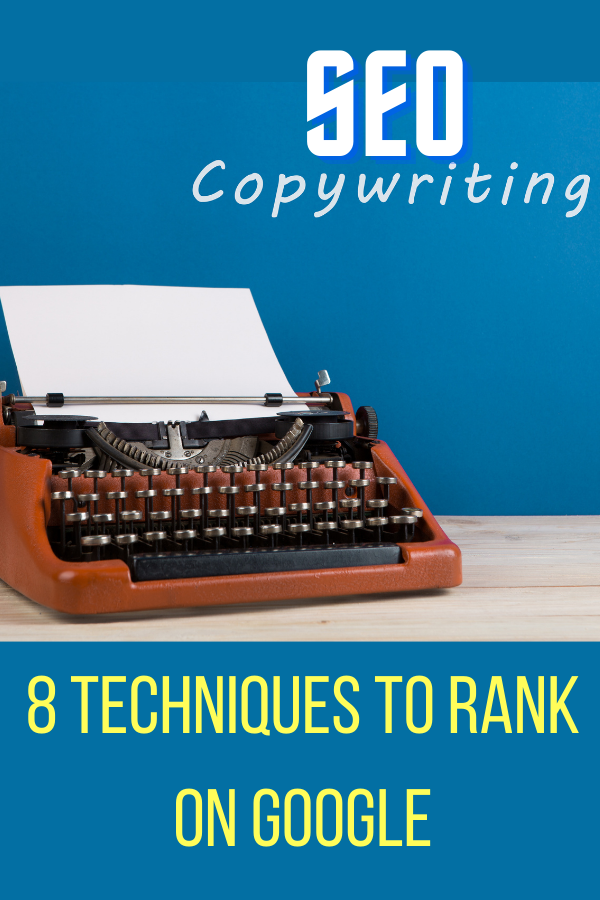 How long should your article be?
Very often we tend to think that long contents rank better than short ones (therefore they are more appreciated by Google) while short ones are preferred by readers, who are looking for quick answers to their questions.
The good news is that Google doesn't care about the number of words. Google cares about the quality and originality of your content.
And a reader wants to get the answers to his questions. And the length of the answer depends on the question. If I ask you "How much is 2 + 2?", I don't expect a 10-page answer. I expect you to answer "four". If I ask you "What is quantum physics?" Then I expect a much longer, more comprehensive, and detailed answer.
FAQ
SEO copywriting is creating useful, compelling, and valuable content that targets specific keywords so that other people will promote it on social media platforms. This increases the authority and relevance of your content and improves ranking in Google.
Write for your audience first. This SEO writing tip is number one for a reason. …
Keep it all under the same roof. …
Make headlines that pack a punch. …
Use keyword-rich phrases. …
Structure your posts. …
Incorporate imagery. …
Propel content with social media. …
Implement Google Authorship.
Step 1: Make a list of important, relevant topics based on what you know about your business. …
Step 2: Fill in those topic buckets with keywords. …
Step 3: Understand How Intent Affects Keyword Research and Analyze Accordingly. …
Step 4: Research related search terms.
Use SEO keywords in image titles, which are little pieces of text that pop up when you hover your mouse over an image. Finally, use SEO keywords in alt text. This is the part that helps with accessibility. The best practice for using alt text with images is to make it descriptive; don't just use the keyword.
Conclusion
Obviously, SEO Copywriting is complex, dynamic, and subject to constant change. Readers' needs change, Google's algorithm changes, technology changes.
For this reason, this guide is not intended to be a "definitive guide". Instead, this is a guide open to changes, suggestions, and strategies that work. And if you have any other tips on how to do a great SEO Copywriting job, then just comment and let me know your opinion!
Stay safe and stay tuned.
S