Ergo crypto is a real quality proof-of-work project that has attracted a large number of miners since the Ethereum merge last year. This is a project that might be a bit slow-moving, but one that can be a massive gainer in terms of a long-term investment.
There are a number of reasons why I think Ergo is a very good project, and an article I will reference. But first, let's see what Ergo really is.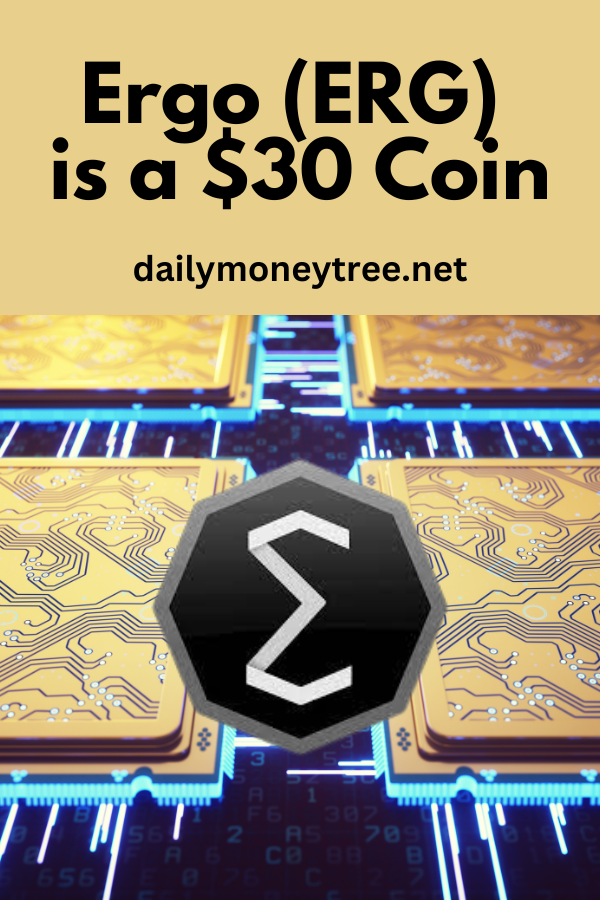 Ergo crypto introduction
Ergo (ERG) is a blockchain with DeFi (decentralized finance) functionality. It has a unique blend of the best features of two of the best-performing crypto projects, Ethereum (ETH) and Bitcoin (BTC). Ergo borrows smart contracts from Ethereum for its DeFi capabilities and uses a Bitcoin-like PoW consensus to secure its network.
Ergo's mining protocol is called "Autolykos", which is a modified version of the mining protocol employed by Bitcoin. This protocol is designed to withstand ASIC miners and large mining pools, making it highly energy efficient. Ergo also limits the size of mining per node, which further combats the negative environmental impact of the PoW protocol used by Bitcoin.

The ERGO token
Ergo also allows developers to build DApps (decentralized applications) on its programmable blockchains, which are leveraged by SigmaUSD and Ergo Auction House, among many others. Ergo has a unique point of view compared to other programmable blockchains like Ethereum, as it does not require transaction fees or gas.
The significant advantage of this system is the predictable development costs, which allows developers to know the exact prices and decide if they want to build DApps on the Ergo platform. Another variant of the Ergo blockchain is "Ergoscript", the scripting language of Ergo. In addition to providing developers with more flexibility and functionality, the language allows users to create scripts efficiently and cost-effectively. With the Ergo team constantly working to make the program more secure and efficient, the Ergo network is becoming more suitable for DeFi applications over time.
The native token of the ERGO blockchain is ERG. The platform has a PoW (Proof-of-Word) model, where users have to buy or mine tokens on a secondary market. ERG tokens are distributed through block rewards, with a total supply of approximately 60 million.
What is Ergo Crypto?
The Ergo blockchain has its own decentralized non-custodial exchange called the Ergo DEX. Using an extended eUTXO model, it allows users to transfer liquidity sharing between multiple platforms – Cardano and Ergo networks. ErgoDEX is based on the AMM (Automated Market Maker Protocol), with future plans to implement an order book protocol on its liquidity pools. This merging of an order-book protocol with an AMM protocol is made possible by Cardano and Ergo's eUTXO model. The model allows for high interoperability and shared liquidity on the two blockchains. Users (from UI providers to traders, liquidity providers, off-chain executors, and miners) are all incentivized to support the ErgoDEX ecosystem.
The team behind ERGO
Ergo is supported by an experienced and competitive team, from lead developer Alexander Chepurnoy to co-founder Dmitry Meshkov. Chepurnoy is a blockchain veteran, having co-authored several research papers on blockchain technology. He has worked on several big projects, including the NXT platform. He partnered with Meshkov, who combines his expertise in software development, and the two launched the Ergo mainnet in July 2019.
ERGO Crypto Deep Dive Analysis
Ergo is currently priced at 1.78 with a market cap of 101 million, which is pretty small.


A very positive thing about Ergo is that it is on an uptrend. In the previous bull cycle, Ergo reached the height of around $18.
Firstly, Ergo is PoW (proof of work) and that obviously requires miners. Mining has gathered momentum since the Ethereum merge last year when Ethereum transited from proof of work to proof of stake. Prior to the merge, Ergo was hovering at around 15 TeraHash/second mining rate. Right after the merge happened in September, we have seen a huge spike for Ergo up to 60 Terahash/sec. You can check the Hashrate on 2Miners.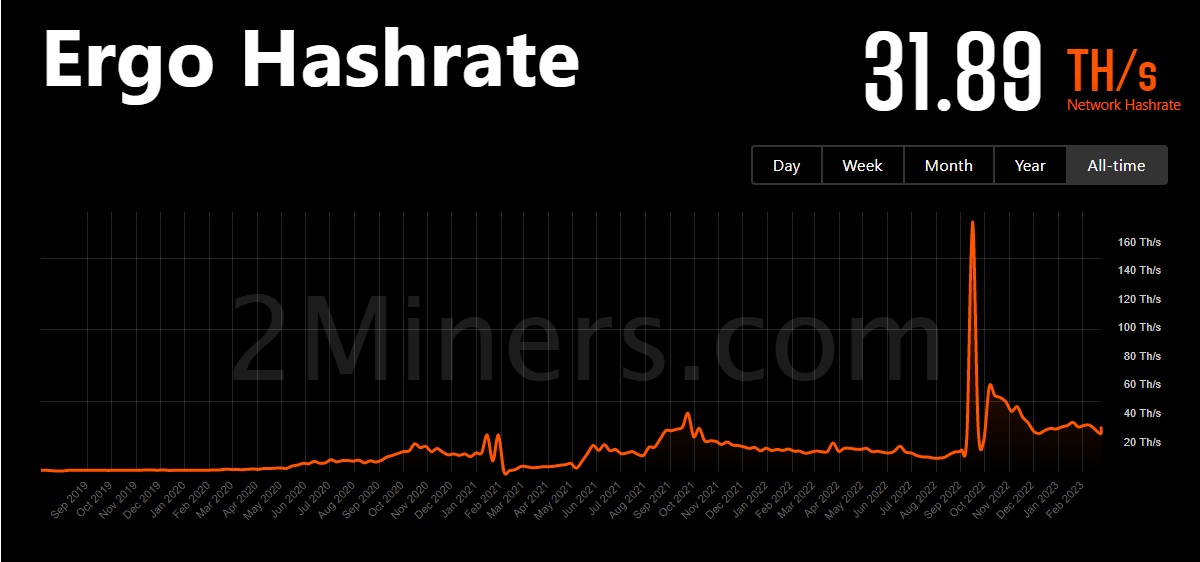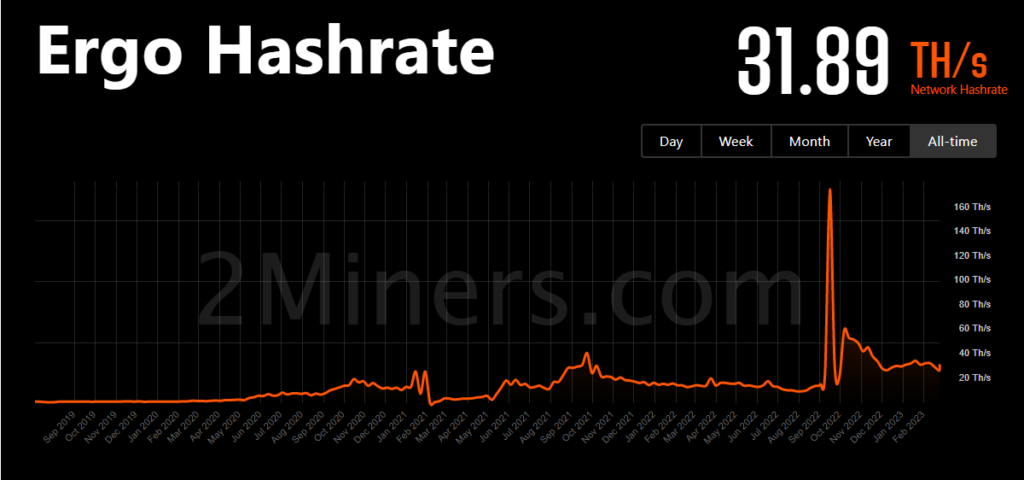 That shows that the majority of Ethereum miners were flocking toward Ergo. The numbers have come down since, like obviously with everything in the crypto space. Still, the current Hashrate is 31.09, which is double what it used to be before the Ethereum merge.
Good News for Ergo Crypto
There is an article that was published by Nasdaq about Ergo with a huge bullish sentiment. In this article, they run through a number of the key features that you should know about Ergo crypto.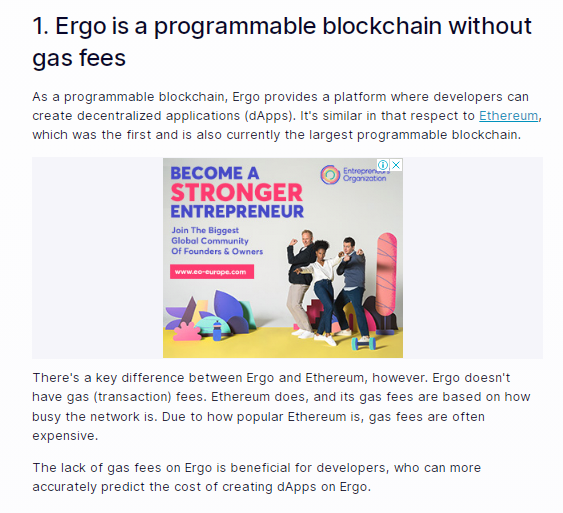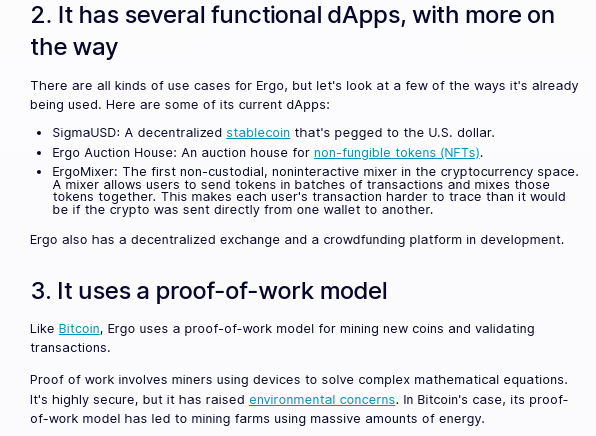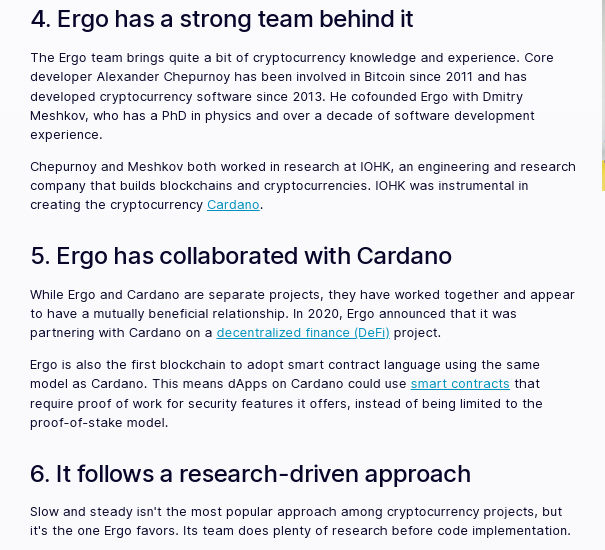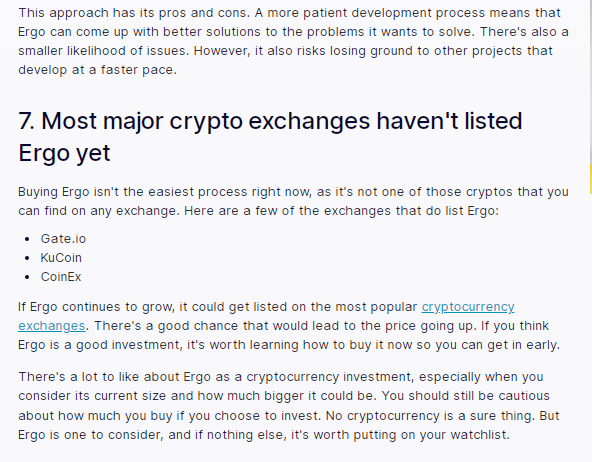 One thing that is not in the article, which is worth mentioning is that Cardano's founder Charles Hoskinson has greatly complemented Ergo in the past. He said that some of the people on the team are among the best in the crypto space.
Ergo is also the first blockchain to adopt small contracts language using the same model as Cardano. This means that dApps running on Cardano can effectively be offered on Ergo as well. Again, a nice feature because it means that Ergo can grow its ecosystem significantly without a huge number of new projects since the projects are already there.
Ergo Price Prediction
A very significant thing for Ergo is that it hasn't been listed on the major exchanges. This means that, once it gets listed on Binance, Coingecko, etc. it will have a big price rally. Obviously, that also depends on when it gets listed, but long-term, Ergo is on an upward trend, even in a time when most cryptos are on downward trends.
I firmly believe it will hit a new all-time high, and once it gets there, price discovery mode kicks in.
Once price discovery mode is on there is no telling what the limit is.
I actually think Ergo is going to break the billion-dollar market cap in the next bull cycle. They're on the right trajectory by growing and developing quite nicely, having strong features, a grants system in place, using the same programming language as Cardano…
Also, a very important indicator is the fact that a lot of miners that flocked to Ergo after the merge has stayed on it. Miners spend thousands of dollars on electricity, cooling systems, etc. Those are people who live and support their families in this way, and they have to be good with numbers. If they believe that Ergo is going to have a good run, there has to be some truth there.
If I want to be conservative I would say that $20 per coin is a prediction I'm comfortable with, but everything I've seen truly gives me confidence that Ergo is a $30 cryptocurrency.
Downsides to Ergo Crypto
No cryptocurrency is perfect, and Ergo is no exception. There are 2 downsides that are obvious to me at this point in time.
First, the trading volume is really low. The volume is under a million dollars some days, and that's a huge disparity with the 100 million market cap. But, as I said, Ergo is still unlisted on the major exchanges, and once it becomes available on Binance, and the other big boys, the volume is bound to grow.
The second downside, which is not really a big deal, is the very slow development. Just like Cardano's team, the people around Ergo take their time. They're very much research-driven, and never launch anything until it's set to perfection. They don't push on development at the risk of the blockchain, and that's not a bad thing, but what it means is that sometimes progress is slow.
Ergo Crypto Review – Conclusion
Ergo is a very strong proof of work project, trusted by a lot of miners, with strong ties to Cardano, a fantastic team behind it, and has not yet been listed on the major exchanges.
All these facts solidify my opinion that it could go as high as $30 per coin in the next bull cycle.
Let me know what you think. Do you agree that Ergo is a strong project? Did I miss some bit of crucial information?
If you want to know which coins are the best investment opportunities, and which ones will be the biggest gainers in the next bull cycle, check out this Copy my Crypto review, and you'll be impressed with how easy it is to make money on the crypto market.