Deprecated
: The PSR-0 `Requests_...` class names in the Requests library are deprecated. Switch to the PSR-4 `WpOrg\Requests\...` class names at your earliest convenience. in
/home/coreof/dailymoneytree.net/wp-includes/class-requests.php
on line
24
Bitgert coin is a low market cap crypto that's been advertising really well, and I'll explain in this post why I think it could make investors some serious money.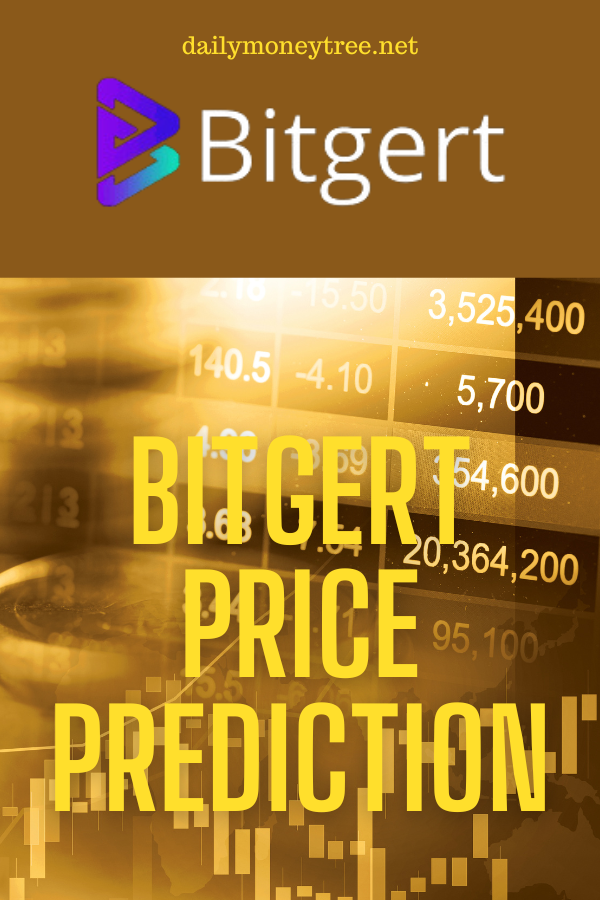 What is Bitgert (BRISE)?
Bitgert coin was launched in July 2021. They specialize in products and auditing solutions.
Initially, Bitgert was built on the Binance smart chain and used BNB as its native token to pay rewards. However, one of the most significant developments was presented in 2022 when the BRC 20 blockchain was created. It offers low-gas, low-fee, cross-chain transactions.
The network is supported to do up to 100 000 transactions per second, which is really huge.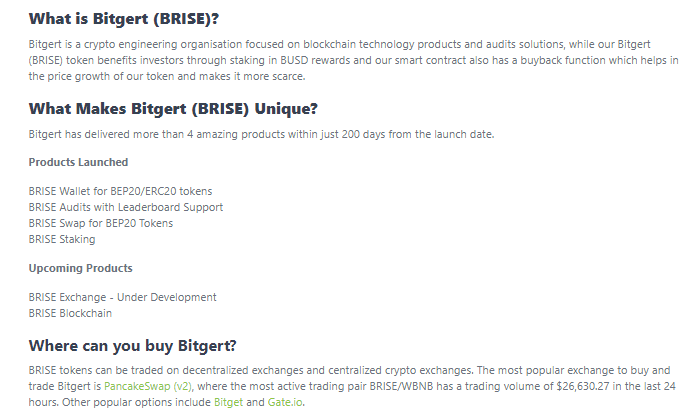 The prize wallet Dapp is the main gateway to the ecosystem, and it allows users to securely send receive, store, and exchange crypto assets.
Bitgert coin Marketing
Bitgert has been doing a tremendous amount of marketing, and they seem to be doing it pretty well. If you type in Bitgert into your Google browser, and sort by news, you will find tons of well-placed articles, and they've been doing this on a regular basis.
Bitgert coin Price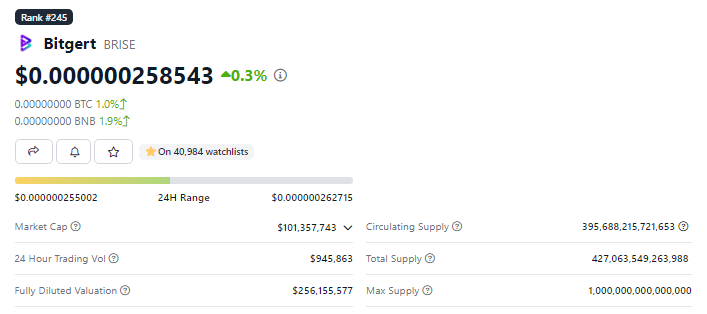 Bitgert coin (BRISE) is currently priced at $0,00000025. Its max supply is a quadrillion, but it's worth noting that, because of the burn mechanism, they should limit the supply to half a quadrillion.
Bitgert Network
Their website is actually pretty good, and there's a ton of products available.
They state that they're the fastest-growing ecosystem now, because of their 100 000 transactions per second. It's worth noting that they've had over 25 million transactions across their network, which is not bad at all, especially when you consider they've only been up and running for really about a year. Granted they launched in 2021, but the actual network popped up in 2022.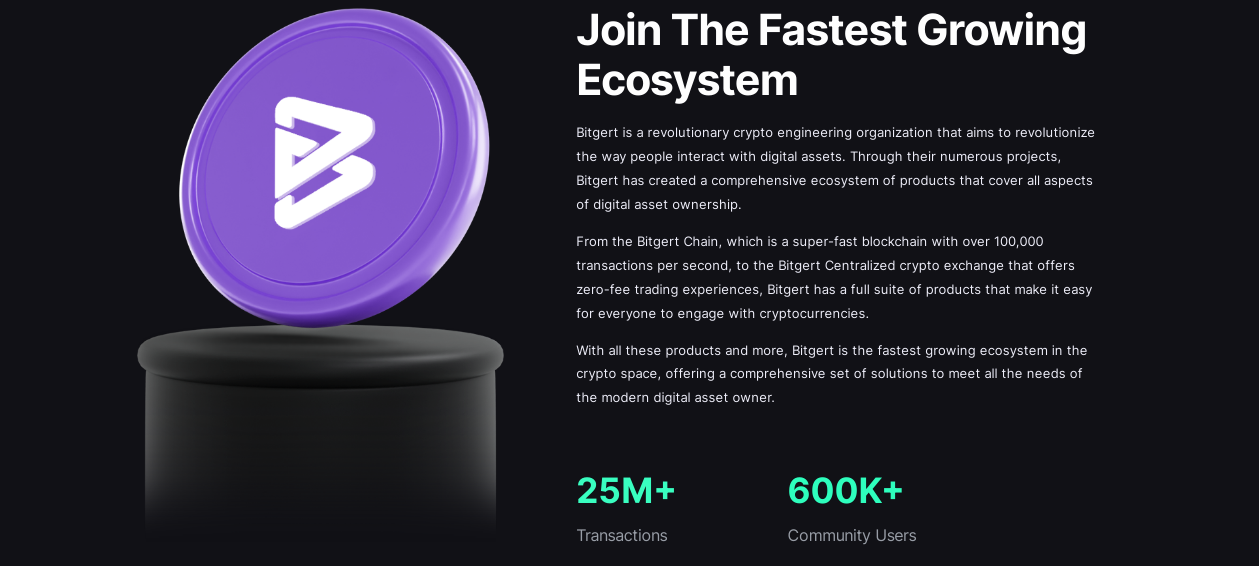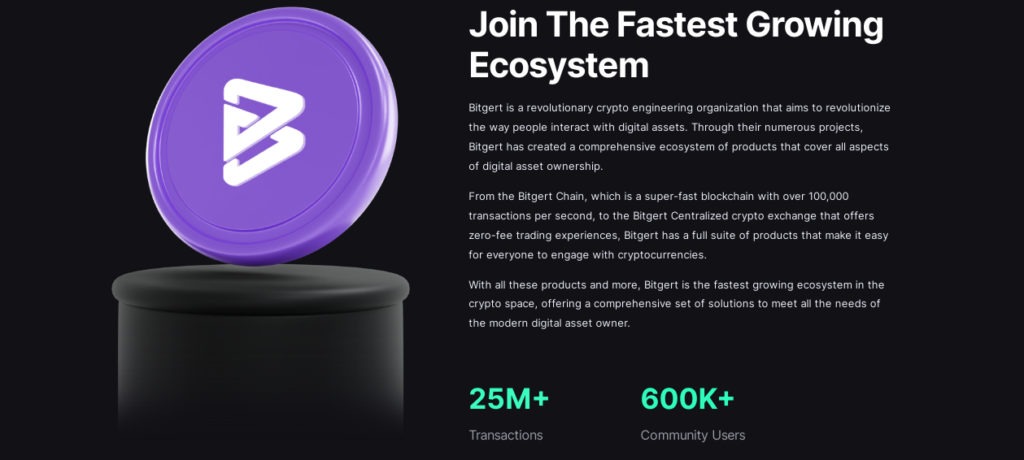 The ecosystem is starting to grow quite nicely. They have quite an extensive DeFi catalog, they're present on some tier-one exchanges, although not on Binance yet.
When it comes to Metaverse and gaming there is still a lot to be done. Up until now they have 7 projects up and running.
Bitgert's bridges are all up and running as well. They work with multi-chain bridges, and poly-networks.
Bitgert coin staking
Bitgert coin staking returns are very good.
30 days – 6%
60 days – 13%
90 days – 20%
180 days – 45%
The rewards for staking are in BUSD.

Bitgert Price Prediction
Some experts predict a thousand percent price increase after the third monthly burn, but it's worth noting that this is information from paid articles. Nevertheless, the plethora of paid news and articles is creating traction.
In the beginning, I didn't take Bitgert that seriously because of the amount of marketing and posts that were promoting the company, but they never stopped putting out content, and that's a very indicative fact to me.
On the other hand, we are looking at 184,000 holders, which is staggeringly high given the market cap.
There is also the fact that there are a couple of hundreds of thousands of transitions averaging on the network daily. It's obvious that retailers are using it heavily.
All in all, the work they've put into growing the ecosystem, to get new users aboard, and the monthly stats are amazing.
I can see Bitgert coin going 10x, or 15x from where it is right now in terms of price, and wouldn't be surprised to see it hit a couple of billion $ market cap.
If you want to see how thousands of people are making profits with cryptocurrency without all the hard work, make sure you check out Copy my Crypto.