Copy My Crypto. What kind of thoughts does this phrase stir up in your mind? Is it just another crypto-investment guru trying to make easy money off the latest wave of cryptocurrency craziness? Is it a scam? Who is this James McMahon, a.k.a. the "Fantom" guy?
Copy my Crypto is a project created by James McMahon, a guy from the UK who launched the "Crypto with James" YouTube channel in February of 2020. Despite heavy censorship, the channel has continued to grow and now has almost 12 thousand subscribers.
What is the reason for such a boost in popularity, and why is this guy different from other "crypto wizards"? In this article, I will answer these and other questions, as well as go deep inside Copy my Crypto.
How I found James
I started this blog around July 2020. Like most people I have been struggling to make it grow.
I wanted to do it right. No shortcuts, no bots. Just plain old SEO work. After a year or so, I started getting really good traffic, and I slowly started to make a few hundred bucks every week through my affiliate links.
I started noticing that people were talking more and more about cryptocurrency. At that point, I was, of course, aware that it existed, and I knew that Bitcoin was huge, but nothing more than that. It was just a field I never considered to be something long-term. I was of the opinion that it was just artificially created hype and that it will go away in a couple of years at best. Boy, was I wrong.
Suddenly I heard that Elon Musk had invested $1.5 billion in crypto, El Salvador adopted Bitcoin as their official currency, sporting events, and official institutions all over the world were getting into this flourishing game that I knew so little about.
So, I began to learn about cryptocurrencies. I found basic stuff material and started expanding my knowledge. Pretty soon, I realized that there was a lot to learn, that I couldn't just read what I find online for a couple of weeks and expect to understand how the crypto market works.
As an affiliate and digital marketer, I have met a lot of people online during the last 5 years, and I became friends with some of them. One of the few people that I undoubtedly consider a friend is Ganon. He's from the UK and he helped me out a few times when he didn't have to, and never asked anything in return.
So, I'm talking to my friend and bragging about how well my business has been going lately, and I ask his opinion on what to do to expand it even further. To my surprise, Ganon tells me that he's almost completely out of the affiliate marketing game.
Now, my friend Ganon is not the type of person who would give unsolicited advice, especially to a friend, so I had to ask questions and really work to get the answers.
To make a long story short: he had found a YouTube channel called "Crypto with James" by accident, just trying to get informed about Bitcoin. He started following him and joined his Copy my Crypto membership site after a while. In a couple of months, the results were so good that he shifted his focus away from the niche that had been his bread and butter for several years, and concentrated fully on this new thing.
Naturally, I was getting really curious, and he gave me a link.
At first, it looked just like millions of other websites that I've seen on the internet. Someone advertising their services claiming they could make you rich with cryptocurrency. However, there was something that stuck with me for weeks to come. Ganon was not a fool, far from it, and he had mentioned having checked this guy out and verifying that he was legit.
You can prove this? Really?
So, one Saturday morning I made a coffee, sat down in front of my computer, and opened the Copy my Crypto website.
The first thing I saw was photos of a bunch of people claiming to have huge amounts of money and thanking James for their earnings. Nothing special, seen it before.
The one thing that stuck was the tone of the text. There was none of the usual salesman hype, no words like awesome, incredible results, once-in-a-lifetime opportunity…
Even if there were phrases that were supposed to create interest, they were well measured, nondeceptive, calm, and that was refreshing for someone like me, who had spent two decades working closely with salesmen from all over the world. I won't even mention the volume of bs, flashy marketing, and downright lies I've heard in the last two years since I got into digital marketing.
This storyline didn't sound like a fairytale, and I was intrigued even more and kept reading closely.
James McMahon is a Math and Statistics professor from the UK. Since the creation of his YouTube channel, he has recommended 26 coins. The website claims that James always starts his videos by showing how his coins performed.
Ok, that's like a regular thing. I would expect something like that from anyone claiming to be able to predict crypto market movements. But, I was wrong.
In reality, most of the "crypto-gurus" on YT, or the internet never show if their predictions were right, or they find excuses why things didn't go the way they said they will go.
This is when things got even more interesting.
The next thing I read left me incredulous: James claims to have predicted the growth of 25 coins out of the 26 he recommended.
Wait, wait, wait…what? This guy is saying that he guessed 25 cryptocurrencies that grew in value? And, he was telling this to people on his channel?
I did the calculations today on November 17th, and the results are even more staggering.
Here is a chart, with all the coins he recommended with the prices when James spoke about it, along with the prices today.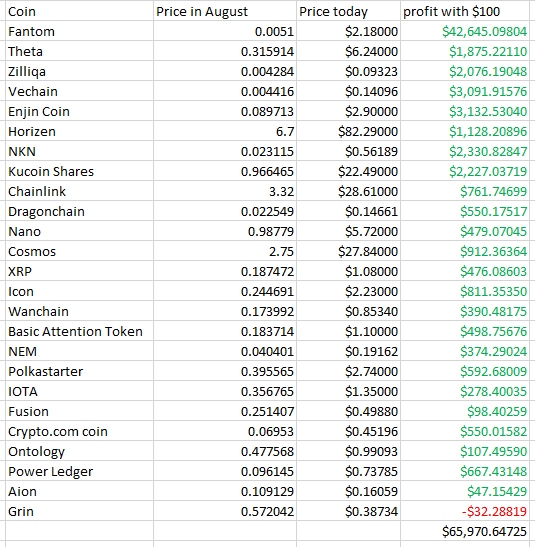 Had you invested $100/coin you would have made $65,000! And that's today when the whole market is dropping!
This was just incredible. It just was too good to be true.
I like to think that I'm a very realistic and skeptical person, especially when it comes to people claiming outlandish success on the internet. I did what anyone with a minimum of common sense would do: I checked James' claims.
I urge you to do the same and see for yourself how good James is at what he does.
I went back and watched his older videos, and compared the prices of the coins on those given dates. I checked one coin, then the next one, and the next one.
I stopped after the ninth cryptocurrency. I was amazed. This guy is the real deal. This guy can actually predict which coins will make money.
I couldn't believe that I actually found proof that Copy my Crypto was 100% legit.
Aboard Copy my Crypto
As you would have guessed, the very next thing I did was think that I want a piece of that cake as well. I mean, this man was able to predict when to buy Phantom at half a cent, and just waited until it went up to .84 cents. That's 168 times more!
And there are other 24 coins that made him profit as well (he did miss one).
That's a no-brainer in anybody's book.
Since we had our little business arrangement, James was gallant enough to grant me free membership, and I have become an avid supporter and member of Copy my Crypto.
How does the magic work?
It is the most simple thing in the world.
James lets all the members see and copy his own portfolio.
Obviously, James spends a lot of time analyzing, reading, studying the dynamics of the different coins. When he makes a move on his own coins, whether he sells, buys or trades, he sends out an email with a video, explaining exactly what he did and why.
You just have to copy James, hence: Copy my Crypto.
I cannot stress enough the simplicity of the whole operation. Even if you are a complete beginner who has never, ever even visited a crypto website, let alone traded, you will be able to set everything up and start in no time.
Then, you start making moves, and the money starts rolling in. It's not always much, it's not always the same, but it's growing every couple of weeks. It's never less than it was, and it feels good.
And if for some reason you are not happy with James and Copy my Crypto (which I seriously doubt), you can cancel your membership anytime, and there's a 60 days money-back guarantee, That means that if you cancel your subscription in the course of the first 2 months you will get every penny back.
You can read my full Copy my Crypto review here.
How to become a member?
First of all, I suggest once again that you visit the Crypto with James YouTube channel, and get the proof yourself before making any decisions.
You can go directly to copymycrypto.com and register there, but, as I mentioned before, I have a small business arrangement with James, so anyone who goes and gets a membership through this link will get a six-day trial for only $1, and a heavily discounted price of $49/month (normal price is $99).
As I said, if you decide to unsubscribe in the first 60 days you get a full refund, no questions asked.

Copy my Crypto Most Recent Updates
I decided to share some of the most recent updates after investments I have made after following James' advice in the Copy my Crypto members area.
This is an email I received on Thursday 18th just before Vybit, a new cryptocurrency hit the market: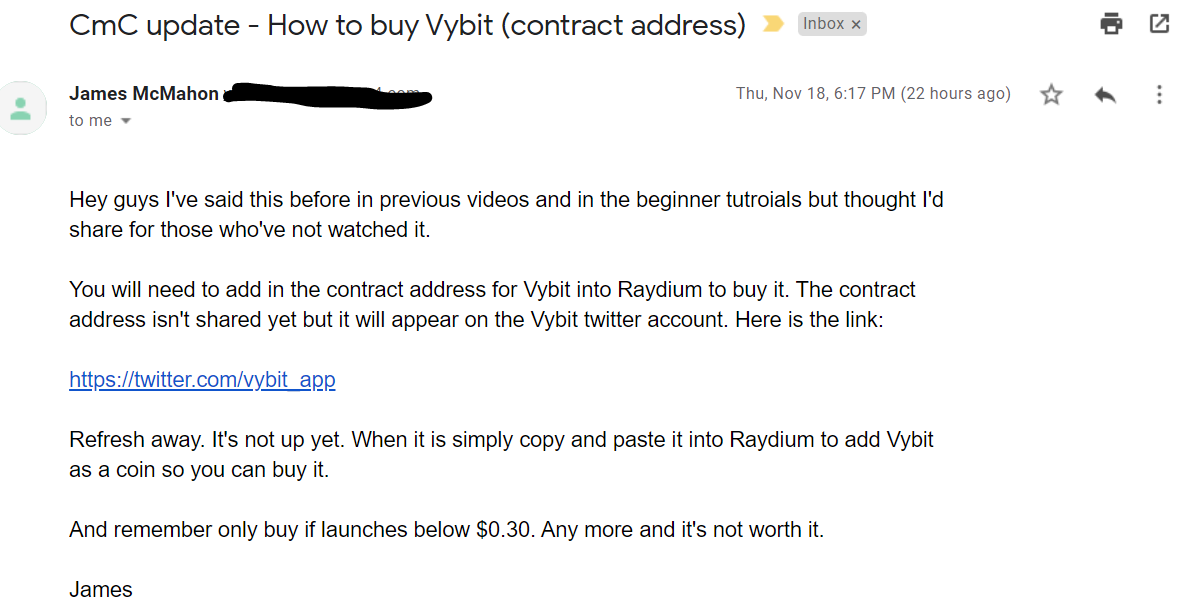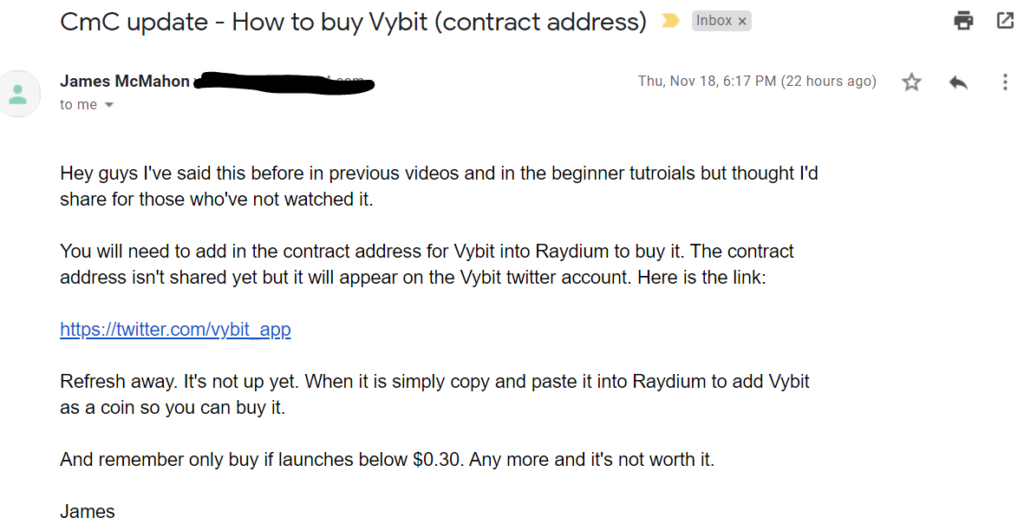 Then, a couple of hours later, I received this one: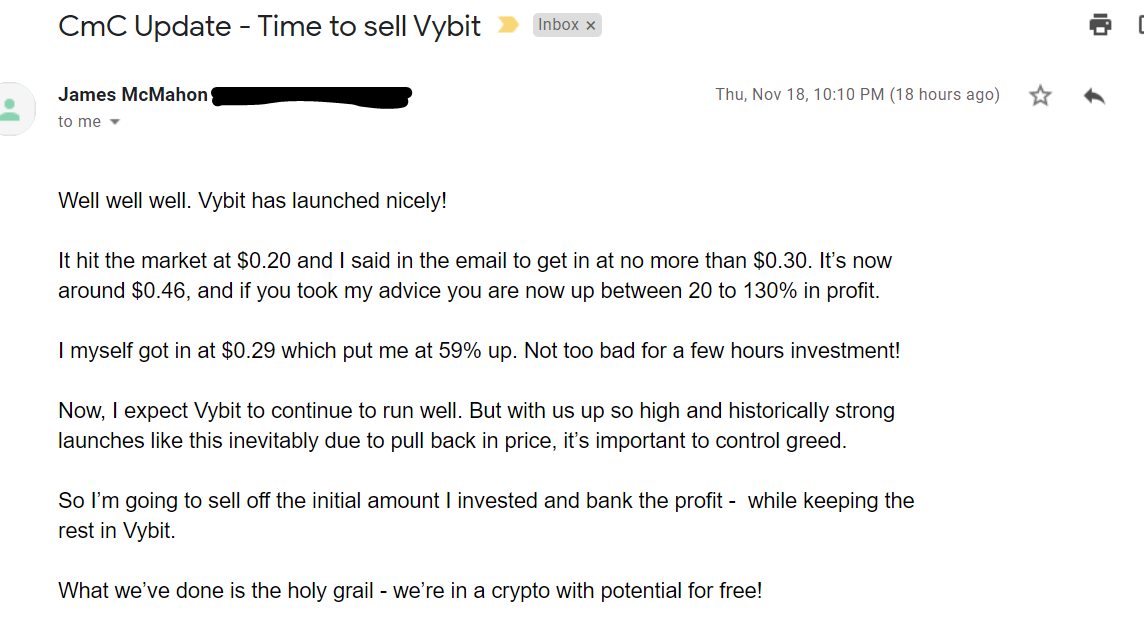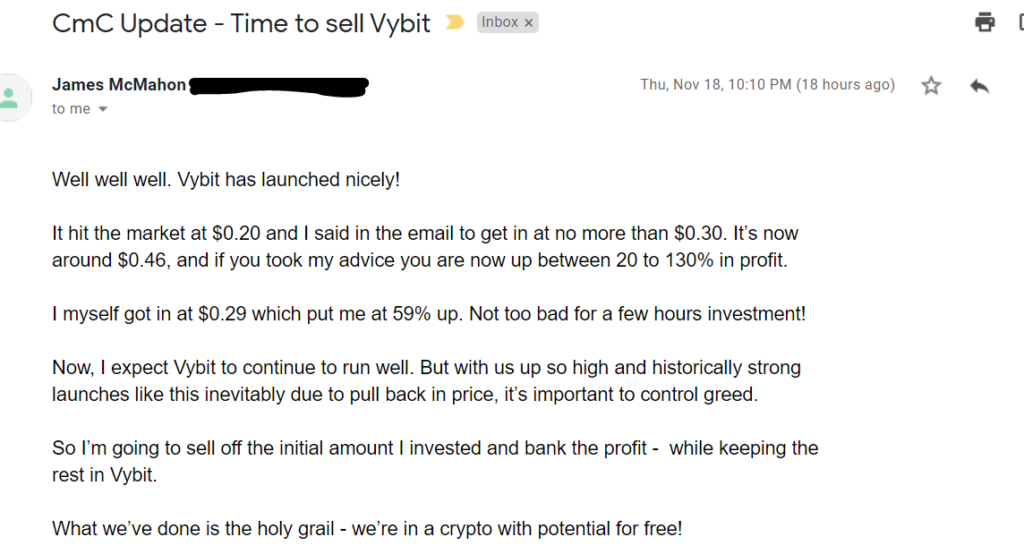 So, to make things perfectly clear; As a member, I received an email from James telling me to invest in Vybit as soon as it launches if the price isn't higher than $0.30.
The price was $0.20, so I bought coins. After less than 4 hours the price had risen to $0.46.
What I did was; I sold a portion of the coins I had initially bought, returning my investment, banking a small profit, and on top of that I am still holding new cryptocurrency with potential for free. And all of this in just a matter of hours!
Today's case study
Today, on November 21st the members received the following email: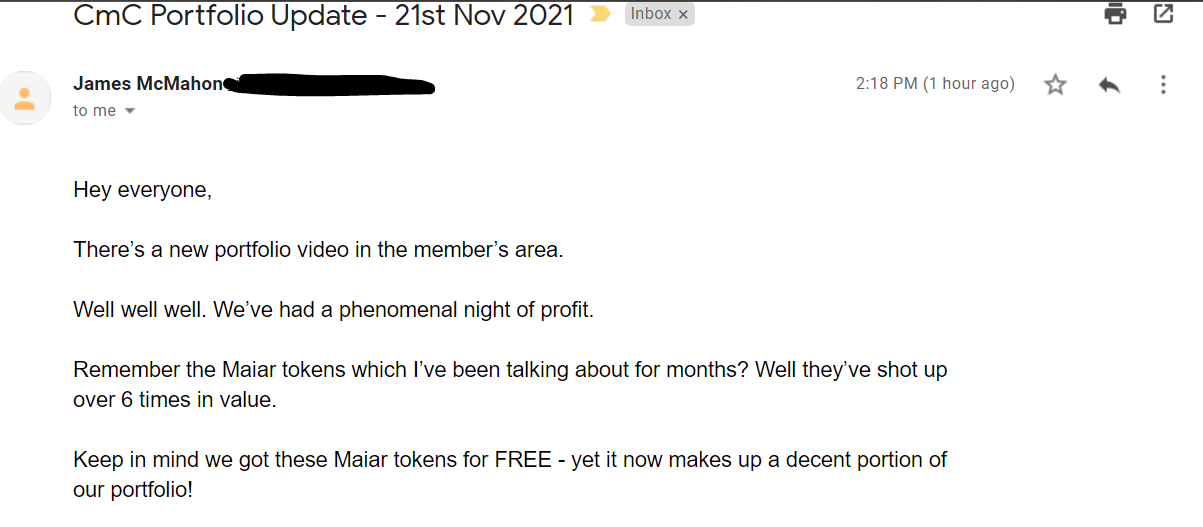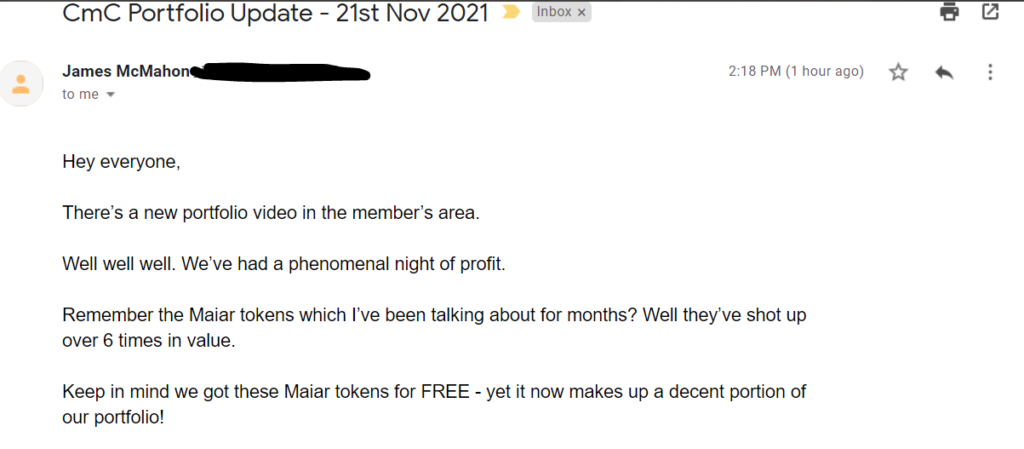 Thanks to James' advice I got into this cryptocurrency for free a couple of months ago.
If all this isn't proof enough that Copy my Crypto is absolutely by far the best way to make money, then I'm all out of evidence.
Copy my Crypto – To wrap things up
I have huge respect for what James is doing. I especially approve of his nonaggressive approach: this is what I can do, this is the proof – take it or leave it.
It is so refreshing to find a person who isn't just bullshitting. Someone who is 100% legit and honest.
That's what I'm trying to do as well:
This is Copy my Crypto, the proof is there for everyone to find – take it or leave it.
To your success
S