Long tail keywords are important for your blog to rank well in search engines. Here's what they are and how to find them.
Long tail keywords are a type of keyword that will help you improve the positioning of your blog, even if you are dealing with very competitive topics or if you are trying to make your way within your niche.
Through the long tail keywords, it will be much easier to position yourself in the first Google search results and this will guarantee you to increase the traffic of your blog, expand your audience and transform your visitors into customers.
But what exactly are long-tail keywords? And how do they manage to position themselves as if by magic among the top Google results?
It is precisely these questions that I want to answer in this article. So let's see together how long tail keywords are, how to find them and how to make the most of them to boost your blog.

What are long tail keywords?
If you have already done a keyword research for your blog using the SEO tools I have recommended, you will certainly have identified keywords that have very high search volumes. This means that many people search for those keywords on search engines.
The most logical thing to do at first glance would therefore be to use these keywords. More searches = more visits. Right?
Well, not exactly.
Another very important parameter to consider in addition to search volumes, in fact, is what is called keyword difficulty (KD), i.e. the difficulty that a keyword has in positioning itself, based on the competition.
The higher the KD, the greater the competition for that keyword in the search results.
Let's take an example to better understand everything.
Let's say you have a yoga blog. One of your goals will therefore be to be found by those who search for the term "yoga" on Google.
The first step is to go to Semrush and analyze the keyword (you can do this by simply clicking on the left menu Keyword Search> Keyword Overview).
From this first research, we see that the dry keyword "yoga" has a very high search volume but also has very high competition and therefore high difficulty.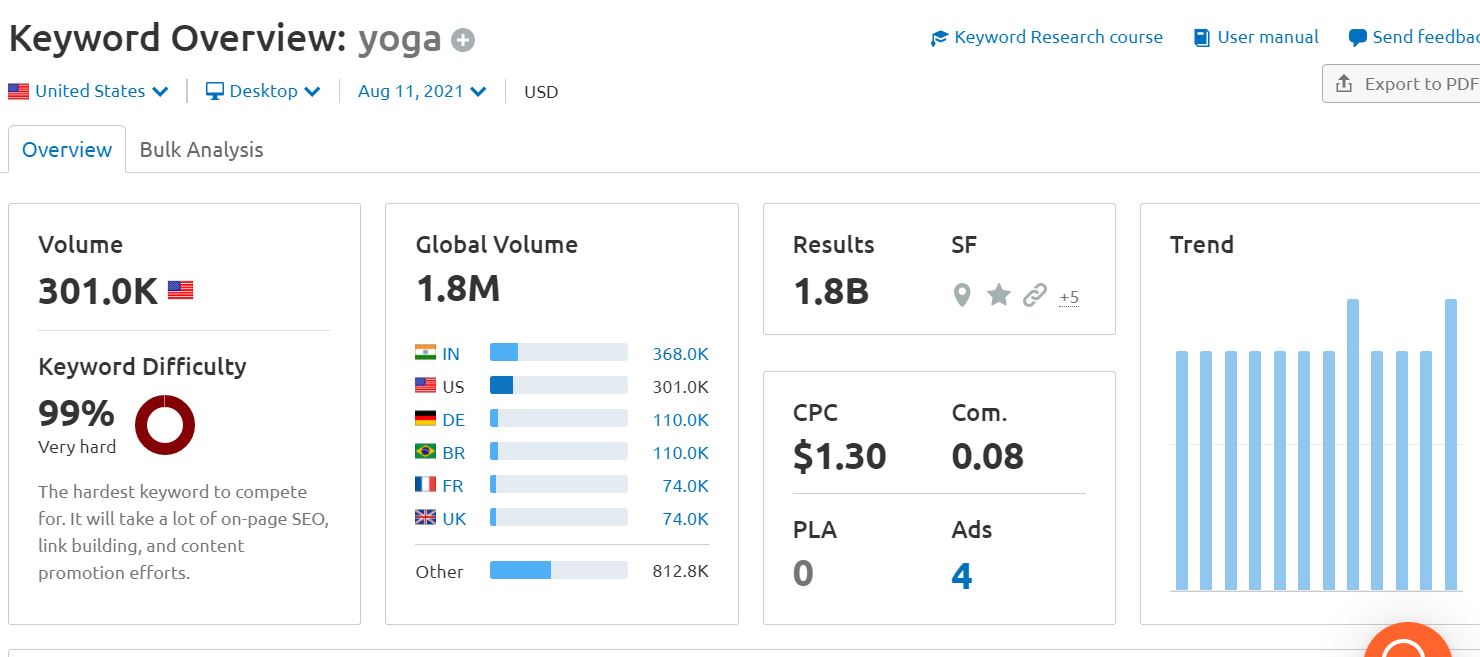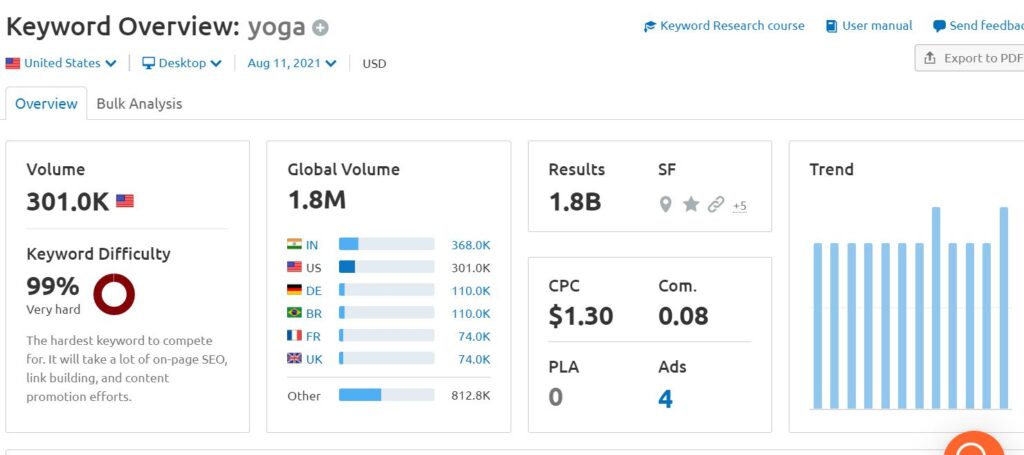 Positioning yourself in the first search results for the dry keyword "yoga" will certainly be very difficult because you will have to compete with giants such as Wikipedia, difficult to overcome, especially if your blog is still young.
So how do you make sure that your target can find you on Google?
Long tail keywords are the solution.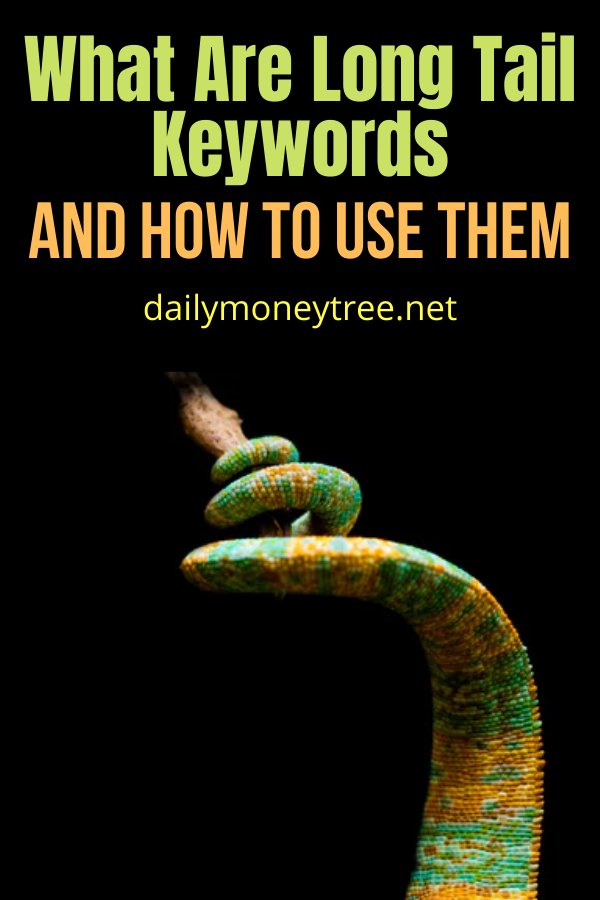 So what are these long tail keywords?
Long tail keywords are longer keywords than the so-called short tail keywords and are much more specific and more conversational.
Very often, in fact, people use conversational queries, ie keywords that represent a question, a bit as if users "conversed" with Google rather than looking for dry keywords.
Go to your Google search history and check what you recently searched for. You will see that most of the queries you searched for are long tail keywords, such as:
So let's go back to our yoga blog.
"Yoga" is a short tail keyword, highly competitive and very difficult to position
"How to get rid of the headache with yoga" is a long tail keyword, a long tail keyword, with much less competition and much easier to rank in the first Google search results.
These keywords, therefore, have lower search volumes but less competition and it is easier to be able to position them in the first search results.
What are the advantages of long tail keywords?
Using long tail keywords strategically ensures you a lot of advantages, and not just in terms of positioning, such as:
greater chance of ranking in the top Google search results
higher conversions of readers into customers
high chances of appearing in Google Featured Snippets
you can enter the Google answers in the box "People also asked"
optimization of your blog also in view of voice searches.
Let's look at these points in more detail.
Better positioning on search engines
As we have seen, since long tail keywords have less competition, they are more likely to rank in the top Google search results.
It is true that the traffic will be slightly less but it is also true that as a percentage, most of the people who search for that query will land right on your blog. And it will be traffic that is more aware and more inclined to purchase.
More conversions
A better ranking in a short time is not the only advantage of long tail keywords but they also have a much more tangible advantage: that of converting your readers more easily and monetizing your blog accordingly, precisely because you know exactly what they are looking for.
Enter the Google snippet
Another important reason to focus primarily on longtail keywords is to have a better chance of ranking in Google's featured snippets.
And why are featured snippets so important?
Simple. In addition to a great ranking, you also have a large visual space between the search results, and people will be much more likely to click on your articles.
According to research done by Ahrefs on 2 million snippets, this position manages to steal traffic from the results in the first position, acquiring about 8.6% of clicks.
"People also asked" Google box
This box is extremely important because they are keywords related to the searched query which appears when searching for example "yoga".
If the yoga query is too difficult to rank for, then develop blog content based on these questions. In this way, you will be able to be visible on the first page of Google for the search result "yoga", even if you have developed a topic from a related keyword.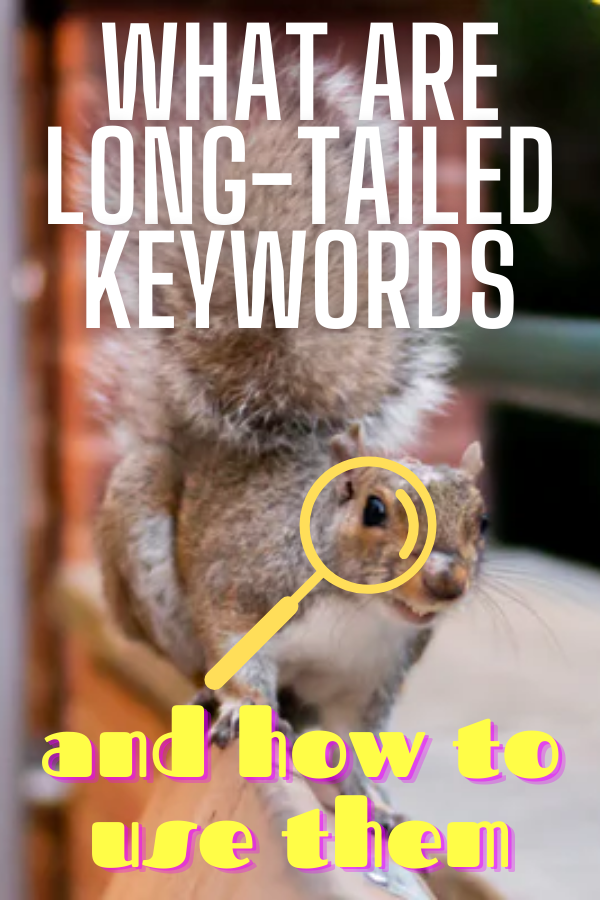 Long tail keywords and voice search
Another reason why long tail keywords will become increasingly important in the future concerns artificial intelligence and – more specifically – voice search.
Artificial intelligence, in fact, is making more and more space in the world of blogging and all-around digital marketing. Just think for example of Conversion AI, the tool that writes blog articles independently, following the guidelines you provide.
Among these innovations that absolutely should not be ignored, there is also the voice search which – coincidentally – is based precisely on the long tail keywords.
If you have Alexa, but even if you use Google's voice search, for example, you know what I mean. People hardly address Alexa using keywords but they use more conversational language.
Voice search queries are generally longer than those searched when typing a search on search engines and this is also why you need to start paying more and more attention to long tail keywords.
How to find the best long tail keywords
Now that you understand what long tail keywords are and why they are essential in a long-term blogging strategy, we come to the crucial question: how can you find the best long tail keywords?
Nothing could be simpler: there are numerous tools to do this.
Here are the ones I usually use:
Semrush
Google autocomplete results
Google's "People Also Ask" box
Google related searches.
Finding long tail keywords with Semrush
The tool I use the most to do keyword research, find long tail keywords but also create well-optimized articles that rank very well on search engines is undoubtedly Semrush.
Semrush has a section entirely dedicated to keywords that helps you find not only keyword difficulty and search volumes but also to find related keywords and long tail to work on.
To find long tail keywords, just go to Semrush, create a free account if you don't have it yet and you can start your search.
I also recommend that you unlock the premium features by activating the 7-day free trial. At the end of the 7 days, you can decide whether to buy the tool or continue using it for free in its limited version.
Once you are logged into Semrush, go to the left menu and select Keyword Search> Keyword Magic Tool.
Let's continue with our yoga research.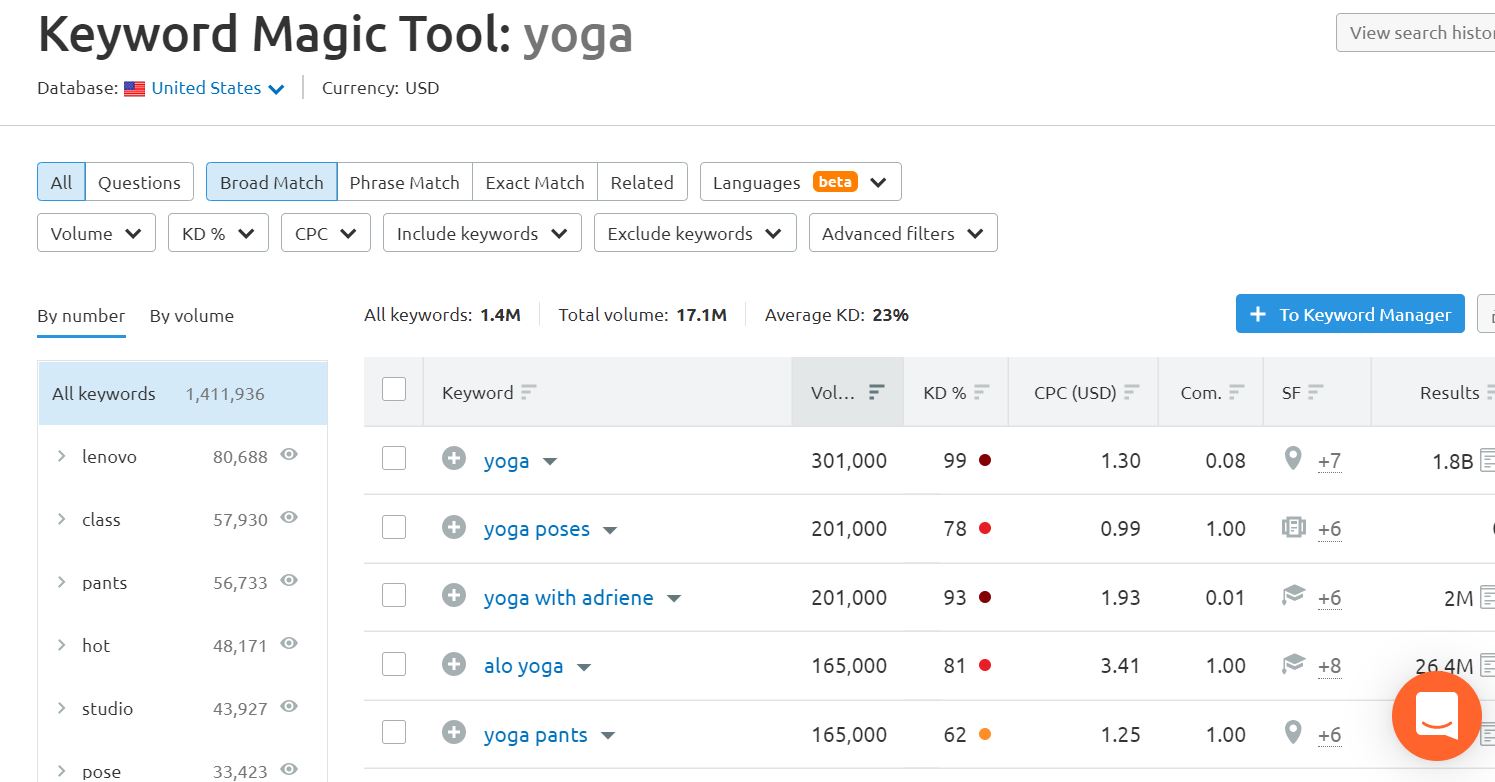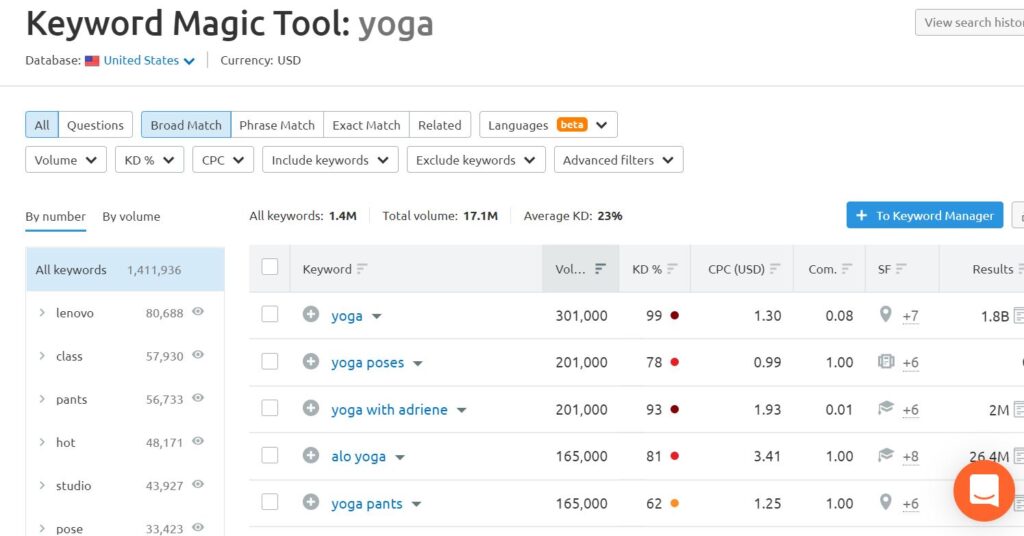 As you can see, you can filter the results according to various parameters, in particular, I recommend that you search for related questions and keywords.
Here is an example of the questions, which you can use as a long tail keyword to position yourself in the yoga niche: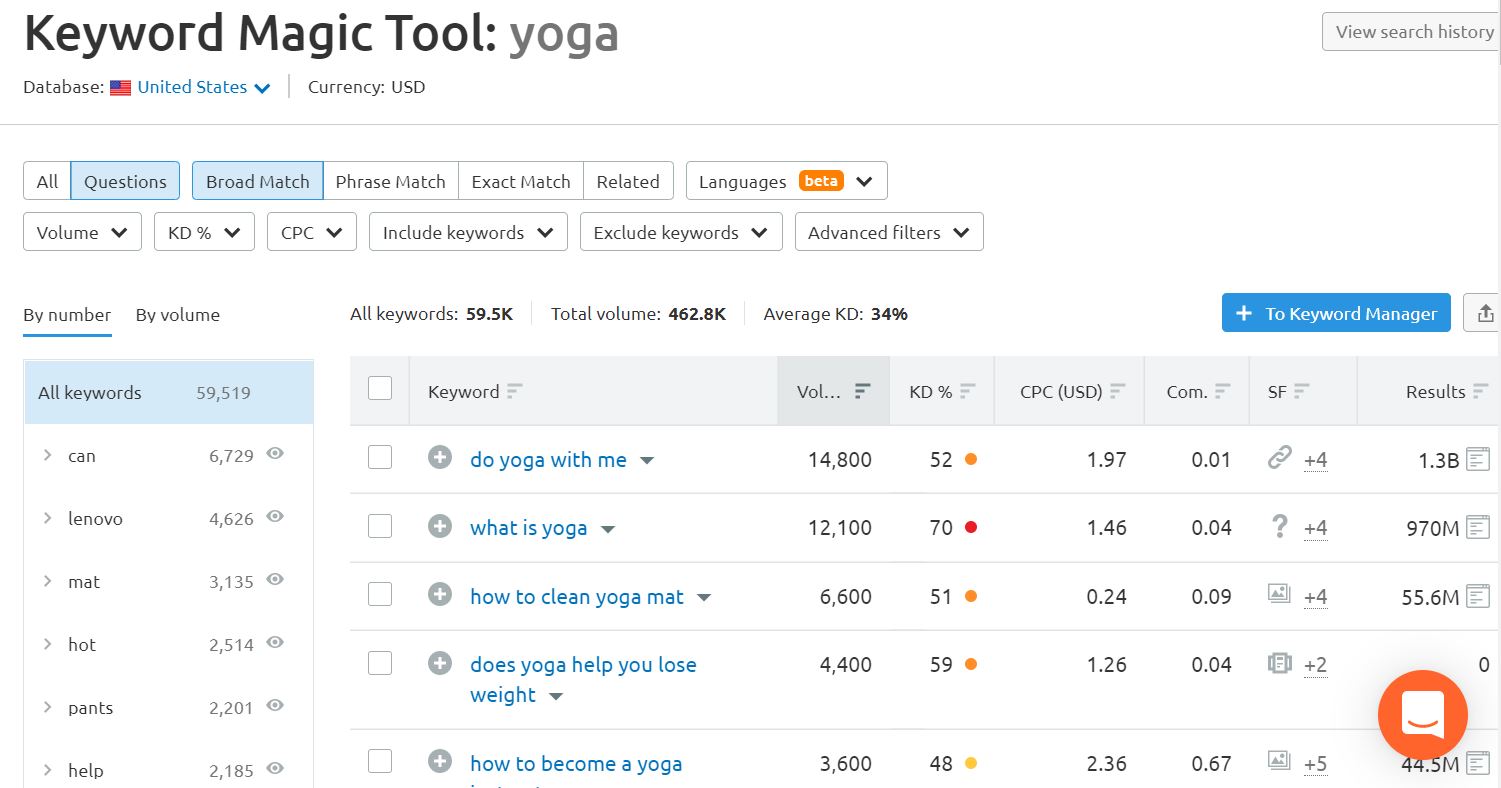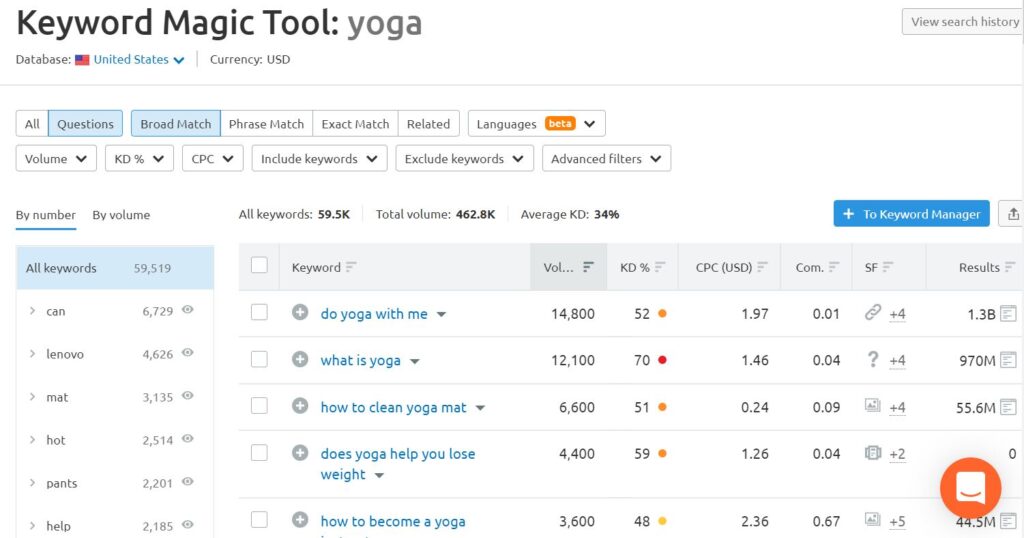 And here's a list of over 2,000 long tail keyword results on yoga.
Now you can never say again that you have no ideas for your blog posts.
Answer the Public
Answer the Public is a tool as simple as it is brilliant.
In fact, you just need to enter a word or two to get all the related long tail keywords.
You can also download the list of all the keywords found in alphabetical order and use these results to make new searches and discover increasingly widespread topics that you can develop on your blog.
Google autocomplete results
Another simple trick to catch new long-tail keywords is Google's autocomplete results.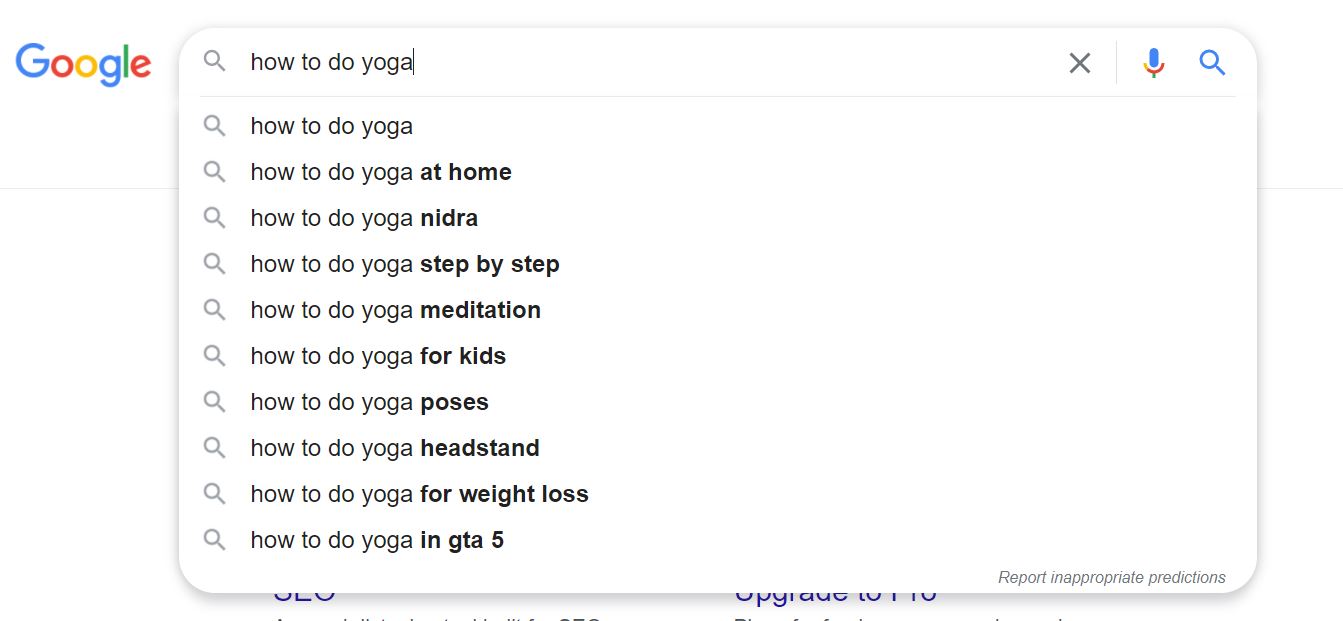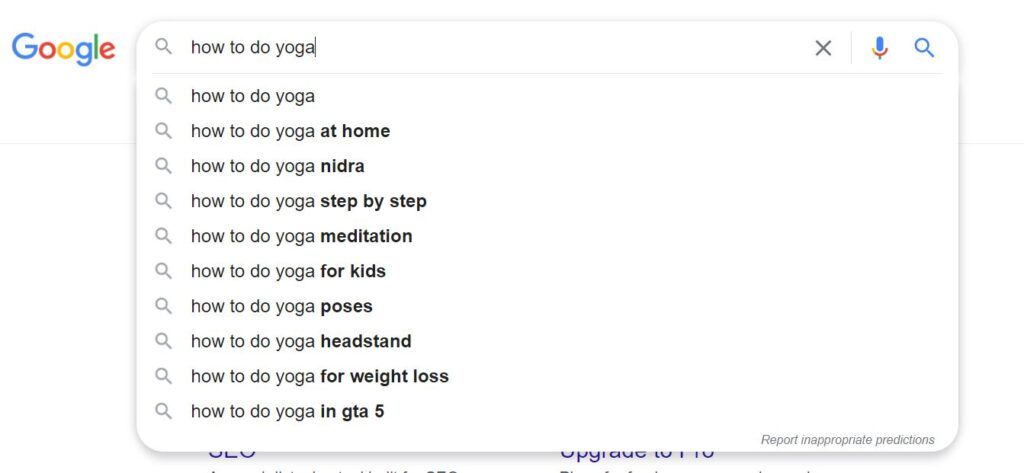 And your long tail keywords are served!
Simple, practical, and effective, the way I like it.
I recommend: always do this type of search in an incognito tab, so as not to influence the results from your previous searches.
Google's "People Also Ask" box
Google's "People Also Ask" box is also a valuable resource for finding new long tail keywords to develop on your blog.
The peculiarity of this box is that if you open the questions, the list will expand. Here are the results found by searching for the query "yoga".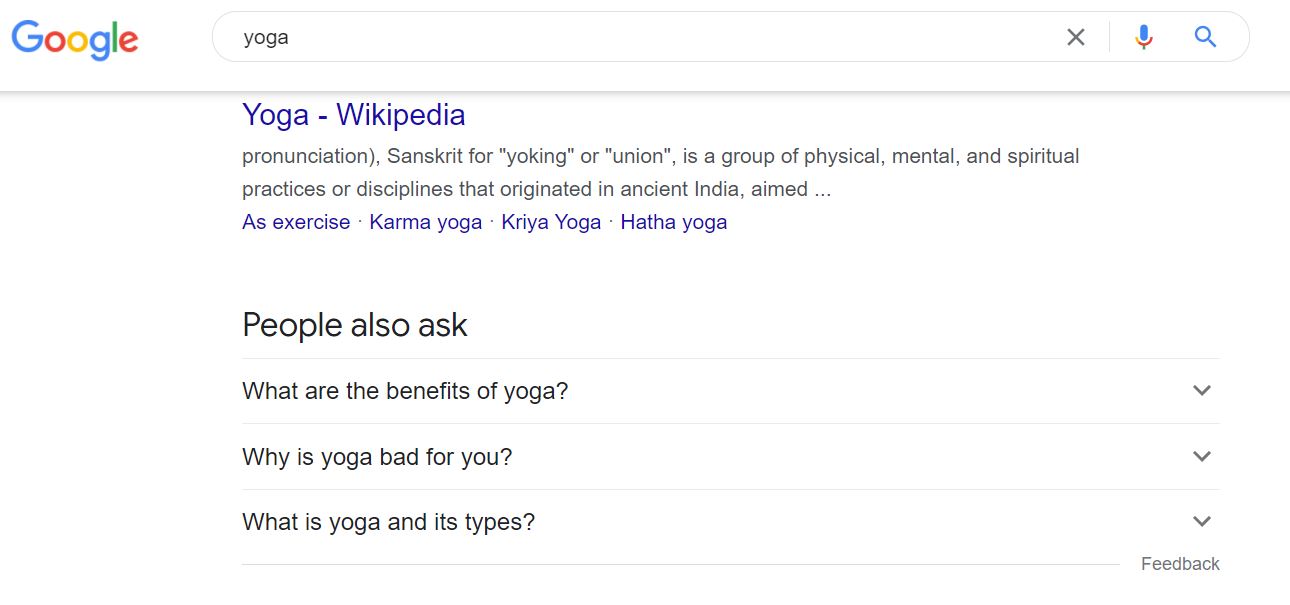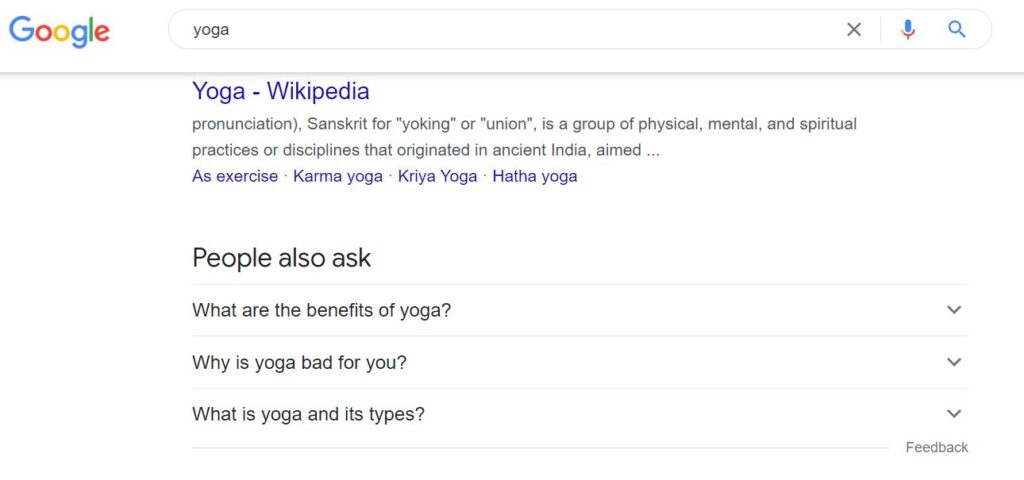 An excellent list for writing new articles, don't you think?
And that way you can be sure that it will be much easier to rank these items than the short tail keyword "yoga".
Google related searches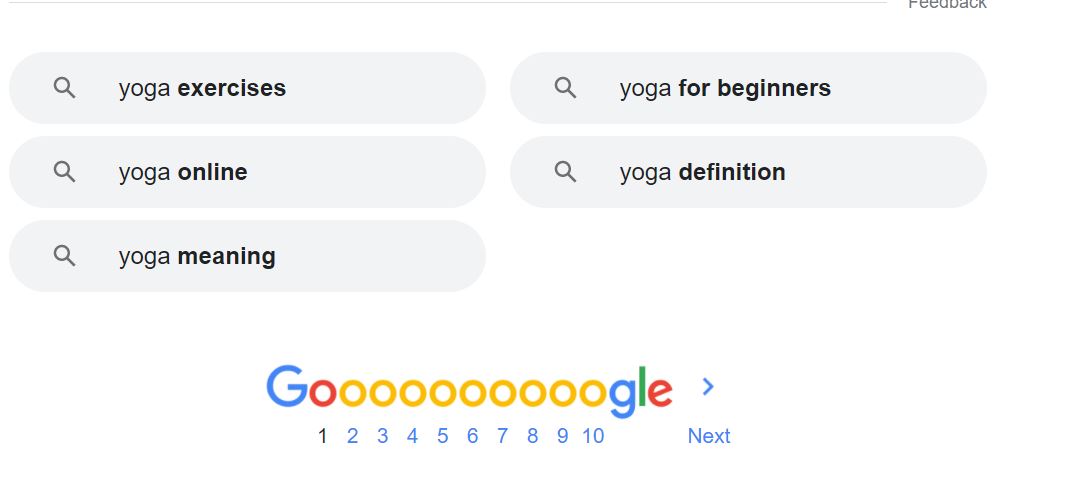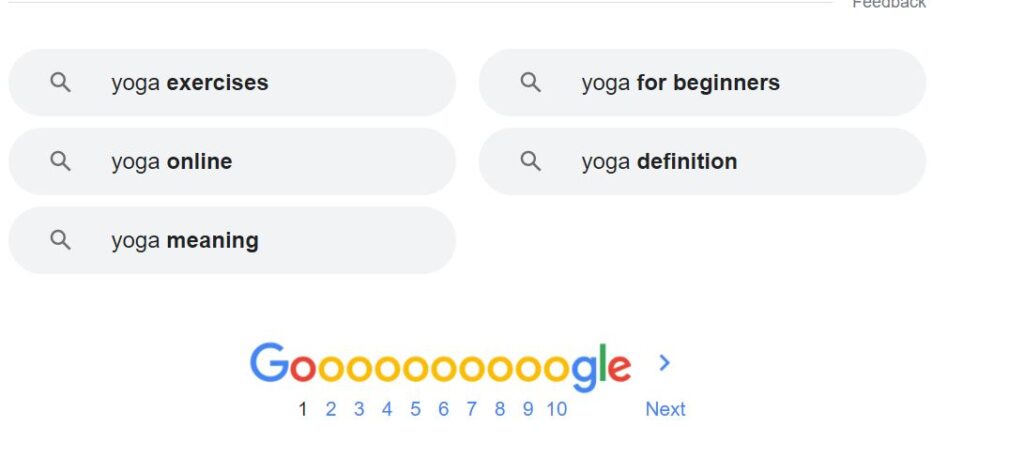 Examples of long tail keywords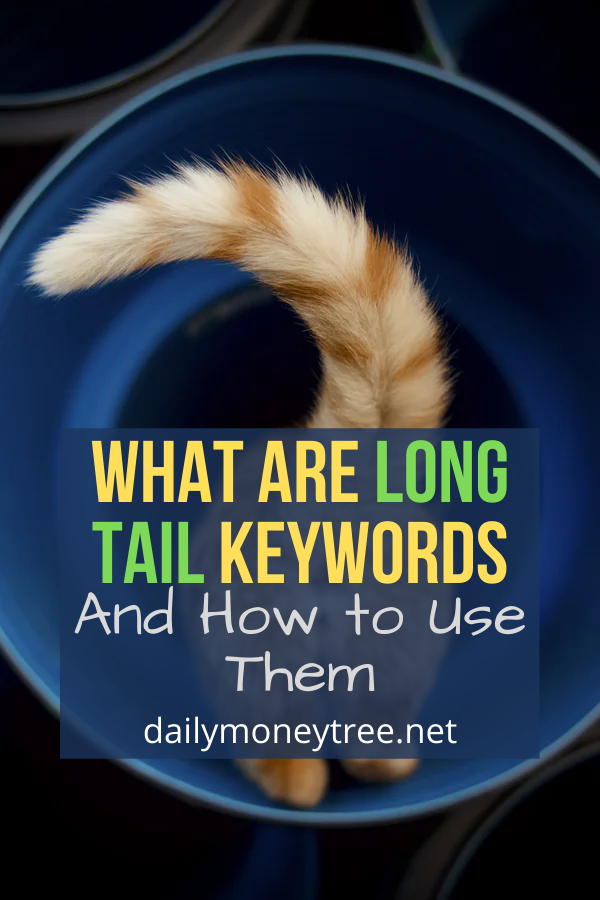 I think that when you get this far you have perfectly understood what long tail keywords are. But I still want to give you some ideas, especially when your aim is to write effective headlines for your articles.
Here are some examples of effective long tail keywords:
How to [TOPIC] in [NUMBER] simple steps
How to learn English in 5 simple steps
How to become a successful entrepreneur in 7 easy steps
Like [TOPIC] in [TIME]
How to unclog a sink in 5 minutes: this is the secret of the professionals
How to earn € 5,000 in 24 hours
[NUMBER] secrets for [RESULT]
7 secrets for always perfect skin
10 secrets for a home that is always clean and tidy
[NUMBER] things about [TOPIC] that no one has ever told you
10 things no one ever told you about sex
15 things on social media that no one has ever told you
[NUMBER] things to know before [ACTION]
12 things to know before buying a new car
9 things to know before buying a new camera
Why not [ACTION]? Here's how [ACTION] in [TIME]
Why can't you find work? Here's how to find a job in 48 hours
Why don't you lose weight? Here's how you can lose 5 pounds in a month (even without a diet).
Final Thoughts
Well, now that you've gotten this far, two things certainly have happened:
you understand what long tail keywords are and how to use them.
you have an unstoppable desire to do yoga.
So now you really have no more excuses. Use these very simple but super effective strategies and you will see how your blog will start to measure more and more traffic.
To your success!
S