This cryptocurrency is in fact one of the best known and most important in the world and more and more investors, experts or novices, are looking on the web for information on the possible trend of the price of this cryptocurrency.
Before going on, I would like to specify that the term " Ripple " means the cryptocurrency network and the initials "XRP" the actual cryptocurrency. However, for simplicity, I will use the term Ripple to refer to the XRP cryptocurrency throughout the article.
What are the factors that influence the Ripple price forecast?
How much has this cryptocurrency grown over the last few years and how much will it grow in the next few years?
Ripple is one of the most important tokens in the world in terms of market capitalization. A key feature is that it is a digital currency that is very successful in the "real world". Indeed, this cryptocurrency is used by banks to carry out cross-border transactions which turn out to be extremely quick and cheap compared to traditional methods.
However, this cryptocurrency is highly criticized by the community of fans of this sector. In fact, it is not considered decentralized but rather controlled by a private company.
However, for anyone investing online, these details are purely superficial. The Ripple cryptocurrency is one of the most interesting and with very attractive growth prospects. Before investing, however, it is necessary to pay close attention to the aspect of the Ripple price forecasts.

Ripple: forecasts 2021, 2022, 2023 and 2025
Ripple cryptocurrency has a correlation with the dynamics of the Bitcoin rate. This cryptocurrency continues to rise and fall in value just like all the rest of the cryptocurrency markets.
The popularity of Ripple is now beyond question. Although this cryptocurrency uses RippleNet technology, adopted by many banks, it still remains a very small reality when compared with the main currencies. However, we believe that if we see an increase in real-world usage of this token in the future, there is a big chance that this cryptocurrency will have all the credentials to dramatically increase in price in the near future.
The commissions of this cryptocurrency are significantly lower than Bitcoin and other "major" cryptocurrencies. The transaction speed that the Ripple network can boast is also much higher than Bitcoin.
Purchases and transfers of value using Ripple are not as popular as Bitcoin is already. All these aspects make Ripple a cryptocurrency which, although it absolutely does not embrace the decentralization principles dictated by the inventor of Bitcoin Satoshi Nakamoto, is still more suitable to become one of the most popular payment instruments ever.
Ripple Price Forecasts – The indicators used
To make a short-term analysis it is necessary to look at what the technical indicators say, in addition to considering a time frame of at least 3 months. The cryptocurrency situation is in turmoil and, in any case, it is never easy to reach 100% certain conclusions in trading.
For the technical analysis, the following indicators are taken into account:
Moving averages : tool not always accurate, but useful for understanding the market situation with reference to its current strengths
Oscillators: tools capable of indicating market trends, the main ones to be taken into consideration are:
RSI
CCI
AWESOME
MACD
MOMENTUM
Ripple 2021 forecast – is it worth investing?
Taking an average between the indicators that we have taken into consideration to make the technical analysis on Ripple, an invitation to buy is clear .
In short, this would be a good time to buy Ripple and to hold the tokens for at least 6 months . However, given that the indications are not so strong in this sense, a number of other elements must also be taken into account.
The current situation of cryptocurrencies
Currently, we are in an interesting and eventful phase for cryptocurrencies. The sector sees continuous general growth, after a few weeks of decline,although it must be said that this has happened, in recent times, almost exclusively thanks to the decentralized finance (DeFi) and the newly minted tokens that have led, such as Uniswap . Ripple does not offer these services and therefore it is by no means clear that it will benefit from them.
Diversification of your portfolio
Ripple (XRP) has a tendency, which does not always occur, to be driven by the most important assets in the sector, in fact it is one of the cryptocurrencies with a high correlation rate with Bitcoin .
So it can also be purchased with this in mind. In this way, one can invest with a fairly diversified portfolio.
In any case, it is preferable to also take into account the long term , to have a sufficiently clear picture of the situation and make good Ripple predictions.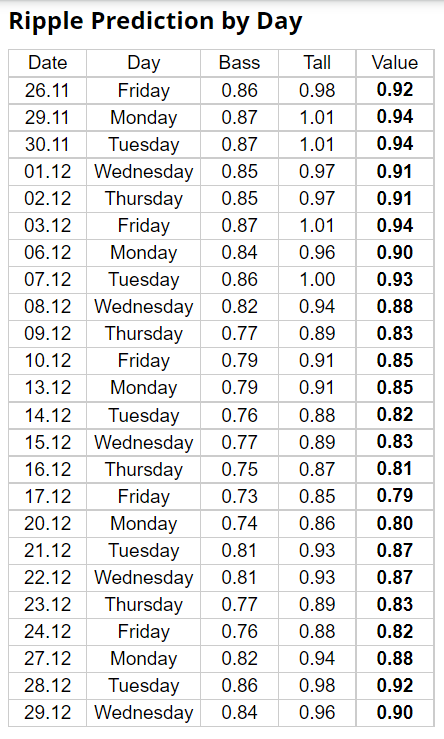 Ripple forecast 2022-2023
Despite the rather complicated moment, the Ripple forecasts that see it seem credible, for 2022/23 at almost double the current price . Of course, however, there are multiple elements that need to be taken into account in order to say for certain whether this prediction is reliable, including:
The SEC ruling: the central crux of the story remains, capable of enormously influencing Ripple forecasts.
Stella (XLM): Ripple's main rival should be kept an eye on. Many people buy Stellar in 2021, in fact the SEC case has allowed them to take a good leap forward.
But, as I said before the lawsuit looks very good for Ripple. Regardless of whether the case ends up as a victory for Ripple, or with a settlement, my Ripple price forecast is positive.
Ripple forecast 2023-2025
To make predictions for Ripple even more complicated is the uncertainty about the future stability of the project. All in all, the assumptions of most experts are optimistic: the long-term forecasts believe a target price of around $ 4.7 is credible .
But it will be necessary to take into account some elements, including, in fact, the stability of the project itself. There is also the evolution of the cryptocurrency market and the development of digital currencies competing with Ripple to consider. Even if, from the front of the "official" payment system, Ripple seems to have its "back covered" by large banks and global financial groups.
A brief history of Ripple
Ripple was founded in 2012 by Arthur Britto , David Schwartz and Ryan Fugger . Initially, the team used the C ++ programming language and designed a network for gross settlement and near real-time currency exchange.
Ripple's coins are not mined as is the case with Bitcoin and other cryptocurrencies, but simply issued by the owner company.
In 2013 , the Ripple Transaction Protocol (RTXP) was then introduced : this payment protocol allowed the instant transfer of money between two parties. The protocol was implemented by numerous financial institutions from the outset to provide an alternative remittance method.
Between 2014 and 2017 , Ripple focused on the banking sector and Ripple Labs experimented with an iPhone application that allowed users to send and receive transfers directly from their mobile.
The German bank Fidor Bank was the first company to use the Ripple network for cross-border payments, in 2014. Important Banks as Cross River Bank , CBW Bank, Earthport, HSBC and Bank of America have followed suit.
We can therefore say that Ripple has made a name for itself above all as a bridge between traditional banks and blockchain technology. Although the partnership with currency transfer giant MoneyGram has been closed, its fate seems to be sealed.
Ripple is considered an "anomalous" cryptocurrency, since it enters into agreements with realities of the mainstream economy . In fact, banks are thrilled to be able to leverage its blockchain with fast, low-fee transactions. It is also not decentralized: it is managed and emanated centrally by its laboratories, based in San Francisco.
Ripple price forecasts – Conclusion
The forecasts on Ripple are all very positive, even in the short term. However, there are some critical points that we will have to adequately consider before making major investments in this cryptocurrency.
The project continues to be relatively solid on the technological level and among the best on the commercial level. Adoption exists and is growing, even if not at the pace that everyone expected only a few years ago. The setback, however, could be momentary. Which would make entering the market now a real bargain for those aiming for the long term.
Hope that this article on Ripple price forecasts was helpful. Feel free to share it with your friends.
To your success!
DMT