Even though I have written about Copy my Crypto in my article – The Inside Story, I realized that I never did a proper review of the website, which I can now do, after being a member for several months.
Why has this website been creating so much hype recently? Why is its membership growing at such a fast rate?
If you have read my previous articles, then you know how highly I think of Copy my Crypto and James. After all, they are the reason that I have been able to make good money in the past couple of months, even during the days of the recent crypto market drop.
So, I will do my best to be objective, and point out the downsides.
Copy my Crypto Review
First of all, in this Copy my Crypto Review, I want to address the question of whether this site is legit.
Absolutely! There's no doubt about it. The very methodology of how it works is the proof. You get to see James McMahon's personal portfolio with the percentages of the investment spread, and you choose how much you will invest.
James doesn't take any percentages of your profits, and there are no upsells at the present moment. Everything is pretty straightforward. You get what you see.
So, we can conclude that Copy my Crypto is 100% legit.
How does Copy my Crypto work?
As I said before, it is very straightforward.
Once you become a member you get a welcome email with your login details and a link to the member's area.
The member's area looks pretty basic. There is a welcome video, the beginner's guide area, and the actual portfolio updates, where you can see what James is doing with his coins, and where he explains why he is making the moves he is.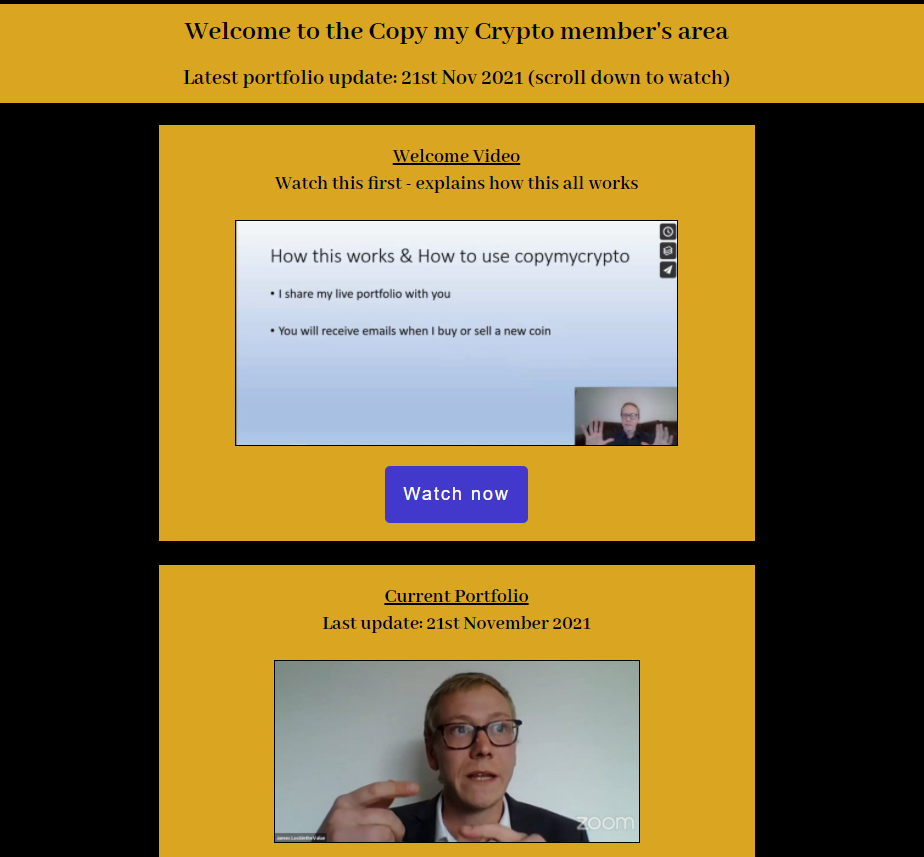 Beginner's Guide to Crypto Investing
The beginner's area is a set of videos that explain all the things you need to know to start buying, trading, and selling cryptocurrencies, as well as information on which platforms to use and how.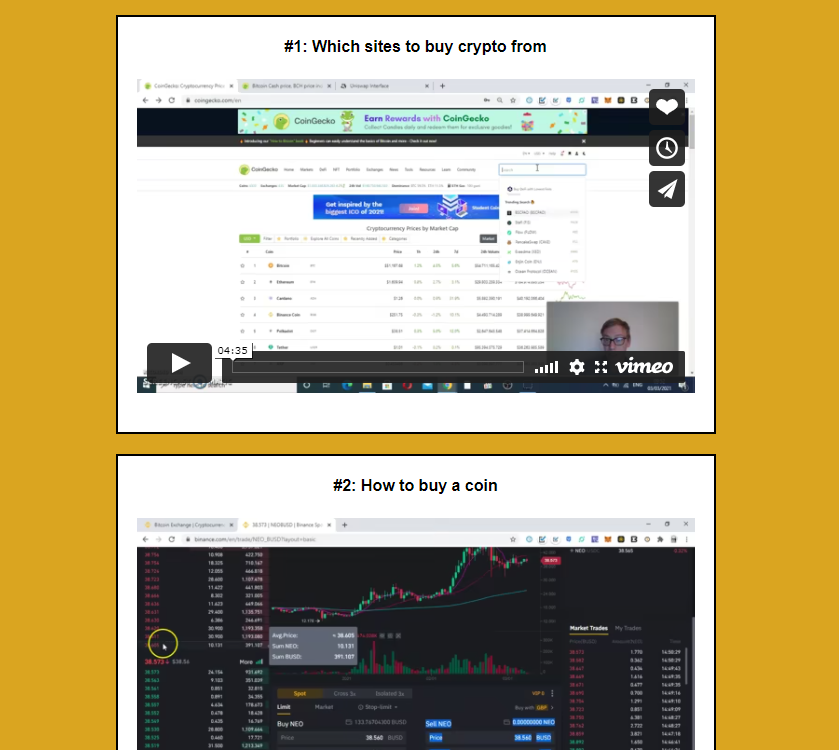 Current Portfolio Area
This is where the money is!
The current portfolio area contains videos that James makes whenever there are changes in his strategy. You don't need to watch all the videos because only the last one is the one to consider. Very simple and easy to follow.
Sometimes James would put up 1 video per week, sometimes 3,4, and sometimes none. It all depends on the market fluctuations, and whether he has decided to invest in a new cryptocurrency, or decided to sell a coin or trade for another one.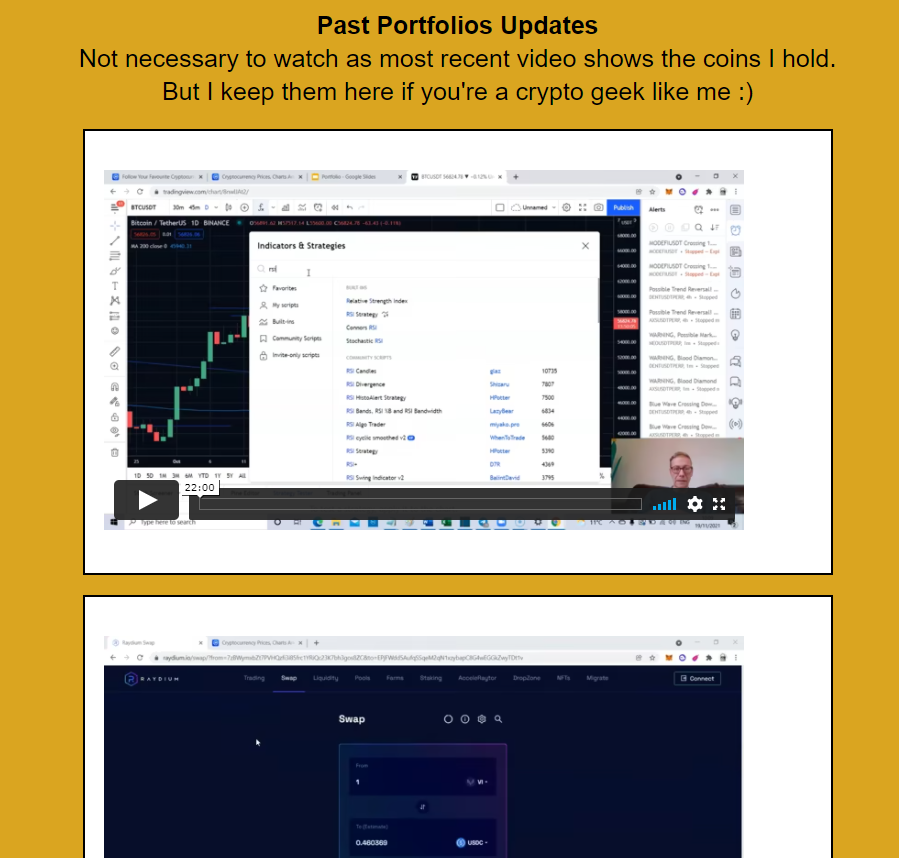 Every time that James makes any changes to his portfolio all the members are informed via email, and invited to watch the latest video in the member's area. So, every time there is a change, there is a video that explains everything in detail.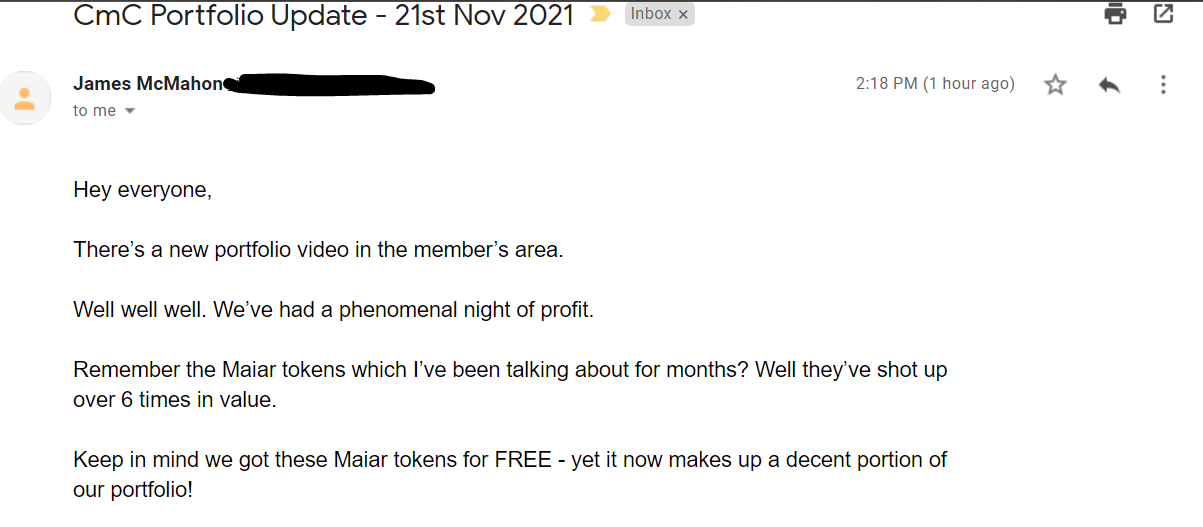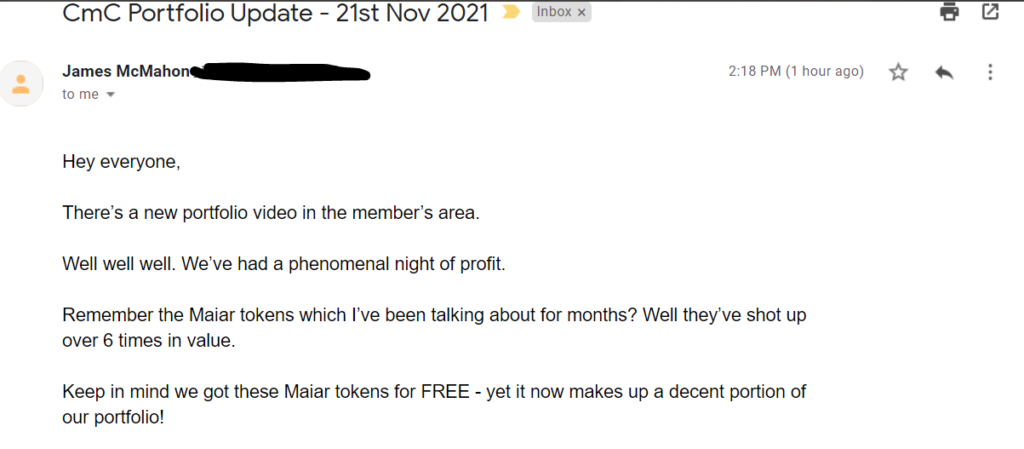 So simple, right?
Who is James McMahon and why should I listen to him?
One of the topics I want to cover in this Copy my Crypto review is James McMahon, and why should he be someone relevant enough to listen to when it comes to investing in cryptocurrency.
James is a math and statistics professor from the UK. He has been investing in crypto for the last 7 years with extraordinary success and has been able again and again, to predict which coins to invest in, and which to avoid.
James started his YouTube channel "Crypto with James" in February of 2020.
The hype started on February 24th, 2021, when Fantom, a little-known coin hit $0.84. James was the first one to strongly recommend the Fantom coin back when the price was $0.0051 in May 2020. That means that the value of Fantom had grown 168 times since when James talked about it. The value of Fantom today is $2.01.
That's where this incredible ride started. Along the way, James recommended other 25 coins. All but one grew in value. Had you invested $100 in each when James talked about them in his videos, today, your profit would be almost $66K.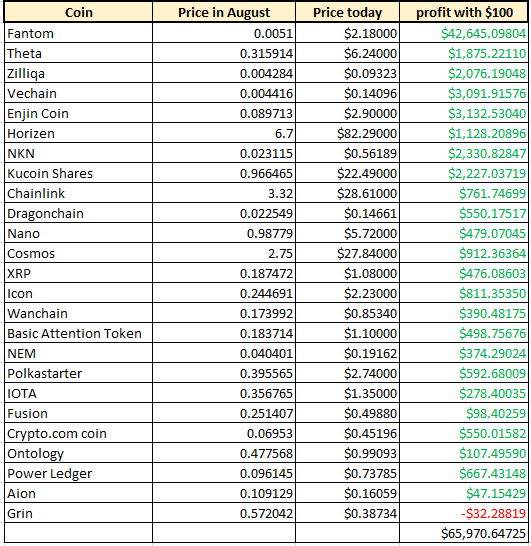 Copy my Crypto Review – the Proof
I understand that these claims sound unbelievable and that you might be highly skeptical with so many scammers on the internet. That's why I invite everyone to do what I did: check for yourself.
You can go through every video, write down the dates when James recommended the coins, and compare it with the prices today. You will be mesmerized. I know I was.
Here's an example from just the other day.
The members got an email from James just before Vybit, a new cryptocurrency hit the market. He recommended investing in it, but only if the price was $0.30 and below.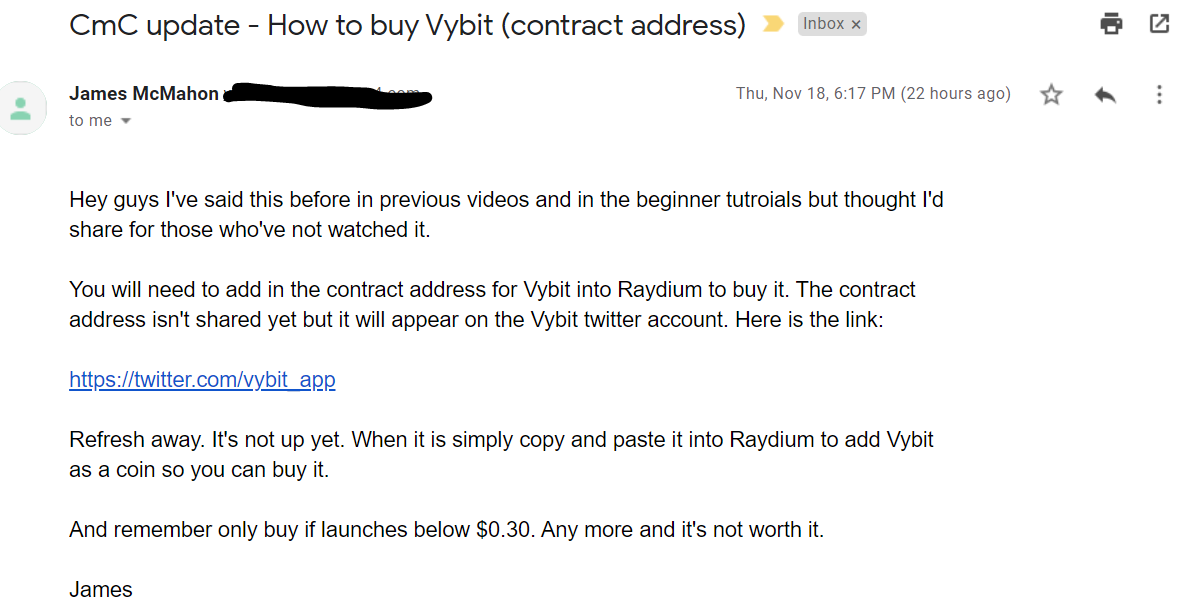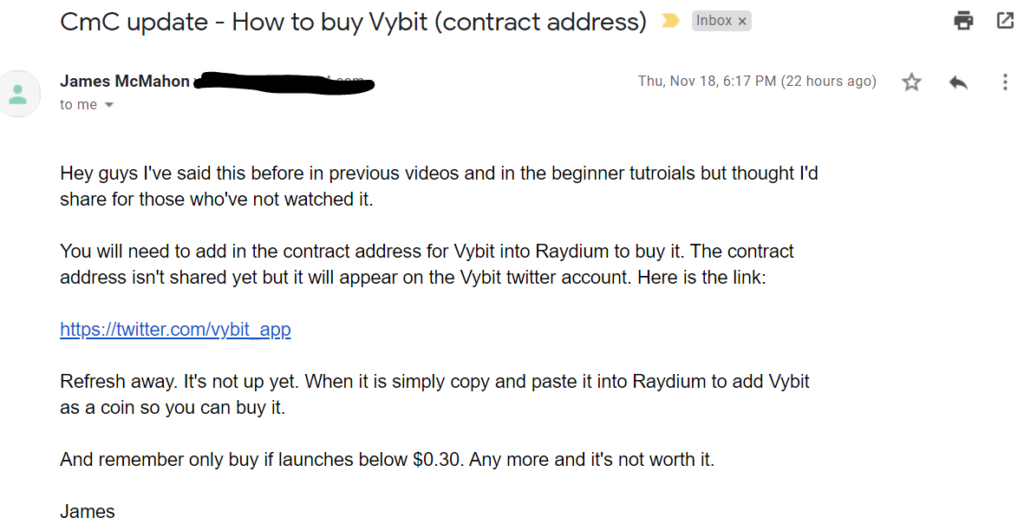 After a few hours we received the second email.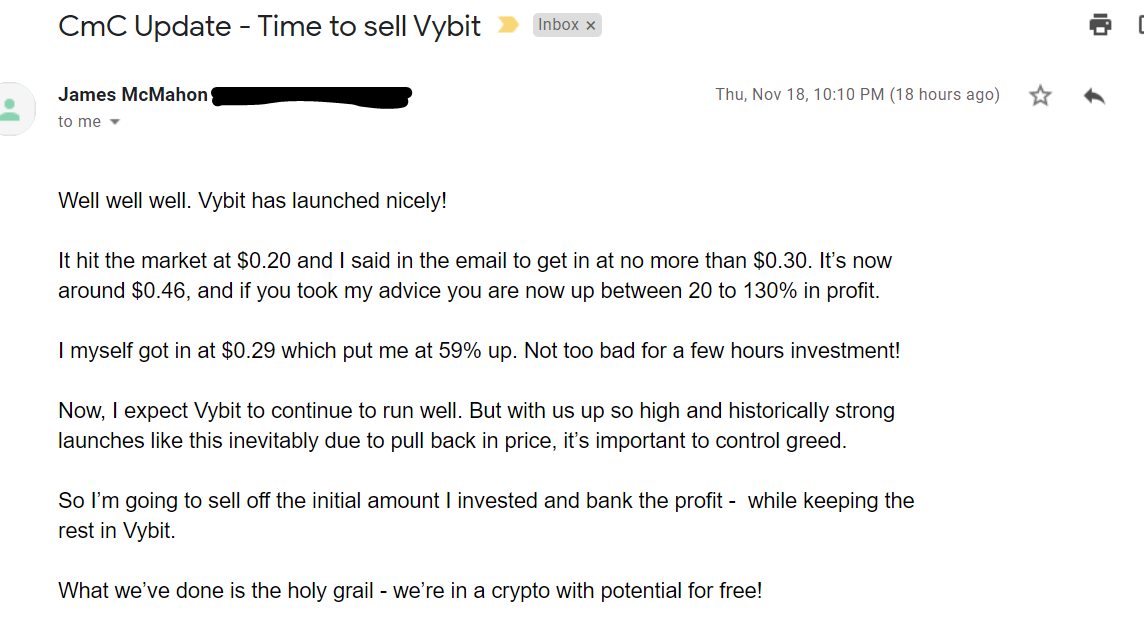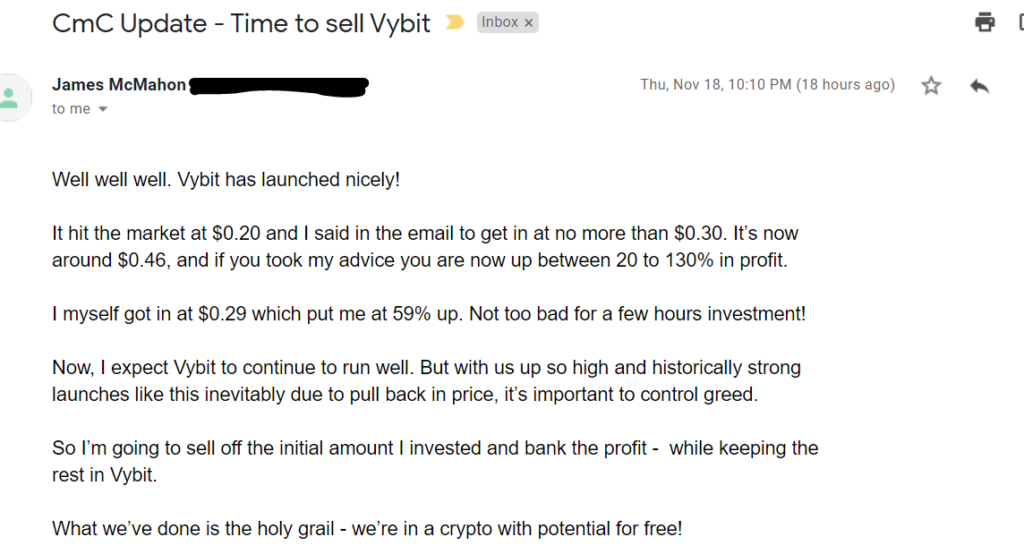 Let me elaborate on what happened here; Had you invested for example $500 in Vybit when James advised, you would have bought 2500 coins. After less than 4 hours the value of your coins would have been $1150.
Again, following his recommendation, you would then have sold $650 worth of Vybit, returning that way your initial investment, and banking a small profit of $150.
And, you would still be holding $500 worth of cryptocurrency with the potential to grow in value.
PROS & CONS
PROs
The number one advantage of this website is its earning potential.
Proven success, with a small risk margin; James has been far more right than wrong.
The website is very easy to navigate.
Simple process: A very quick and straightforward method.
Price: The $49/month membership fee is ridiculous compared to what you will be making in profits (and you get a 7 day $1 dollar trial before you start paying $49 membership (normal price is $99/month), but you still have a 60-day money-back guarantee if you join Copy my Crypto here).
CONS
I wish there would be a couple of more detailed videos in the beginner's area explaining some basics to absolute beginners.
The website could be a bit more "flashy".
Where can I get Copy my Crypto?
You can get the $1 Dollar Offer right here.
As I explained earlier, you get a 7 days/$1 trial, after which you pay a discounted monthly membership of $49 instead of the standard $99/month.

Conclusions
I have written this Copy my Crypto review because I have finally found a website that I don't have any issues recommending.
This is the first time I have seen so much proof backing up the claims. You don't see that so often in the internet environment. Usually, it's just a lot of hype, tons of shady testimonials, and no results.
Copy my Crypto is a true gem. It's an evergreen website. As long as there is cryptocurrency, Copy my Crypto will be the number one asset anyone who is into trading with crypto could have.
I hope this review was useful, and please share it with your friends.
To your success!