After years of blogging, here's a list of things I wish I had known before starting a blog. Make good use of it!
I have been blogging for many years. I have opened and closed dozens of blogs, I have failed miserably many projects but I have also created and developed successful blogs with millions of visitors.
But success did not come overnight, suddenly.
I have tried, tested, made mistakes, learned, optimized.
Many do not know that to create a blog and be able to monetize it, it is not enough just to write. In fact, there are many other aspects to take into consideration to be successful. And the results often don't come immediately.
Many people, when they start a blog for the first time, don't know what to expect, don't understand what it means to be a full-time blogger, don't understand how to get traffic, and most of all they can't make money – or earn enough to make a living from blogging.
And they tend to get discouraged immediately, abandoning the project and letting the blog die.
So if you are new to this world, I want to share with you these 21 things I would have liked to know before starting a blog, so that you too can have a clear idea of ​​what it means to be a blogger and with the hope that you too can develop a successful business.
21 things I wish I had known before starting a blog
After years and years of blogging, I've gathered the most important things I've learned.
These are the same things I wanted to know years ago when I started taking my first steps in the world of blogging.
So here are my tips for my past me. And of course, for you.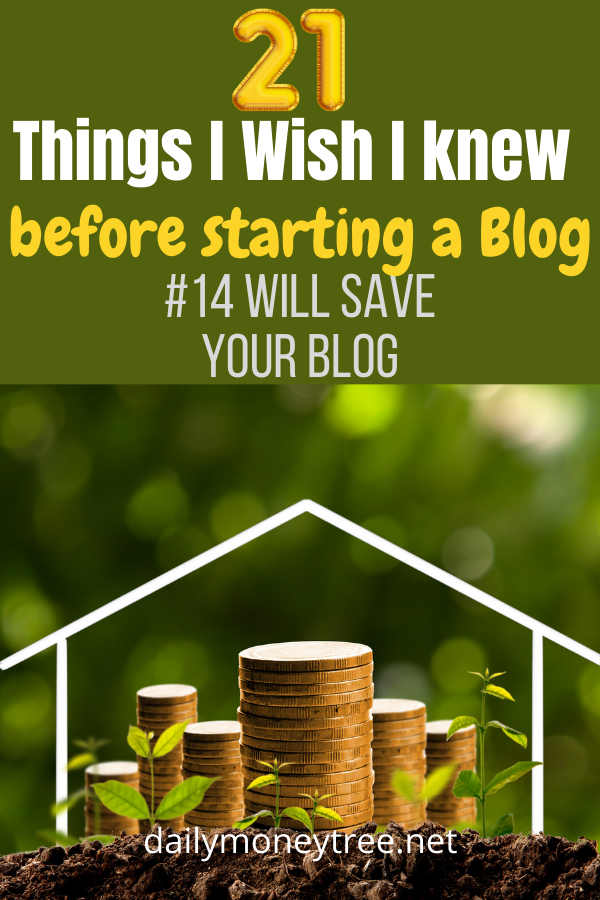 1-Running blogs is challenging
It seems obvious but many people, when they open a blog, do not realize the commitment it takes to make it work.
Because blogging is a real job, a small (but sometimes also large) company. And you can't think of working for your company one hour a week if you want it to work, right?
The good thing is that you can start working on your blog in your spare time and dedicate more and more time to it as the blog – and the income – grows. In fact, almost all of us bloggers started working on our blogs in our spare time, together with another activity, as a side business.
But why does having a blog take so long? Isn't it enough to write your own articles? Well no, not if you want to make it your main traffic source.
In fact, it is necessary to invest a lot of time not only in writing the articles, but also in their optimization, in search of images, in SEO, in promotion.
And if you are alone, you will also have to become the one-man-band of all related activities: you will have to think about customer care, take care of email marketing, promote yourself on social media and build relationships with media and other bloggers.
However, there are two positive notes: the first is that many of these activities can be automated. In fact, there are many tools for bloggers that can help you complete your tasks automatically, just think of Conversion.ai, the artificial intelligence that writes your blog articles for you.
The second is that as soon as your blog starts to bring you a stable income, you can make use of collaborators to delegate all the operational parts of this process.
Being a full-time blogger requires a lot of commitment, mental strength and continuous work. Be persevering!
2-Plan less and act more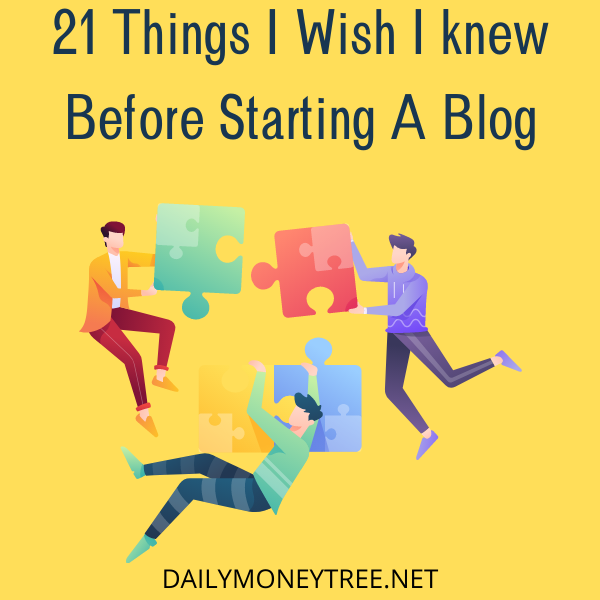 Many times I have talked about how important planning is. And I repeat: planning is fundamental.
But sometimes it happens that we focus so much on planning that all the operational work takes a back seat.
You know when you turn on Netflix and start watching all the movies available for hours without deciding which one to watch? The same thing often happens with blogging.
There are so many activities to be carried out that we often get lost in planning details without ever starting to act.
Start with a summary plan, roll your sleeves up and begin the operational phase. Gradually, your plan will become more and more detailed but in the meantime, you will have laid the foundations for a blog capable of working.
3-Always address a topic you love
Over the years, I have never dealt with one and only one project. I have opened and closed dozens of blogs, others I have totally abandoned to themselves.
Why did I do it? Maybe they weren't earning enough?
Well no. I've created blogs that keep bringing me automatic entries every month but have been abandoned for years now. The real reason is that the love for the topic I was talking about in those blogs is over.
Dealing with a topic you are passionate about ensures that you always want to write and work for that project.
You will never get up in the morning puffing because you don't want to work on that blog. You will get out of bed full of energy because you have a cool idea that you can't wait to put into practice.
What if the passion ends?
Just like when love ends. Let's put our souls in peace: it was good while it lasted but it has to end.
When the passion ends, find a new love.
4-Passion is not everything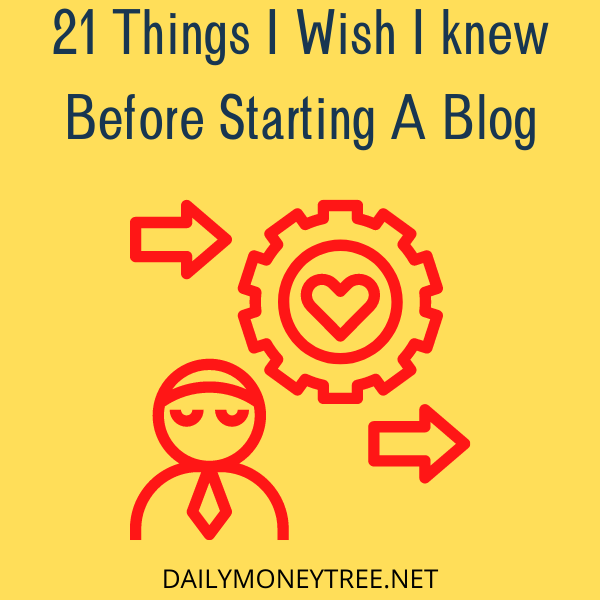 If you take a tour of digital marketing blogs, you will see that most of these web gurus will tell you to follow your passions. Create a business on your passions! Monetize your passions!
And it is here that most of the new bloggers – deluded by being able to work exclusively following their passions – fail.
And guess what? That's right, they abandon the blog.
Let me tell you the truth: passion is fundamental, it's true. But it is not everything
If we focus exclusively on our passions, we lose a fundamental component to create a successful blog: monetization.
The good news is that we can often monetize a passion.
If your passion is to carve corks … well, in this case it seems a bit more complex to be able to monetize your blog.
In order not to fall into that 90% of failed blogs around the web, it is therefore essential to be able to generate stable economic income. And to do this, it is important to think of your blog as a company and not simply as a passion.
Do not start a blog for passion but for business, if you want to make a profit. And if the topic is about your passion, then the chances of success are certainly higher.
5-Do not stop investing in yourself
Even if continuous training is important in any job, this is more true in digital jobs, where change is fast and constant.
Just think about changes in Google's algorithms, users' search trends on search engines, new tools, and their updates, Facebook changes, market fluctuations.
If we don't constantly update ourselves, we will always be one step behind. And staying one step behind means having a blog doomed to fail.
If you don't grow, you stagnate.
6-Acquire soft skills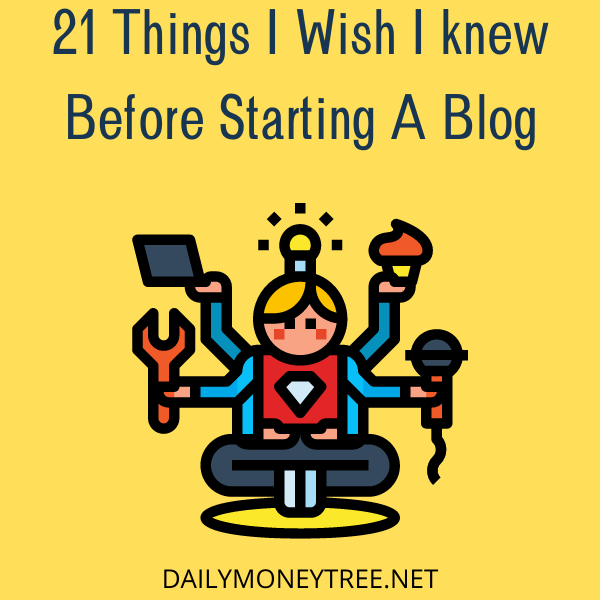 We have already mentioned that having a successful blog does not only mean writing. You need to have a number of skills.
Which? Here are the ones that in my opinion are indispensable:
Leadership
Empathy
Web writing
SEO
Digital marketing.
Start working on your soft skills right away.
7-Always create the best content possible
Nowadays, where the competition is very high. Being able to capture and keep attention is not easy.
If you really want to differentiate yourself from everything already out there, your content has to be better than everyone else's. For this you must be able to:
Place your articles in the top Google search results so people can find you. You can do this by putting these SEO copywriting techniques into practice.
Create engaging and super effective content that keeps the reader glued to the screen.
And how can we create better content than everyone else? Here are some tips:
Before you start writing, do your research and read everything that has been published on that subject. How can you improve that content? What information can be further developed? Which ones are now outdated?
Offer true value. Create truly useful content that truly helps your readers solve a problem or find answers to their doubts and questions
Don't stop at the numbers of keyword research, also develop topics that don't have satisfying search volumes but that can help your readers.
An example? Just this article. Nobody searches on Google for "Things I would have liked to know before starting a blog" but I'm sure that this topic will still be able to help those approaching the world of blogging.
Always create the best content possible – and constantly optimize it over time.
8-Don't seek perfection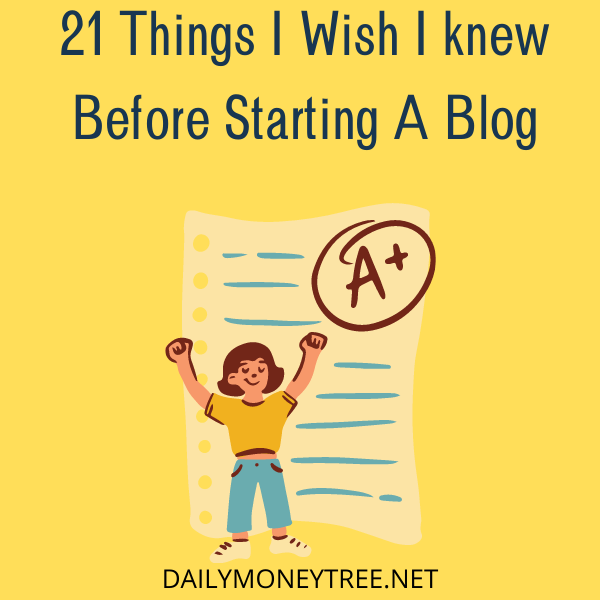 And here comes a sore point. In fact, I would not like to give this advice only to me of the past but also – and above all – to me of the present.
Unfortunately I suffer a little from delusions of perfectionism.
Just finished an article, but… "I could replace that image, improve that title, fix that sentence".
No, No, NO!
This is just wasting precious time, not optimizing. I know, I often keep falling into this trap and I am perfectly aware of it.
Write your article and publish it. Give Google a way to find and index it. You always have time to fix and optimize it.
And the same is true when you launch a product. If you keep making it perfect, you'll never publish it. So don't look for perfection. Act now!
Do not always pursue perfection because you risk delaying action. Do it first, then optimize!
9-Results don't come right away
Creating a blog, writing a couple of articles and getting it all online is a breeze. Creating a successful blog that allows you to put a few thousand dollars a month in your pocket is not so simple.
If you have chosen a profitable niche, working on your blog with a method, strategy, and consistency, it is practically impossible not to obtain excellent results. But to achieve this goal, a few days are not enough, sometimes not even a few months.
So if you want to start earning quickly, maybe it's best if you start thinking about other jobs you can do online. If, on the other hand, you want a slow but gradual climb, then blogging is undoubtedly the path you are looking for.
Blogging is a marathon, not a sprint. Be patient, constant, give your best and don't give up. The results will come.
10-Building relationships is more important than monetizing
A fundamental aspect of blogging is to build stable and truthful relationships with your readers.
How do you build relationships with blog readers? Here are some tips:
Always write in a simple and conversational way.
Make your readers feel special and pampered.
Ask your audience questions, make them feel involved.
Don't just write to your readers when you want to sell them something.
Offer extra content to newsletter subscribers.
Create a group or forum where the community can talk and discuss.
Interact with your users. Reply to their emails, on social media, and especially on blog comments.
Always create stable and lasting relationships with your readers.
11-Build a list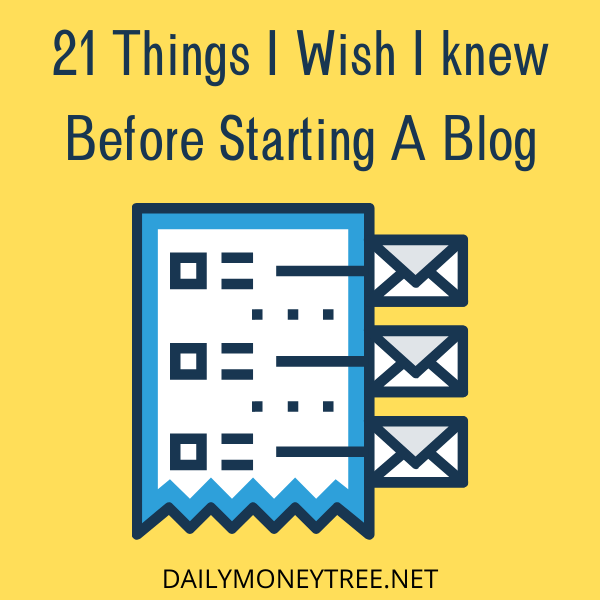 One of the most important tips that I would like to give to me at the beginning is to create a contact list from day zero.
If you don't have one yet, then start right away because you are seriously leaving a lot of money on the pot.
There are several tools you can use, such as ActiveCampaign, Aweber, GetResponse, or Sendinblue. For this blog, for example, I use GetResponse.
Start building list right away, it will be your greatest source of monetization.
12-Learn to organize your day
Another huge problem that I had to learn to deal with is time management and work organization.
Yes, because when you are freelance you have a million things to do and it is easy to get confused, to find jobs overlapping, or to give the wrong priorities to our projects.
If we also put in the various personal commitments, the house to fix, and maybe some small children to keep up with, the road to psychiatry is paved.
Personally, I found this system very effective: routine, planning and relaxation.
Create routines, plan your goals and take the time to take care of yourself and the people you love.
13-Treat your blog like a business and not a hobby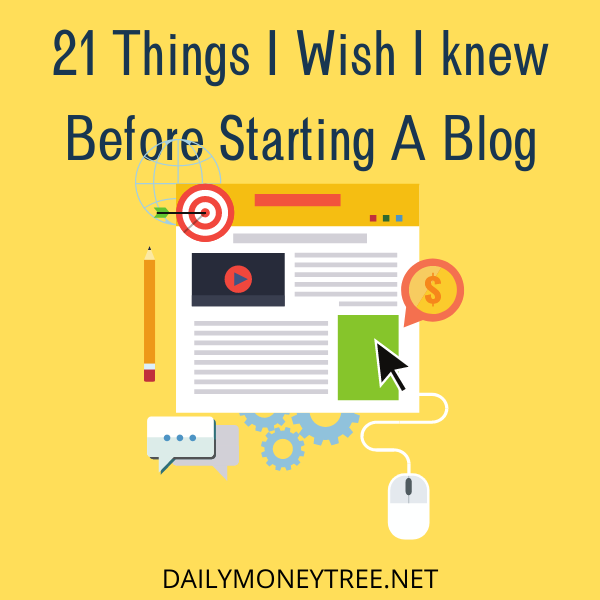 If you treat your blogging as a hobby, then it will forever remain a hobby.
If you treat it as a business, it will become your company.
So if you want your blog to become your number one source of income, start thinking like an entrepreneur and not a writer. It's sad to say, I know, especially for people who love writing.
Treat your blog like a business if you want it to become your main source of income.
14-Reinvest what you earn
This is another thing that I would have liked to know before starting a blog.
Especially when you start earning the first bucks, the excitement is great and the desire to go and spend them is even greater.
And this is because they told you that you can create a blog at no cost (or almost). And this is true. But to bring it to success you will have to invest time and money.
So, if you want your blog to really take the leap in quality, grit your teeth and reinvest the earnings. You will then have time to enjoy the results of your work.
Don't spend all your earnings. Reinvest them in your blog.
15-Union is strength
Alone, you can't go far. Building relationships must be one of your top priorities when deciding to work full-time on a blog.
And it's not just a social issue but this approach will help you rank better on search engines and get more traffic to your website.
One of the best known and most effective ways of establishing relationships with other bloggers is that of guest posting, that is, writing articles for other blogs.
In this way you will not only have the opportunity to socialize, enrich your professional network and find new collaborations, but you will also develop skills and knowledge that no training course will ever offer you.
Create strong relationships with other bloggers and professionals in your industry.
16-Create clear and specific goals
At the beginning, when dealing with a new blog, we are literally overwhelmed by ideas, things to do, things to study. And we start creating our blog a little off the cuff, as we like. A page there, a small article here.
But the blog is never an end: it is always a means. And a means for what? To achieve the goals you have set for yourself.
Creating a long, medium, and short-term goal plan is key to making the blog work.
So what are the goals you want to achieve with your blog? And how long do you want to reach them? Write them down on a piece of paper (or use a concept map) and start creating lots of little tasks to help you get closer and closer to what you want.
Set your goals and create lots of small tasks to achieve them.
17-Choose your niche well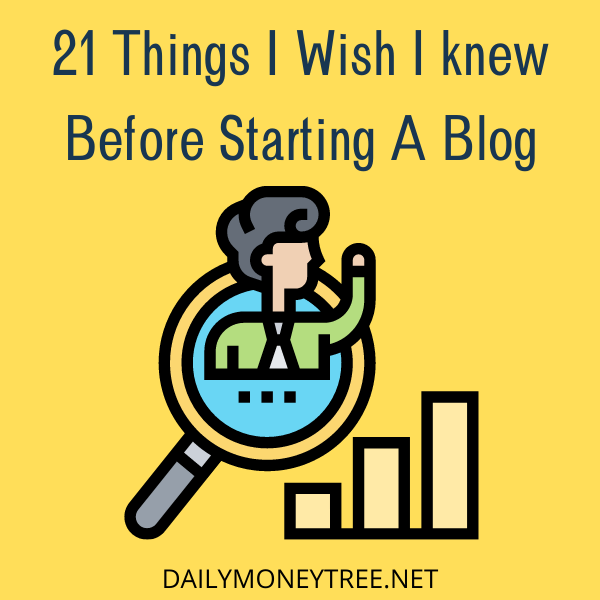 We may have had an illumination, an incredible idea. But if we target the wrong niche, then our idea won't be successful anyway.
And how to choose the right niche?
There are 6 questions you should ask yourself to understand this:
Do you really have an interest in this niche?
Are you really competent on the subject?
Will people willing to pay?
What is the number of competitors?
How many searches are done on Google?
Is your niche durable?
Once you have asked yourself these questions, take a look at this content and find out what are the answers you should have gotten.
Choose the right niche.
18-Start with what you have
Starting small is not a shame, quite the contrary.
Quite often people write to me saying they don't have enough time / money / ideas / knowledge to get started.
You don't need to start working on the blog 8 hours a day, and you don't need more than $20 to start. Ideas for new articles come along the way, knowledge can be learned slowly.
It is normal to be insecure at first. Don't be held back by what you don't have but start with what you have. I assure you that an internet connection is more than enough to get started. You don't have to do or have everything right away.
Start small, with what you have. You can always improve along the way.
19-Always be yourself
When you start your blog, it is important to show your readers who you are, especially if you have a personal blog, which bears your name.
Don't ask for permission to express your ideas, find your style, your tone of voice and don't be afraid to say what you think.
And above all have fun. Having a blog is hard work but that doesn't mean we don't have to have fun, does it?
Don't compare yourself to others but be inspired by them. Bring out your weaknesses and highlight your strengths. Don't be ashamed of who you are and let your inner light shine.
20-Failure is a good thing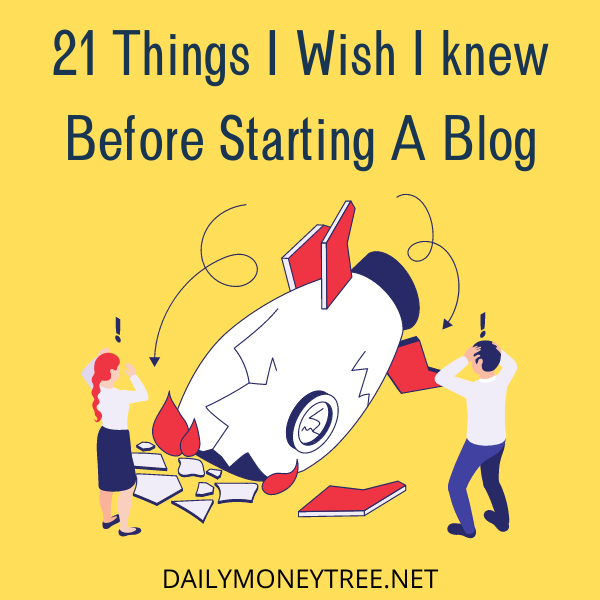 I don't know about you but I have always experienced failure really badly. Perhaps because where I'm from, failure is seen as a fault, something to be ashamed of.
But it is enough to move a little further in the world to discover how failure is instead seen as an opportunity.
In fact, there are many stories of successful companies born from a failure, such as Ford or Nintendo. Even Steve Jobs was fired from his own company.
When we start over after a failure we have an amount of information, experience and knowledge that was unthinkable when starting out. Don't be afraid to fail, then, but turn every negative element into a strength.
Never be afraid of failing.
21-Dealing with haters
When the haters start coming, it's not nice. We feel personally attacked and our self-esteem is affected.
But let me tell you: haters are pathetic, not worth keeping up with. On the contrary: when the haters start coming, it often means that you are going in the right direction! ?
So don't let yourself be ruined by those who attack you just for the fun of it.
Think about this: if a gift is given to you and you accept it, whose gift is it? Right, it's yours. But if you are given a gift and you don't accept it, who is the owner of that gift? That's right, the owner remains the one who gave you the gift.
With hater comments, it's exactly the same. Do not let yourself be discouraged, continue on your way, and always give your best.
So, this is the list of 21 things I wish I knew before starting a blog. They are not rocket science. Most of it is just common sense. Just try to cover at least 50% of the things I listed and I'm sure everything will be ok.
Your successes will not be long in coming!
To your success!
S