Deprecated
: The PSR-0 `Requests_...` class names in the Requests library are deprecated. Switch to the PSR-4 `WpOrg\Requests\...` class names at your earliest convenience. in
/home/coreof/dailymoneytree.net/wp-includes/class-requests.php
on line
24
Knowing blogging stats helps you improve your content marketing and predict future trends. Here are the 73 most important statistics that we absolutely cannot ignore.
If you have a blog or if you are considering opening one, knowing the current blogging statistics can help you both understand how you can improve your strategy and differentiate yourself from the competition, and predict what future trends will be, in order to anticipate them.
Quite often it has been said that blogging is dead and will be replaced by video content. In fact, blogging is still alive and well and more and more companies are investing their resources in writing blog articles.
In this article, I, therefore, wanted to collect 73 blogging statistics in order to show you how blogs are still extremely effective, how they are used by readers, and what the latest trends are.
Ignore these statistics at your own risk!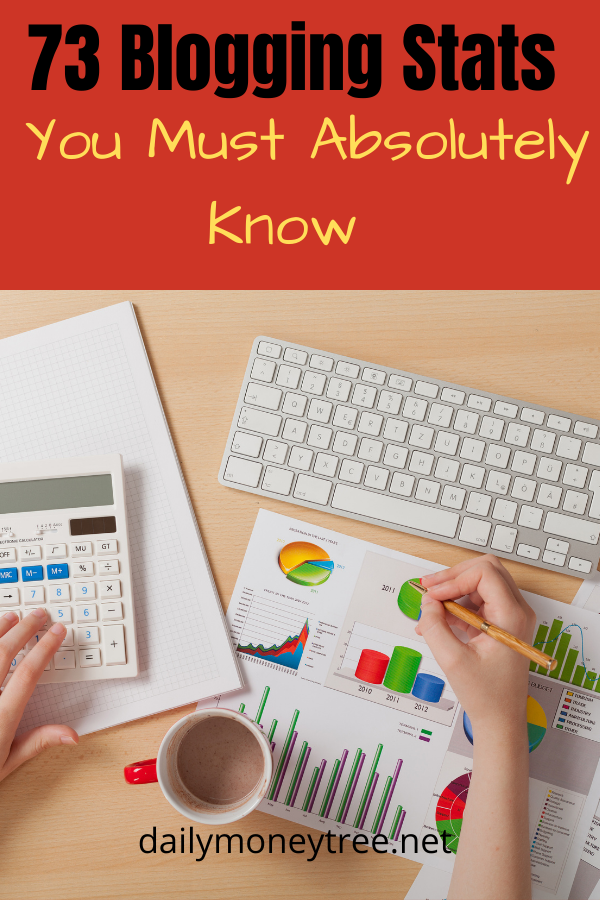 73 (1-36) blog stats that can't be ignored
To facilitate the consultation, I have divided the statistics into:
General statistics
User statistics
Blog post statistics
Monetization statistics
SEO statistics
Guest blogging statistics
Social media statistics
Statistics on audiovisual content
Marketing statistics.
All statistics were taken from different channels.
General statistics
A new article is published around the world every 0.5 seconds
About 70 million posts are published on WordPress every day [WordPress]
A quarter of all websites are blogs
35.8% of all websites worldwide are managed by WordPress, followed by Joomla (2.4%) and Shopify (2.2%) [W3Techs]
Most bloggers are between 30 and 39 years old
Over 60% of all web content is written in English
Each month, around 409 million people view over 20 billion web pages
Blogs have been ranked as the fifth most trusted source for gathering information online
User statistics
25% of users use an ad blocker to not display advertising banners
77% of Internet users regularly read blogs [Impact]
The average time a reader spends on a blog article is only 37 seconds. For this, it is essential to know how to write effective articles [NewsCred]
Blog post statistics
The average time to write a blog article increases year after year, probably because longer posts are created and with more attention to detail time to write posts
On average, it takes about 3.5 hours to write an article of about 1,200 words [OrbitMedia]
The frequency of publication on blogs has decreased in recent years, going from 3/4 articles per week to about 3/6 articles per month [OrbitMedia]
Compared to past years, blogs using promotional techniques have increased by about 100%
The optimal length of an article, also to have a better SEO ranking, is 2,250-2,500 words [HubSpot]
Longer blog articles generate more leads and more shares on average than short content
Putting a colon in a post title increases clicks by 9%
The optimal length of a headline is 6-13 words. Bringing the title to 6-8 words can increase CTR by 21% [HubSpot]
Putting a number in the title helps to get more clicks. Even better if the number is odd [Content Marketing Institut]
One of the types of posts that perform best is the classic "How-to", which is a guide that explains the procedure for doing something or achieving a specific purpose
Emotional titles are more attractive than informative ones (and this is why they are widely used in fake news) [OkDork]
Monetization statistics
69% of bloggers don't monetize their blog
Only 2% of blogs manage to invoice over $ 150 per year [Tim Ferris]
45% of bloggers who earn more than $ 59 sell their products
Among the most rewarding blogs, there are:
The Huffington Post: $ 14,000,000 per month
Moz: $ 4,250,000 per month
Techcrunch: $ 2,500,000 per month.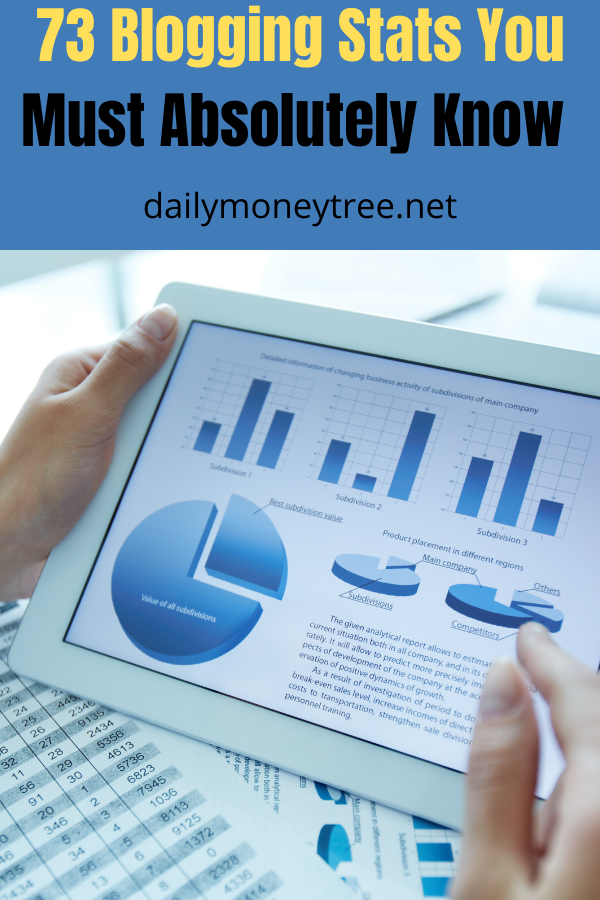 SEO statistics
The contents that have a better ranking on Google are on average between 2,250 and 2,500 words long
In 2014, the average length of blog posts was 808 words. This means that since then, the average post length has grown by 30%.
52.2% of all traffic to websites comes from mobile devices
Mobile traffic in 2020 increased by 2% compared to 2019
The speed of a site plays a fundamental role in SEO positioning. Speed ​​can also be improved through mobile optimization by choosing an optimized WordPress theme with a performing hosting
Having a blog on your website increases your chances of ranking in the first pages of Google by 434% [TechClient]
54% of digital marketing experts consider traffic to their website as a top priority [HubSpot]
Over 50% of bloggers say it's been harder to get traffic from Facebook in recent years, and nearly a fifth say it's become harder to get traffic from Google
The increase in traffic is proportional to the frequency of publication on the blog
After 21-54 articles are posted on the blog, traffic can increase by up to 30% [Traffic Generation Cafe]
95% of users never go beyond the first page of Google search results, still making it the top position for any blogger [Brafton]
50% of search queries consist of 4 or more words. This means that over half of the search queries are about something specific [Brafton]
The best-positioned posts on Google get 33% of all clicks [OptinMonster]
The first 3 results of Google searches get 50% of clicks [Ignite Visibility]
Blogs that publish more than 16 articles every month get 3.5% more traffic than those who publish one (or less) every week [HubSpot]
Only 38% of bloggers update old articles
34% of bloggers say that updating old content leads to an improvement in their ranking in the SERP
Those with a blog get a 97% better chance of getting backlinks from other sites than those with a static website [OptinMonster]
Guest blogging statistics
60% of bloggers write 1/5 guest posts per month
3% of bloggers write over 100 guest posts per month
Only 6% of bloggers publish most of their unedited content as guest posts
62.96% of readers consider blogs with multiple authors to be more reliable. This is also why it is useful to host guest posts on your blog
79% of bloggers don't like hosting guest posts because they always find them too self-referential and self-promotional
Guest posts are most requested in the summer months (June, July, and August)
Social media statistics
In 2017, 66% of digital bloggers said they use their blogs in their social media content strategy
59% of users who share a blog article on social media have not read it
LinkedIn is the social media platform that gets the most organic engagement from blog links
95.9% of bloggers promote their articles on social media
69% of bloggers say they use social sharing buttons on their blogs. Those who don't, often try to keep the page load times lower, actually significantly increasing the speed of their website.
75% of online shoppers say they use social media as part of their buying process
Statistics on audiovisual content
72% of blog readers prefer to see a video than to read a text
Blog posts that contain an image every 75-100 words get double the number of shares than those without photos [HubSpot]
Articles that contain images get 94% more views than those without
71% of bloggers use visual elements in their marketing strategy
The use of photos with real people instead of archive photos can lead to an increase in conversions of 35%
43% of users want more and more video content from content creators
19% of bloggers add videos in their posts
45% of blogs that add audio to their blog posts, such as podcasts, perform better
Video content is 50% more likely than text to drive organic search traffic
32% of marketers say visual images are the most important type of content in their content strategy
Marketing statistics
In 2018, only 39% of bloggers said they have a content marketing strategy. In 2019 this percentage rose to 65%. This shows that the right content strategy brings greater economic profits
Blogs that monetize through banner ads have seen PPC earnings drop over time while those who sell online courses, services, and affiliate products are gaining more revenue on average.
Content marketing is 62% cheaper than traditional marketing [Demand Metric]
Content marketing gets 3x more leads than paid search
60% of users said they bought a product after reading a blog article
89% of B2B marketers say that content marketing is one of the most important marketing strategies [Content Marketing Institut]
92% of marketers consider content to be an asset worth investing in [Content Marketing Institut]
Almost 50% of marketers say that if they had to start their marketing strategy from scratch, it would start from blogging [DataBox]
How we can use these statistics
After reviewing these important statistics on the blog, a question arises: what can we really learn from these numbers? How can we use them?
Surely, from these statistics we can derive some important considerations:
Blogging is still a very powerful means of reaching and engaging the public
Companies that invest in blogging have a better chance of outperforming their competitors
The longer contents are those that bring greater engagement and greater economic profits
The blog is still an important piece in the lead generation puzzle.
It is therefore (still) important to focus a good part of our time on blogging. The important thing, however, is not to write only to fill an empty blog but to create valuable content that can really make a difference for our readers.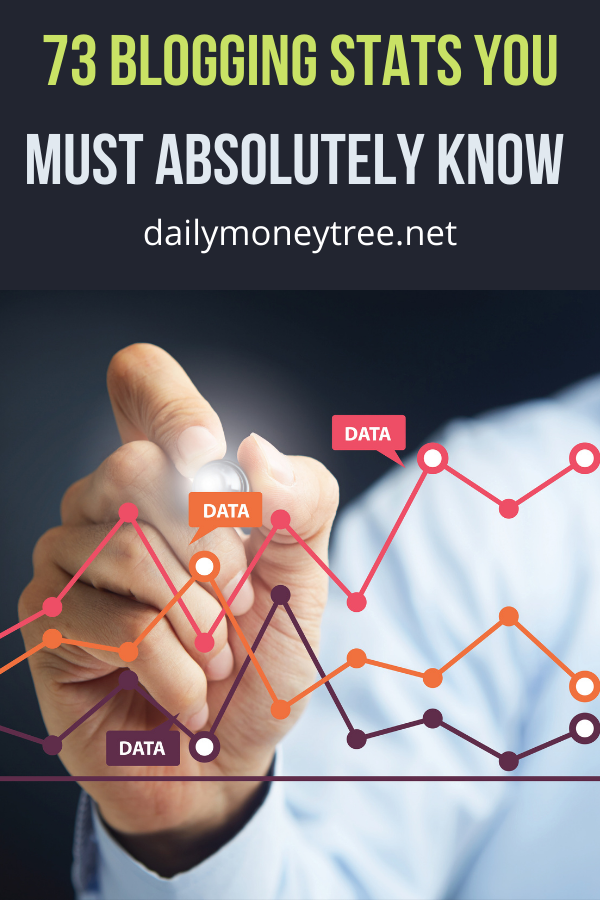 Final thoughts
Despite old predictions that considered blogging to be already dead and buried, the data reveals something very different: blogging is still one of the main content marketing strategies and is constantly growing.
It is not known exactly how many blogs exist. Statistics have calculated that there should be at least 500 million but inactive blogs are also calculated in this figure.
What is certain is that new blogs are born every day and the competition is really more and more fierce.
To create a successful blog, therefore, it is not enough to create content but tries to always be one step ahead of your competitors, keeping an eye on Google updates and an eye to the needs and expectations of readers.
To your success!
S