This is the third article of a series I'm doing on the best strategies to generate real traffic to your websites. Since search engines make between 500 and 1000 updates in their algorithms, it's very hard for an average non-techy person to keep up with the changes. Things that work today might not work tomorrow.
That's why I decided to focus on old-school SEO fundamentals that used to work 20 years ago, and are still working now. Do not miss out on part 1 and part 2 of this series where I covered basic on-page SEO and Article Marketing.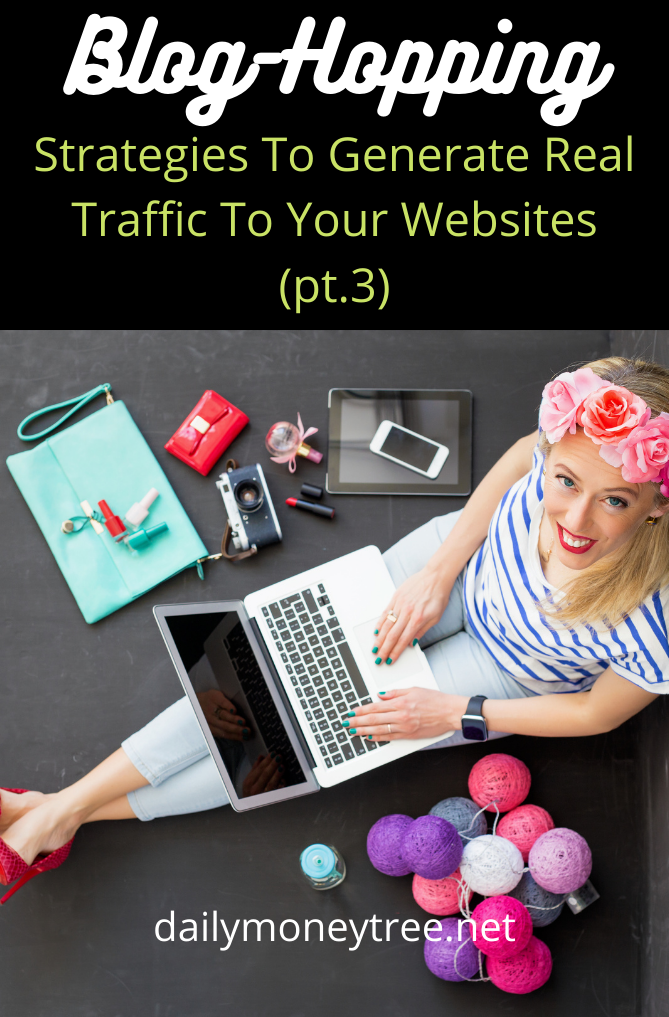 Have You Ever Heard of Blog -Hopping?
To be honest, I have only recently heard the expression "Blog-Hopping" for the first time. I knew what it was and how it worked, and I had been doing it for a long time, but I never heard people calling it "blog hopping" before. I have to say that I like that name and I'll stick to it.
Blog-hopping is a powerful strategy to generate real, organic traffic that everyone should be doing on a daily basis. It consists of "hopping" from blog to blog and commenting on them. The way you get traffic is by linking your comment back to your blog, service, or product.
So, now you see that the concept is well known. If you are running your own blog chances are you've done this before. The question that comes up is: Why am I writing about such an easy and widespread strategy? Because, the reality is that most of the people are doing it the wrong way, and are not getting the results they should from blog hopping. Keep in mind that this is one of the best strategies to generate real traffic to your website.
What Do People Get Wrong
What most of the people doing blog hopping get wrong is that they want to get quick results, and don't really take the time to do this right. You can't just go on someone's article and post a vague, general comment and expect to get traffic from it.
Most people just write something like "great post! lot's of useful information. Keep up the good work", and they paste a link. That's not the way to do it, and you won't be getting any results if you comment like that. It's people who are reading the comments that will be clicking on your link. But, the only way they will want to click is if you suggest they will find a solution or an answer if they visit your blog.
The Right Way To Generate Real Traffic From Blog-Hopping
The first thing you need to do is find a blog that has authority and has articles about the topic you have written about. The best place to find them is Google search – just type in the niche and/or topic name and blog. Another way is to look for forums and check people's signatures. You can also check comments already left on your own blog, or just look up blog directories.
The next thing is you want to make sure you are commenting on fresh posts. You don't want to leave a comment on a thread that's a year old. It's best to subscribe to RSS feeds of relevant blogs in your niche and try to be one of the first people to comment. That way everyone reading the comments will see yours first.
The 3rd step is the most important one: GIVE VALUE
As I said before "great post" comments are crap. Read what the person has written and then provide valuable information on the subject. Of course, you want to keep it short and you want to create curiosity in the people who read it so they will go to your website. If you agree with what you just read comment on why it's so. If you disagree, do not be afraid to express it and explain why. A little controversy might even instigate a discussion and get you even more traffic.
Last, but not least: try to follow up on the discussion. Subscribe to replies and be active. That will only result in more people getting interested in what you have to say.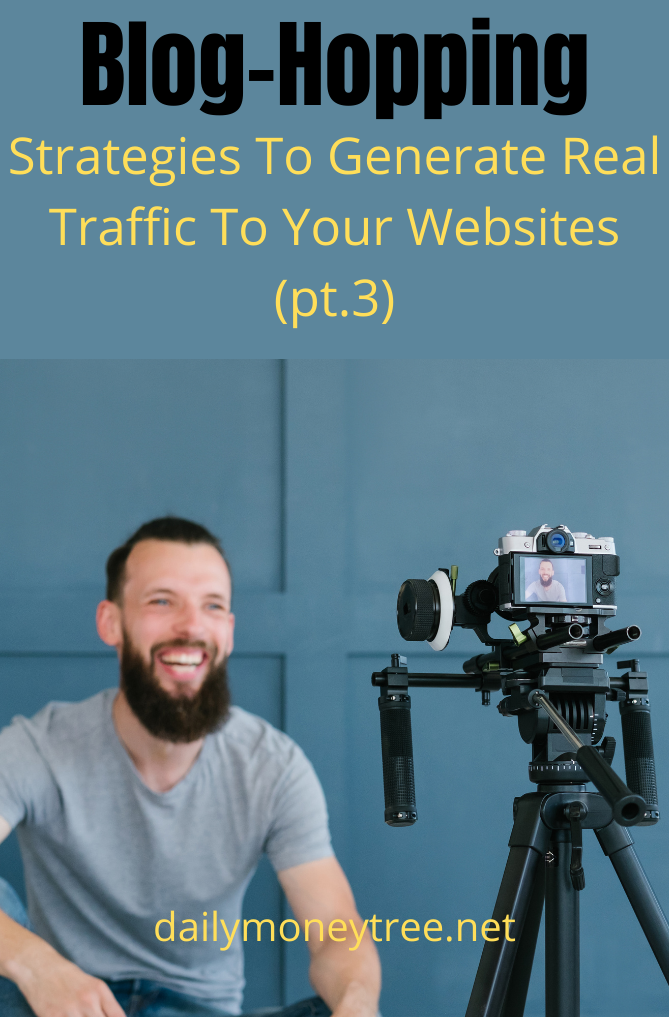 Blog-Hop Daily
Blog-hopping is truly a great strategy to generate real traffic. You should be blog-hopping daily. It's not too time-consuming and there are several benefits. People can get to know you better, you'll drive organic traffic to your pages and you can really learn a lot of stuff going through comments.
Blog-Hopping Best Practices
Here are a couple of hacks that will truly make you stand out from the crowd when it comes to commenting on other people's blogs.
Have the name of your blog in your signature. When you're leaving a comment, you have to leave your name and your email address in most cases. Always add your blog's name in your signature. For example, if I was leaving a comment somewhere my name would be Srdjan @ Daily Money Tree.
The more often people see the name of your blog, the better it is for your brand.
Aways link to a RELEVANT article. It may sound basic, but people do this all the time. They link their comment to some random post. If the article you're commenting on is about how to optimize your website with schemas, don't link to a post about affiliate marketing. Try to stick to SEO or schemas.
Deliver your link elegantly. Sure, you can just type: "read my article about this here" and just paste your link. But, there is a code that allows you to present your link in much more distinguished way.
For example: If your comment is "Hey, lot's of really useful information. I have to agree with your backlinks strategy, but I haven't tried it out myself. I haven't been getting much success with backlinks. Instead, I like to base my campaigns on this simple SEO Strategy." you would take this code:
<a href="your link goes here">your text goes here</a>
If I were to insert it in my comment it would look like this:
<a href="https://dailymoneytree.net/chasing-traffic-the-only-strategies-to-generate-real-traffic-to-your-websites-that-really-work-pt-1/">simple SEO strategy</a>
That would make my comment look like this: Hey, lot's of really useful information. I have to agree with your backlinks strategy, but I haven't tried it out myself. I haven't been getting much success with backlinks. Instead, I like to base my campaigns on this simple SEO Strategy.
Now, there's a clickable link in my comment and it looks much more sophisticated than just pasting an HTTP link. My comment is clearly tied to the article and I'm providing an alternative strategy to the topic.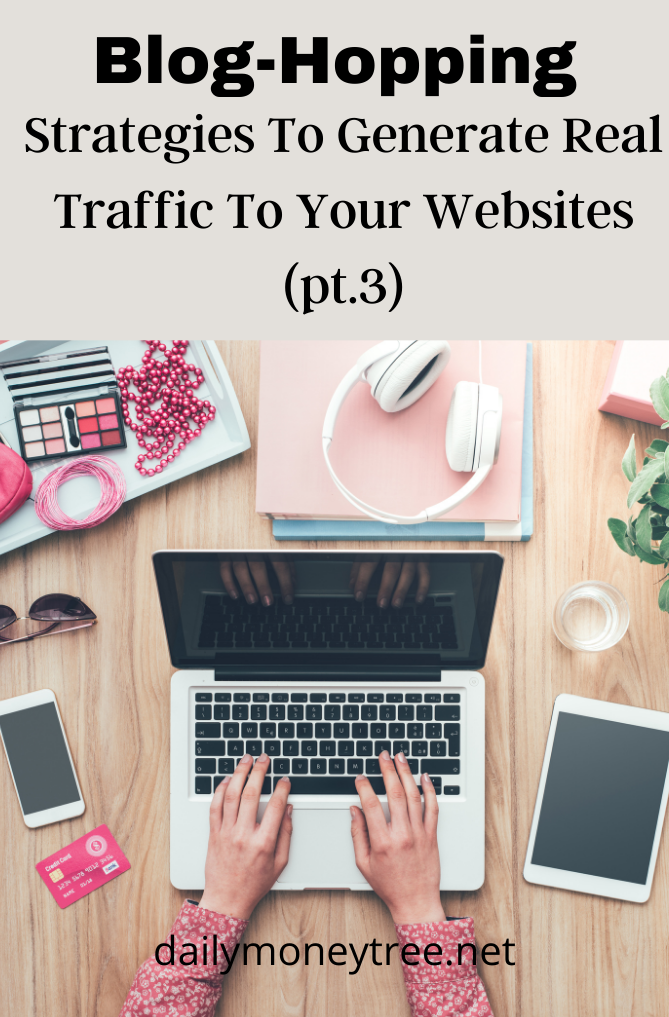 I hope you enjoyed part 3 of my strategies to generate real traffic to your websites, and that you found some useful information about blog-hopping.
Feel free to share this post with your friends if you think it could help them.
Thank you for visiting my site and all the best
S
P.S. If you want to see a great tool that brings real, organic traffic to your website check it out here.
Blog-Hopping FAQ