Without a doubt, link building is an essential activity to be successful in the online world. It is an SEO activity to consider. Google is known to use certain ranking factors to rank a website in search results. Inbound links pointing to a website are one of them. Ask any SEO consultant, it is crucial for a good ranking.
If we think that Google has also written a guide on this, my opinion as a blogger and someone who does SEO optimization on a daily basis, and that of many others is that they are still an important factor. Let's see together what it means to do link building.
What is link building?
The term " link building " is actually quite outdated as the Screaming Frog experts say, as it is actually about providing a compelling rationale for attracting links rather than "building them". Just as I was convinced by the notoriety of their brand, of the software they built. These facts have "convinced" me to put a natural link to their page in this article that talks about link building.
As we have seen, if you build a well-known Brand or quality content, it is easy to "create" links. In practice you do not have to do almost anything, the links "build" themselves, of course. Exactly as Google suggests in the guide cited above at the beginning of this article.
If you're thinking about a link-building strategy, you need to understand that you can't build links fast. It is a gradual process.
But what is link building? Link building is the process of acquiring hyperlinks from other websites to your website to help rank higher in Google's search results.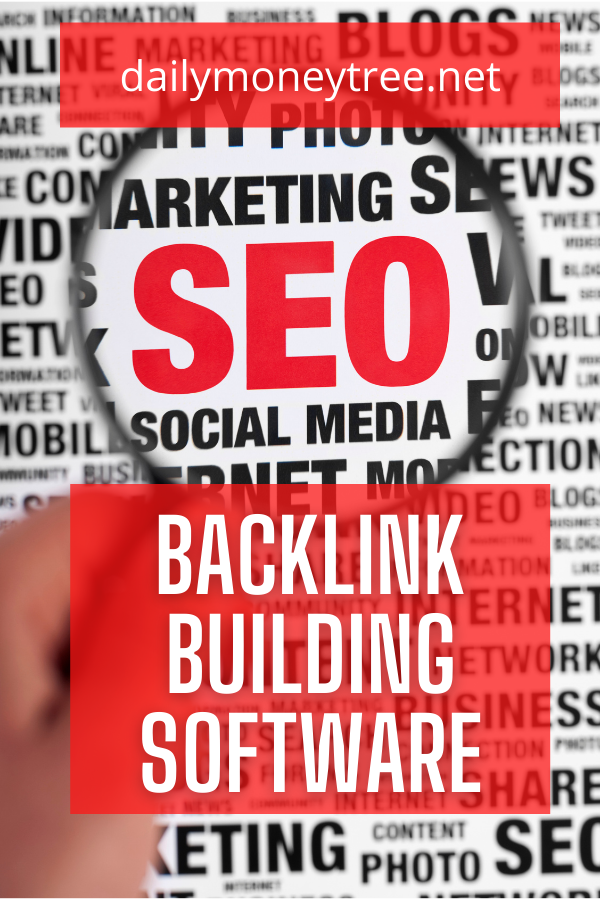 Why is link building important?
Link building is an essential aspect of SEO today. Simply put, a link or link is a connection between two pages on the Internet. Links help online users to travel from one web page to another. But the links are also useful for search engines. Search engine robots follow links to discover pages on the Internet.
Link building is important because it is a factor in how Google ranks web pages. Strong backlinks, from very important sites, can increase traffic to your website and improve your ranking. If your site is linked to a relevant and visited site, it can also increase your sales.
The more quality links pointing to your website (relevant to your industry, products/services, and location), the greater the authority of your website. You need to know that not all links are the same. For example, a link from an authoritative website will have a greater impact on rankings than a link from a new site.
How to build backlinks without SEO backlink building software
Let's say you have a recently launched site, obviously, there are no links to it because no one knows you. You can start making yourself known for free by posting your site in local web directories or, why not, by asking friends and acquaintances to talk about your site. It's a way to start, but I have to be honest with you, this method isn't enough. If you want to be successful, you need to develop an SEO strategy, an effective link-building strategy.
FIND AND REPLICATE YOUR COMPETITORS' LINKS ONLINE
An easy way to start is to "spy" on the backlink profile of your online competitors. What connections do they have? Using a simple tool that allows you to control a website (Ahrefs, Semrush, etc), you can immediately know what backlinks they have.
You can then start replicating their links. For example, if they have a link from a web directory, you can register your site. If they've posted a guest post on a website that allows it, feel free to post an article too. And so on. It's a pretty simple tactic.
BROKEN LINK BUILDING
Broken Link creation is a tactic that involves: 1. searching for online resources in your niche that is no longer LIVE (articles, pages, recipes, etc), 2. creating a version of the content, and 3. Contact the webmaster, asking him to replace the broken link ( page 404 ) with a link to your live, quality resource.
There are several ways to search and find broken links. The simplest method would be to start by doing a backlink check on websites in your niche.
Using Ahrefs (or another tool) as a verification tool, we can find every 404 page currently existing on a given website. And not only.
A tool like this (or similar) provides information on which external pages (A) exist links pointing to these broken pages (404) (B). With this information at hand, we can create a similar resource on our site, after which we will try to convince the site owner (A) to replace the 404 links (B) with our own (C).
CREATING QUALITY RESOURCES THAT GENERATE BACKLINKS
As the name suggests, you need to create top-quality resources on our site. I am referring here to a comprehensive guide to a particular topic or any other type of content that may be useful to a community. If they are useful, someone will definitely refer to that content.
Google itself says that "The best way to encourage the inclusion of quality links relevant to yours on other sites is to create unique and peculiar content, which will naturally gain popularity in the Internet community."
GUEST BLOGGING
Guest blogging is one of the most widely used alternatives to SEO backlink building software.
A Guest Post is an article written and posted on someone else's website. When you write something on your blog it is just a "post", but on someone else's blog, the writer is a "guest", a "guest". Simple. Almost always, guest blogging offers mutual benefits for both the blogger and the website hosting the content.
The key to writing a quality guest post is to think of it as an added value for your audience, not as an advertisement!
Instead of creating links or using SEO backlink building software, can't I just buy links?
By following Google's guidelines, any links created to manipulate a site's PageRank or ranking in Google's search results could be considered part of a linking scheme and therefore a violation of Google's Webmaster Guidelines.
I'm not saying you shouldn't buy links. However, if you do, you should pay attention to where are you buying these backlinks from, and not overdo them.
Backlinks: Dofollow vs Nofollow
Links are the way search engine bots "see" the relationships between websites that link to each other. They travel from one website to another via dofollow links, passing over nofollow links. Understanding how other websites link to you is an important first step in building a backlink profile for your website.
Nofollow links are links that have a rel = "nofollow" HTML tag applied to them. The nofollow tag tells search engines to ignore that link. They probably don't affect your search engine rankings. Conversely, dofollow links help rankings in search engines.
However, a nofollow link still works like a normal hyperlink. If someone clicks on it, they are still redirected to your website. In general, nofollow links do not create domain authority over dofollow links. The practical difference is that nofollow links don't carry link juice.
Do nofollow links have any SEO value? Nobody knows exactly. A possible interpretation is that Google may decide to "ignore" the nofollow attribute in some cases. It can be used for ranking a website or just for crawling and indexing.
There was a time when even low-quality links could help rank a website in search results. But since Google implemented its Penguin algorithm, the whole backlinking landscape has changed.
SEO Backlink Building Software and Tools
When it comes to a link-building campaign, using the right tools can make your life easier. In this section, I introduce you to some tools and software you can use for link building:
Ahrefs
Ahrefs is an all-in-one software suite designed for SEO professionals. When it comes to finding links, my favorite feature is "Link Intersect". This feature allows you to see which sites link to your competitors but not to your website.
SEMrush
You can use the SEMrush Backlink Gap Tool to compare your link profile with that of your competitors and discover link-building opportunities for your campaign.
Majestic
You don't have to be an SEO consultant to use award-winning data from one of the most established brands in the industry. Majestic is a great tool. For example, you can check out a competitor's website. This will give you a clear idea of ​​their backlink profile.
DFY Suite 3.0 – SEO backlink building software
DFY Suite 3.0 is by far the best backlink generating, syndication software I had ever used. I've been using this app for months now, and I'm more than happy with the results.
This is an image of the traffic of this very blog you're reading now:


As you can see, it took some time to build up the traffic, but that's how backlinks work.
Joshua Zamora and the creators of DFY Suite have simplified the entire social syndication process so that anyone can tap into the power of Page 1 rankings – even if they suck at SEO or are absolute beginners. And they have just updated and greatly improved it with the brand new 3.0 version!
Take a look at what the 3.0 version can do:
These are the features that you get with this powerful SEO backlink building software:
100% Done-For-You Syndication And Ranking System For you AND your clients
Submit ANY URL – NO Software to Download or Learn – NO Captchas or Proxies to Deal With
ZERO Social Account Creation Required on Your Part
HUNDREDS of Social, Wiki and Web 2.0 Links Built FOR YOU
NEW in 3.0: Done-for-you rankings on a GLOBAL LEVEL with worldwide language support!
NEW in 3.0: Powerful High-Authority PBN Syndication Unlocked
NEW in 3.0: A.I Powered Content System So Your Campaigns Pack an Even STRONGER Punch!
3.0 BONUS: Agency Access Included for a VERY-Limited Time
PLUS you still get ALL of our 2.0 features like DFY Video embeds and much much more..
You can submit ANY Url. It can be a video, a niche site, an Amazon page, an eCommerce store, ANYTHING!
It's 100% Done-For-You so ZERO work is required on your part once you submit your keywords and URL
You can schedule how FAST or how SLOW you want your syndication to be done
You can supply the content if you'd like (this is 100% optional)
You can let our system generate the content for your campaigns FOR YOU
You'll have FULL access to your syndication report once it's been completed
Conclusion
Link building is an essential part of the SEO process. It is something that can truly make a difference for your website traffic.
Whether you decide to build backlinks manually or automate the whole process through SEO backlink building software it is something that you should start to do from day one, and continue doing always.
To your success!
S