Deprecated
: The PSR-0 `Requests_...` class names in the Requests library are deprecated. Switch to the PSR-4 `WpOrg\Requests\...` class names at your earliest convenience. in
/home/coreof/dailymoneytree.net/wp-includes/class-requests.php
on line
24
If you want your blog to rank high on Google's search results, Semrush will be a valuable ally. Here's how to use it.
If there has been a tool that has really managed to make a difference in the growth of my blogs and those of my clients, it is undoubtedly Semrush.
I often talk about Semrush in my guides: how to use it to do keyword research, analyze your competitors, audit your site or optimize all our content.
And today I thought about creating a more complete guide on this tool so that you too can start using it to the fullest to grow your projects online.
I'll explain what exactly Semrush is and what it's for, what its main features are, and I'll show you the valuable SEO resources it makes available for free.
And speaking of free: I'll also tell you how to use Semrush completely for free (forever, not just 7 days).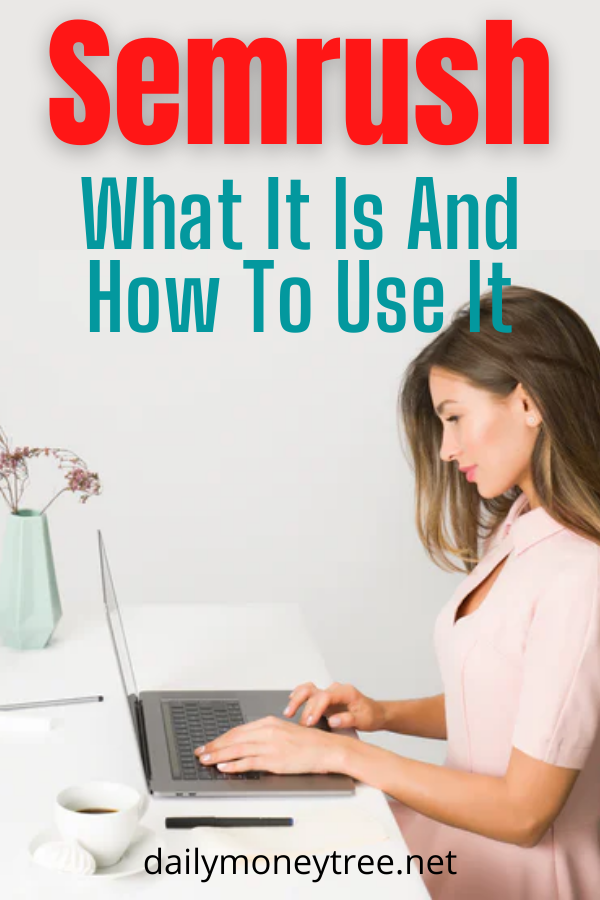 What is Semrush?
Semrush is more than just an SEO tool.
It is in fact an all-in-one platform through which you can manage SEO, content marketing, competition research, online advertising, and all the social media marketing of your website.
What makes it unique is that there is currently no such tool. There are great tools for SEO, content marketing, and so on. But not a platform that combines all the elements needed to grow a blog.
What do we Use Semrush for?
If you have already created a blog but it is not yet getting the traffic you want or if you are in the process of creating one and you want to give it the best structure right away to make it grow and monetize right away, then Semrush will surely help you.
It is obviously not a magical tool. It is not enough to create a project on Semrush to see it fly in the top positions of Google. It is a tool, and as such, it is important to know how to use it.
But there really is something magical about knowing what Semrush is and learning how to use it.
In fact, you just need to add a project, connect Google Analytics, the GSC, and the social media you use to get analysis and suggestions to optimize your site.
And – something not obvious – it is very easy to use, also thanks to the many tools it offers, such as tutorials or the Academy, which we will discuss in more detail in the course of this guide.
Get comfortable because now I'll explain in detail how to use Semrush to conquer the top of Google with keywords classified as "hard" and "very hard", analyze competitors, and steal their traffic (in a completely ethical way, let's be clear !).
How to use Semrush for free
One thing I am often told when I talk about Semrush is that it is very expensive.
But there are 3 elements that I think you must always keep in mind:
you can use Semrush for free forever, even if in its limited version (which is more than enough for just one newly created blog)
costs less than many SEO tools that only offer SEO analysis.
If using Semrush makes your site grow, improving your ranking and increasing your revenue, it goes without saying that this tool is not a cost but an investment.
My advice is to start with the free plan. So don't be frightened by the various banners and popups that tell you to try it for free for 7 days.
It means that you can try the full version for free for 7 days, while the limited version remains free forever.
The limited version allows you to create a single project, i.e. to analyze and optimize a single website. Even searches, such as those of competitor analysis, are limited to 10 per day.
If you want to take a look at the full potential of Semrush, then you can take the free 7-day trial. If you cancel the plan before the end of the week, you will not be charged anything.
If you finish it, just log in the next day to have new searches available.
The main features of Semrush
Semrush features can be divided into 4 main macro-topics:
SEO
Content marketing
Advertising
Social media.
You can learn how to use all the features thanks to Semrush's video tutorials, which I am attaching to the feature descriptions so that you can always have an overview at hand and deepen all the various features.
Since I deal with SEO Copywriting, I will focus more specifically on two of these features, namely SEO and Content Marketing, which are the Semrush functions that I use the most.
However, I also leave you some information on advertising and social media. However, you can also learn more about these topics directly in the Semrush Academy section.
SEO
What makes Semrush great is undoubtedly its SEO section which allows you to analyze your site and that of your competitors.
Through the menu on the left you can open the "SEO" tab to access all the SEO features, as you can see from this screen: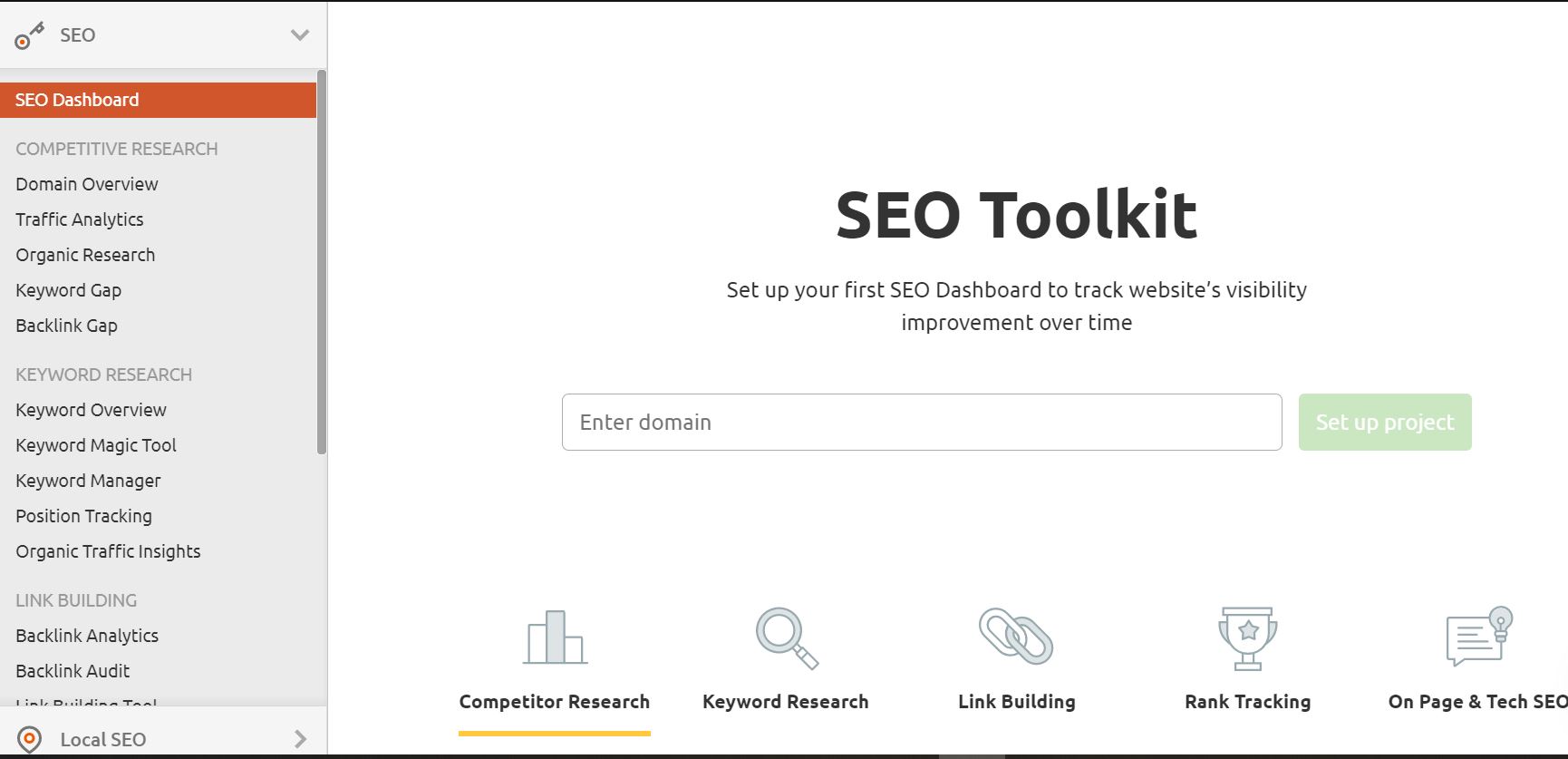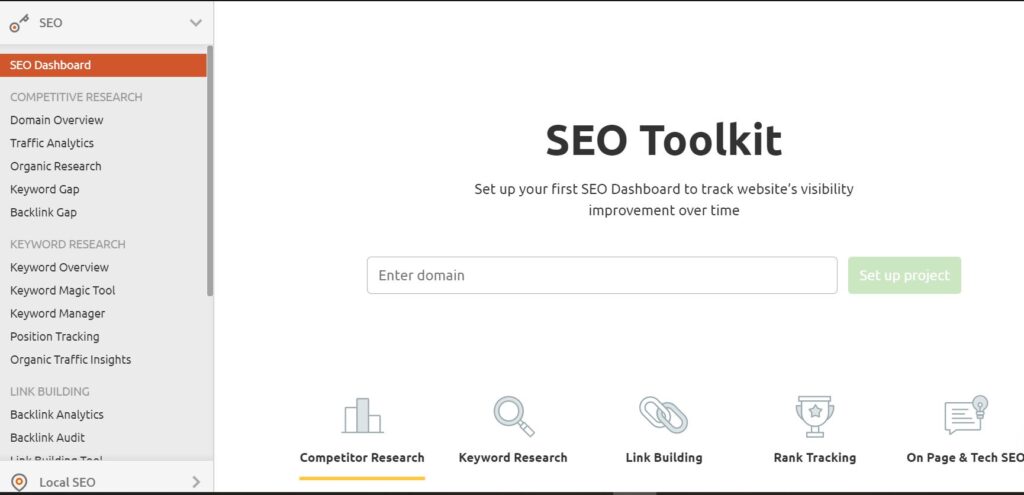 From this menu, you can analyze every aspect of your competitors' online presence: their traffic, the marketing strategies they have adopted, how they are positioned and for which keywords, and so on.
Domain overview and organic search
An organic search is a tool that allows you to find all your main organic competitors, carry out an in-depth analysis of their traffic and find the most relevant keywords for your niche.

Just enter a website in the search bar to get all the information of that domain, such as:
The authority score
organic traffic
paid traffic
the backlinks
traffic trends by country
the main organic keywords
the main competitors
Keyword gap
Through the search dashboard, you can also do an analysis of the keyword and backlink gap.
The Keyword Gap is a tool that allows you to compare up to 5 domains, including yours, and analyze all the keywords in depth.
This way you can see, for example, which keywords your competitors are ranking for but are missing in your blog, or the strongest keywords you can use to create a better SEO strategy.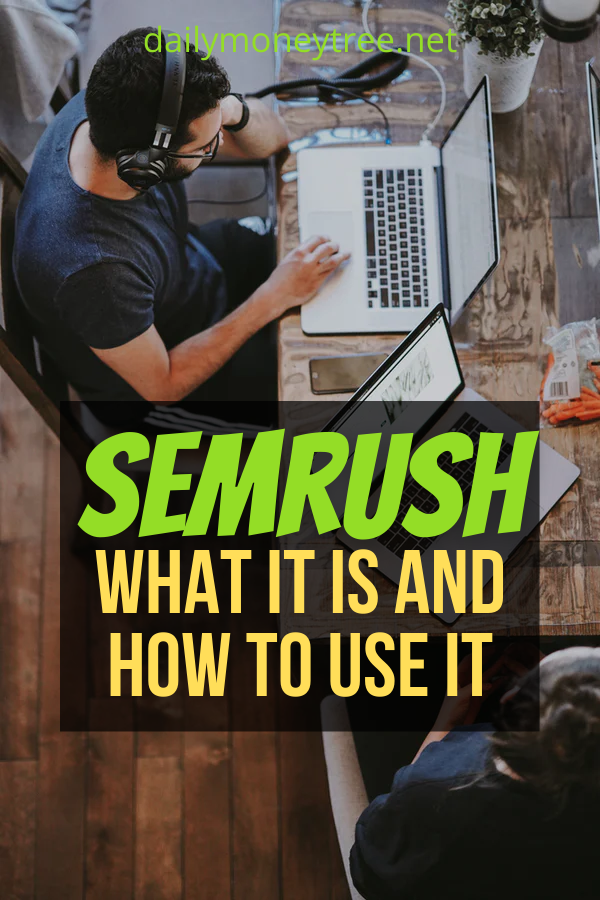 Backlinks
Quality backlinks are a very important element in building a strong SEO strategy.
Through the Backlink Gap tool, you can analyze which are the best backlinks of your competitors or which sites in your niche have had the most backlinks in the last 3 months, so as to intercept all the best opportunities for your strategy.
Furthermore, through the backlink analysis function, you can check not only all your backlinks but also their quality, for example by eliminating all toxic domains.
Still, on the subject of backlinks, another terrific tool for your link building is the Link Building Tool.
Keyword research
Keyword research is a fundamental element of any strategy to grow a blog and be able to monetize it.
Through the keyword research features, you can get advice and suggestions for the best keywords, search volumes, related keywords, all the questions that are asked on a given topic as well as analyzing all the keywords of your competitors.

Keyword Magic Tool
One of the features that I absolutely love is the Keyword Magic Tool.
Of a disarming simplicity but extremely powerful. Surely it is to this tool that I owe much of the success of my blogs.
Through the Keyword Magic Tool you just need to enter any keyword to get:
The difficulty of the keyword, the index that shows how difficult it would be to overtake your competitors in the top 20 Google results for a given keyword.
Search volumes, a monthly search estimate that helps you evaluate the potential search engine traffic for each keyword.
The competitive density, i.e. the level of competition between the different advertisers who focus on a given keyword for their PPC campaigns.
The functionality of the SERP, i.e. if the keyword appears (and on which domain it appears) on Google for example as a snippet, image, video, frequently asked questions and so on.
And if that doesn't seem enough, wait for the fun to come.
Once you have entered the keyword, you can get all the results linked to that keyword, such as:
Generic matches
Sentence matches
The exact matches
Related keywords
The questions that are asked about the keyword you searched for.
You can also view each keyword specifically to get search trends, keyword difficulty, the number of monthly searches as well as get new keywords, ideas for new articles, and long-tail keywords.
SERP volatility sensor
Sometimes you may notice a sharp drop in your positioning or – on the contrary – a sudden jump upwards.
This can depend on various factors, such as the presence of toxic backlinks, a restyling of your site, or other causes external to your site, such as variations in the ranking algorithm.
The SERP volatility sensor checks these changes and keeps you updated on all the updates of the Google algorithm, showing you which domains have been most affected by the updates.
This will make it easier for you to find competitors that you can overcome more easily.
On Page SEO Checker
Another feature that I use a lot for the SEO analysis of my blogs is the On-Page SEO Checker.
This tool allows you to analyze all your pages and articles and compare them with those of your organic competitors, who rank for the same keywords.
The result will be a series of information and suggestions to further optimize the articles of your blog, both in terms of content and SEO optimizations, in order to be able to climb the Google SERP.
Site Audit
We always talk about how important keyword research, well-written and effective content, optimized and responsive to search intent are.
But there is another aspect that should not be underestimated in order to rank well on search engines, namely what is called technical SEO.
Technical SEO (or Technical SEO) is that which concerns everything related to the – precisely – technical part of your site, such as architecture, crawling or indexing.
Some of the elements to be optimized when it comes to technical SEO are for example:
XML sitemaps
The structure of the URLs
Structured data
The architecture of the site
Duplicate content
Pages 404
Also for this type of SEO, Semrush is of great help, reporting all the problems that your site presents and explaining in a simple and detailed way not only how to solve them but also why you should do it.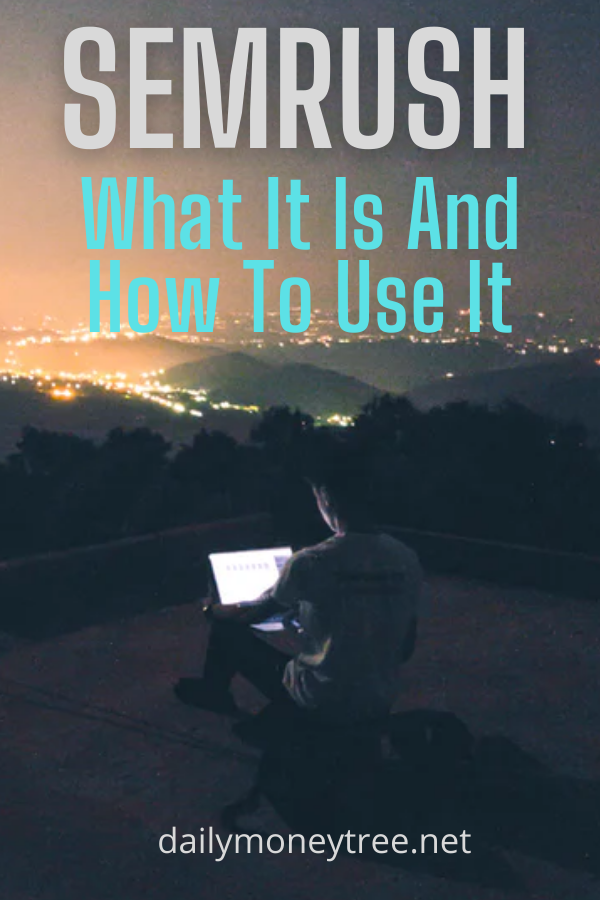 Content marketing
We have seen so far all the main features of Semrush for SEO optimization.
But SEO isn't everything. What matters at the end of the games is the content.
Content is King. Engagement is Queen (and she rules the house)
Semrush offers very powerful tools for optimizing content.
What are these amazing Content Marketing tools? Obviously, they are different but those on which it is worth dwelling are the:
Topic Research
SEO Content Template
SEO Writing Assistant.
In addition to these, we will also see how Brand Monitoring, Post Tracking, and Content Audit work, however equally important tools.
Topic research
Topic Research is a very useful tool for keyword research.
In fact, you just need to enter the main topic to get hundreds of keyword suggestions, such as:
trending topics
The most effective headlines
Most questions asked by users on Google on that topic
Local keywords
The themes related to the related keywords.
And if you, like me, love mind maps, you can also organize the results graphically, in order to have an even more complete and orderly overview with a single glance.
SEO Content Template and SEO Writing Assistant
Another absolute gem of Semrush is the SEO Content Template which helps you write the content for your blog in an SEO key starting from the keyword alone.
After entering one or more keywords, in fact, Semrush will analyze the top 10 Google search results and will automatically generate a model with all the suggestions to be able to position you in the top of Google, such as:
recommended length of the content
readability score you should get
semantically related keywords to include
backlinks you should get
One of the features of Semrush that has really made a difference in my work is undoubtedly the SEO Writing Assistant, a text editor offered by Semrush that allows you to analyze your content right at the writing stage.
While you are writing, the SEO Writing Assistant helps you to:
keep track of the score according to the metrics of SEO, Readability, Originality and Tone of Voice
monitor the use of keywords in the text
it automatically suggests all the related and secondary keywords that you need to use in the article to make it rank better.
You can also download SEO Writing Assistant, the Semrush add-on for Google Docs, and get the SEO optimization box directly on Drive, very useful if you write on commission for other blogs and do not have access to the CMS.
Brand Monitoring
Brand Monitoring is a tool that allows you to monitor the mentions of your online brand but also to keep under control the topics that interest you most.
Through Brand Monitoring you can:
Measure your estimated reach
Get backlinks
Identify who mentions you and how
Analyze the sentiment that the mention generates.
An excellent function, therefore, is to develop your personal branding and your PR strategy.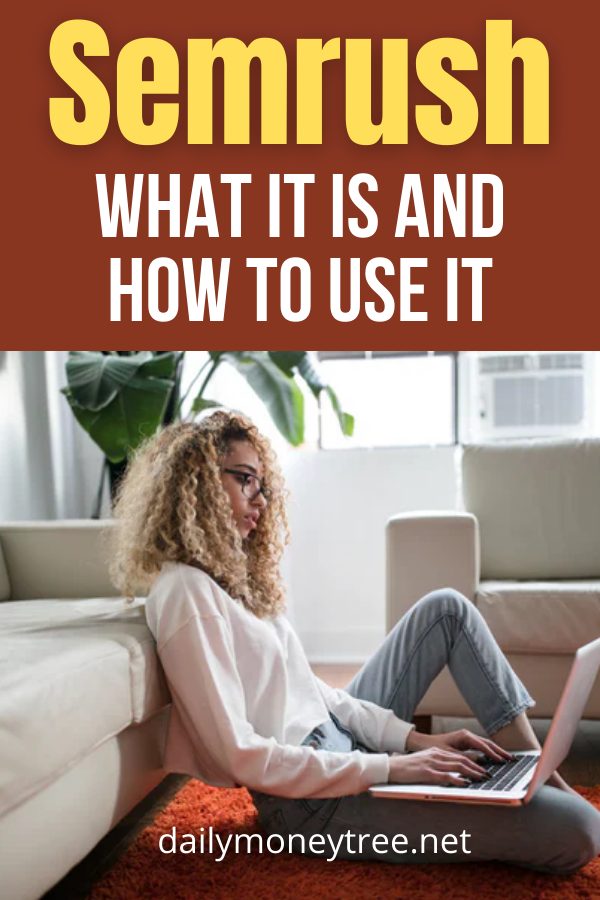 Post Tracking
Post Tracking is a fantastic resource for checking the progress of guest posts you've written for other blogs.
Through this feature, you can track the metrics of 50 guest posts. Just enter the URL of the article and you can get:
The number of shares on social media
The number of backlinks
The estimated coverage, i.e. the number of people who viewed the article
Referral traffic, or how much traffic that article is bringing to your blog.
This way you can identify which of your guest posts are performing best and further optimize your guest posting strategy.
Content audit
The Content Audit allows you to monitor the progress of all your articles in live-time and offers you valuable suggestions for optimization, such as:
Rewrite or remove: these are articles published for over 24 months that have recently received few views
Update: here are reported the articles that could rank better if they are updated
Quick Review: Relatively new articles and pages that can be optimized to rank even better
Poor content: Identify articles that are not performing and that should be deleted or aggregated with other similar articles that rank better.
Advertising
Semrush also allows you to organize, publish and monitor the progress of your advertising.
Since I don't use this feature often and I don't want to give you incomplete or misleading information, if you want to learn more about the advertising features, I suggest you watch the video I put above and read the Semrush guidelines directly:
Advertising research
Display Advertising Tool
Social media
The Social Media features allow you to create, publish and check the progress of all the contents of your social networks, as well as track the progress of your competitors' social networks.
The social networks that you can connect to the Social Media Toolkit are:
Facebook
Twitter
Instagram
YouTube
LinkedIn
Pinterest.
Semrush (free) training courses
We have seen so far the main features of Semrush to write articles and optimize them for SEO.
But this tool does not stop there because it also offers a lot of training content.
If you want to get complete and above all free training on SEO, content marketing, and the use of Semrush, you are spoiled for choice.
Let's see what resources it makes available.
Blog
First of all, there is the Semrush blog to emphasize. Complete, exhaustive, very well written, and very simple. Semrush's blog was probably my first resource for my SEO Copywriting training.
Whatever you are looking for regarding SEO, Content Marketing, Social Media, eCommerce, case studies, and digital marketing, rest assured that you will find the answer on their blog.
Academy and certifications
The second resource I suggest is the Academy which offers free digital marketing courses and in particular on SEO, content marketing, PPC, SMM, and Competitive Research.
At the end of the course, you can receive a certificate that you can also enter in the Licenses and certifications section of LinkedIn and that will be an excellent introduction ticket for all your potential customers.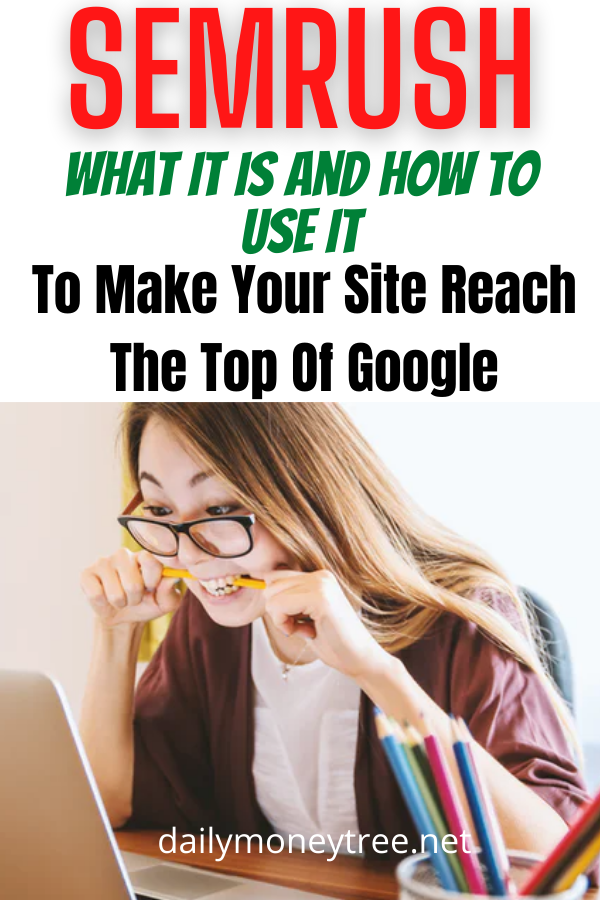 Ebooks
Semrush also has a section where it makes numerous PDF ebooks available for download on many different topics.
My favorites are:
Competitor and market analysis with SEMrush
Content Marketing Checklist
In Data We Trust
Webinars
Semrush also has a rich variety of free webinars on a variety of digital marketing topics.
You can book for future webinars or review all past ones. Furthermore, you can follow the webinars in Italian, English, Spanish, French, German, Portuguese but also in other languages, such as Turkish and Polish.
Semrush: final thoughts
If you got to the bottom of this guide, first of all, thank you: it means a lot to me.
I hope that after reading this article, it is now clear to you why I love this SEO tool so much. And I hope that its use can make a difference for you, just like it did for me.
Now all you have to do is create a free account and start having fun with Semrush.
Create your first project, connect your site, your social networks, and Google Analytics and you are really ready to start testing, optimizing, re-testing, and – most importantly – flying your blog to the top of the Google rankings.
And if you have any other questions, suggestions, want to compliment me, or just send me a greeting, it makes me very happy. Feel free to write me in the comments below!
To your success!
S