In my previous article about the Useful, but not Essential Affiliate Marketing Tools I wrote about Trackers, Searching for Promotional Campaigns, Heatmapping, etc…
Today we're going to go over and cover the best SEO, Spying, and Creative tools for affiliate marketing. Again, I want to point out that it is not necessary to use all the tools immediately. These tools are used to improve all the processes used to guide the user towards the conversion and, consequently, we need to collect data, optimize and undertake scaling actions.
If you still haven't, be sure to subscribe to our newsletters so you don't miss one of our articles (and we give away a ton of cool stuff). There will be a subscription form at the bottom of this post.
So, let's dive in the world of affiliate marketing tools immediately…
SEO
What SEO tools help us grow? Surely if we have a blog in WordPress I suggest using plugins like All in One Seo Pack or Yoast, to create a sitemap and communicate it to the Google Search Console.
But this is not enough, it is necessary to have tools such as SEOZoom or SEMRush to help us improve the organic positioning. These software are real assistants in the analysis and research of keywords, in the study of competition, and in the analysis and support for link building. Again, if SEO is one of our priorities, we must consider the use of these tools.
Among the possibilities are some free SEO tools and some paid ones.
Ahrefs:
It is one of the most popular SEO Tools on the market. It carries out the task of tracking the multiple activities of your website: from backlinks to keywords ranking (list of keywords and their respective positions on search engines). The Crawl Report function notifies and resolves the main errors on our site that could damage its visibility. It is possible to check the keywords ranking of any competitor. 14-day free trial is available, subscriptions start at $ 99 / month for the Lite version.
Alexa (Advanced):
The company owned by Amazon offers a complete service for those who work in web marketing. In particular, the Advanced version (cost of $ 149 / month with 7 days of free trial) offers a complete service of Analytics, SEO Tools including the ability to monitor backlinks and positioning of keywords on any website. It is also possible to monitor the performance of the site such as the number of monthly accesses, nationality, gender and age of visitors, duration of the session, origin of visitors and many other characteristics. A truly complete service.
Backlinksindexer:
It is a Cloud Based service (no programs to download) for indexing on search engines through backlinks. It is based on a complete network of sites, blogs, RSS of any niche (only in English). Based on the subscription type, it is possible to obtain from 50 to 500 URLs processed per day. Subscription prices start at $ 14.97 / month for the Basic version.
Ubersuggest:
It is a service that suggests new keywords related to the main one, entered by you, that do not appear in the Google Keyword Planner. The Word Cloud allows you to have a quick overview of the main terms associated with the main keyword. Each keyword displayed is associated with the respective Google Trend graph to facilitate the choice of the best keywords to work on. The service is completely free, even in its Firefox and Chrome extension.
Indexification:
Specialized in search engine positioning through indexed backlinks. Indexification offers 1,500,000 backlinks per month at a cost of $ 17.95 / month. More than 18,000 users and 2,500,000 backlinks delivered per day in 4 years of activity.
Instantlinkindexer:
35,000 customers in 3 years of activity. These are the numbers of this service specialized in providing backlinks, useful for indexing on search engines. The method uses techniques accepted by Google (at least according to Instantlinkindexer). Prices vary, of course, depending on the number of backlinks we need. It goes from 500 backlinks per day for $ 13.77 / month, to 50,000 per day for $ 47.77 / month.
Keyword Revealer Pro:
Finding low competition long tail keywords (3 or more words) for any market niche, with related statistics. This is the function of Keyword Revealer (in particular of the "Pro" version), a platform that, in addition to finding the best low-competition keywords, acts as a keyword brainstorming: it suggests phrases composed with the keywords we have entered. 29.97 $ / month the price for the Pro version of the platform.
Keyword Tool IO (Pro Plus):
"Finding long tail keywords that your competitors do not know and that are not visible on Google Keyword Planner". This is the challenge of Keyword Tool IO (especially the Pro Plus version). The service uses Google's autocomplete phrase technology. In practice, it anticipates the user in typing words, to promote the user experience. Likewise, this service simplifies the search for new low-competition keywords, with all the related statistics (number of searches, cost per click, ranking). The price for the Pro Plus version is $ 88 / month.
Linklicious (Pro):
Company specialized in indexing backlinks on Google, Majestic and Ahref. The workhorse, the ten-year experience in the search for the most functional indexing strategies, has meant that the service has evolved over time with the continuous updates of the Google algorithm. The promise is to save a lot of time in link building (only 5% of the backlinks bought, are then recognized by Google). Linklicious, on the other hand, optimizes backlinks, guaranteeing a surge in ranking. 57 $ / month the cost of the subscription to the service.
MOZ Pro:
One of the most popular all-in-one SEO tracking in the world, with 7,000,000,000 unique searches per month. Search keywords, backlinks analysis, keyword rank tracking, are some of the main functions of the service. The Site Crawl Test allows you to analyze your site/blog from top to bottom, identify and correct the main errors that could compromise its visibility on search engines. One of the most complete and recommended tools on the market. 30-day free trial and $ 149 / month for the Medium version.
SEMRush (Guru):
Semrush is certainly one of the best online tools to analyze and monitor your website and that of competitors on search engines. Endless functionality for what is perhaps the most complete tool on the digital marketing market. Analalytics reports on organic research and advertising, backlinks and keyword analysis, keyword difficulty indicator tool, domain comparison, social media tools, graphics, reports and much more. It is impossible to give an exhaustive description of this service in a few lines. $ 99 / month for the Pro version, although it is advisable to upgrade to the Guru version for $ 199 / month.
SimilarWeb:
Data acquisition from any website or app. Any kind of data. Positioning on search engines, shares, likes, comments, keyword ranking, trend of visits over time, visitor targets, main competitors. It is also possible to know the promotion strategies of a competitor thanks to the section that indicates the type of traffic (organic, paid, social) that visits the site. In short, everything you need to know about the statistics of your site / blog and those of our competitors. The free trial of the service is available, for subscriptions, however, it is necessary to contact SimilarWeb directly using the appropriate form.
Spy Tools
Spy tools are used to understand how other affiliates are conveying an offer, be it on Facebook or other traffic sources. For some affiliates it is an indispensable tool because, without it, you don't have the ability to intercept winning angles. This tool was created with the purpose of spying, copying, replicating and using the work of others to generate profits.
I do not recommend using this tool, not for the ethical question, simply because if we get used to this working method we lose the ability to create a winning but above all original communication from scratch. In the hypothesis of "I just need to take a look" our promotion will still be polluted by what others are doing. If you don't believe me, just remember every time you see a sponsored on Facebook, take the screenshot and say "I do too". Then maybe you don't go to ROI! I realize how many affiliates are using this tool more and more and how limited they are in originality, just look at their communications.
Before using it ask yourself this question: "do I want to be first or am I satisfied with a second-place?"
Adbeat:
This is a service that allows you to obtain the marketing strategies of any company, such as information about the corresponding advertisements (graphics, banners, ADs targets, budget spent, advertising platform, uptime, etc …). Pricing starts at $ 249 / month for the Standard version.
Adfox:
A Spytool of constantly updated Facebook Ads ads (300,000 ads at the moment). By entering the keyword that interests us, we will obtain active advertisements on Facebook relating to the entered keyword. For each ads it is possible to derive the target audience, the engagement, the image and the copy of the ads itself. Trial version of this Tool is available for $ 1.
AdMobiSpy:
23 Ad Networks, 13 Analytical Tools, 183 countries, and more than 6,000,000 listings in the database. Impressive numbers for this mega Tool that allows us to get all the information about the advertisements of our competitors. Pricing starts at $ 35 / month for the Basic version.
Adsxposed:
Spytool specialized for mobile searches. All the necessary information about a mobile ad is available. 1000 ads collected per day in 14 countries, present the major traffic sources Popups and Redirects, supports both IOS and Android. This tool also has a fixed cost of $ 169.
Advault.io:
Spytool specialized in Native Advertising, Advault selects the adverts (more than 5.000.000 at the moment) of 13 Ad Networks in 19 Countries (Italy not included). It is possible to view and download landing pages, banners and advertisements, view the best performing campaigns and monitor them over time. Available for a 3-day trial at $ 3, monthly plans start at $ 179 for the Basic version.
Mobile Ad Scout:
We are talking about a mobile ads search platform operating all over the world. With Mobile Ad Scout it is possible to search for the best performing ads and landing pages, divided by country, operating system and traffic source. Each search is correlated with a complete list of all the statistics regarding the advertisement, including the ADs uptime and the number of clicks. 24/7 assistance support is active.
The cost of the subscription is $ 177 / month.
Native Ad Buzz:
Ad search platform, specializing in Native ads. Operating in 12 countries (including Italy) and in 10 Ad Native Networks, Native Ad Buzz allows you to search for the best performing ads, save them, estimate their costs. A feature that distinguishes it from the many Spytools on the market, a mastermind forum dedicated to marketers who use the service. $ 7 for a 7-day trial, then subscriptions start at $ 47 / month.
Whatrunswhere:
We are talking about a Spytool specialized in Display and Mobile Advertising. The Display section of the service collects the advertisement of 120,000 publishers, from 190 Ad Networks, in 21 countries (including Italy). The Mobile one, on the other hand, collects ads from 90,000 publishers, 80,000 Android apps, from 150 Ad Networks in 21 countries (including Italy). It will therefore be possible to search for advertisements related to the keywords that interest us most, view their creativity, copy, images, statistics and destination URLs. Among the main features, the daily updating of data, and the historical background of the advertisement up to 4 years. 3-day trial for $ 1, the full subscription starts at $ 329 / month for the Basic version.
Spy Tools for AMAZON
Junglescout Pro:
Do you want to know all the statistics of a product for sale on Amazon? Junglescout Pro does just that. You can buy it as a Chrome extension or web app at a cost of $ 197 to purchase the lifetime license or with subscriptions starting at $ 29 / month for the Startup version. What kind of statistics are these? Amazon ranking, number of sales, total profit, monthly sales trend, cost of Amazon fulfillment (FBA) and much more. In short, all the statistics regarding a product will no longer have secrets.
Terapeak:
This Tool allows us to know everything about the products on sale on Amazon and Ebay. Browsing through over 18,000 categories, it is possible to select any type of product for sale on Ebay / Amazon and to know the number of total sales, the minimum cost price (taking as a basis the prices provided by the leading world wholesaler Alibaba), the product for each product, the sales trend by month, week and day. Furthermore, the tool allows you to check the competition for the same product in both portals, in order to give a 360 ° view of the situation to those who want to start an e-commerce business. 7-day free trial to test the service, the subscription, on the other hand, amounts to $ 240 / year.
Creative tools
Adplexity Mobile:
The Mobile version of Adplexity allows you to obtain information and download on your PC, the advertisements relating to the Mobile section, Popups and Android Apps. The service is based on a database of 100 Affiliate Networks, 120 mobile operators and 75 countries. You can customize your search by date, keyword, size, advertiser, etc. The service costs $ 199 / month.
Adplexity Native:
The Native version of Adplexity collects the advertisements of over 100 Affiliate Networks, in 30 countries, for almost all devices with traffic sources. The Funnel Analyzer function allows us to view the entire funnel used to bring the user to action. Here, too, you can download the ad creatives on your PC. The price of the service is $ 249 / month.
Bannersnack:
This is a tool that allows you to create banners quickly and easily. Compared to any image editor (see Photoshop), Bannersnack is characterized by an advanced user experience, which allows you to create banners even for those who are new to editing. The dimensions of the banners of the main advertising platforms such as Facebook Ads and Adwords are already present in the tool. The HTML embed codes allow you to integrate banners on your site/blog quickly. You can create up to 10 free banners to test the service, $ 19 / month for the Basic subscription to the service.
Techsmith:
Techsmith is a company specializing in everything related to video editing. Among the various software studied by the company, Snagit, Camtasia and Relay are certainly the strengths of the company. Snagit allows you to communicate with images and short videos using the dynamic capture tool, with attached editor. Camtasia allows you to create professional videos with the screen recording and video editing tool. Relay allows you to upload your videos to a private online library, to embed them on your web pages, without the need to upload videos to Youtube or use free video hosting services. A method to give a touch of professionalism to your web pages. Prices vary depending on the instrument.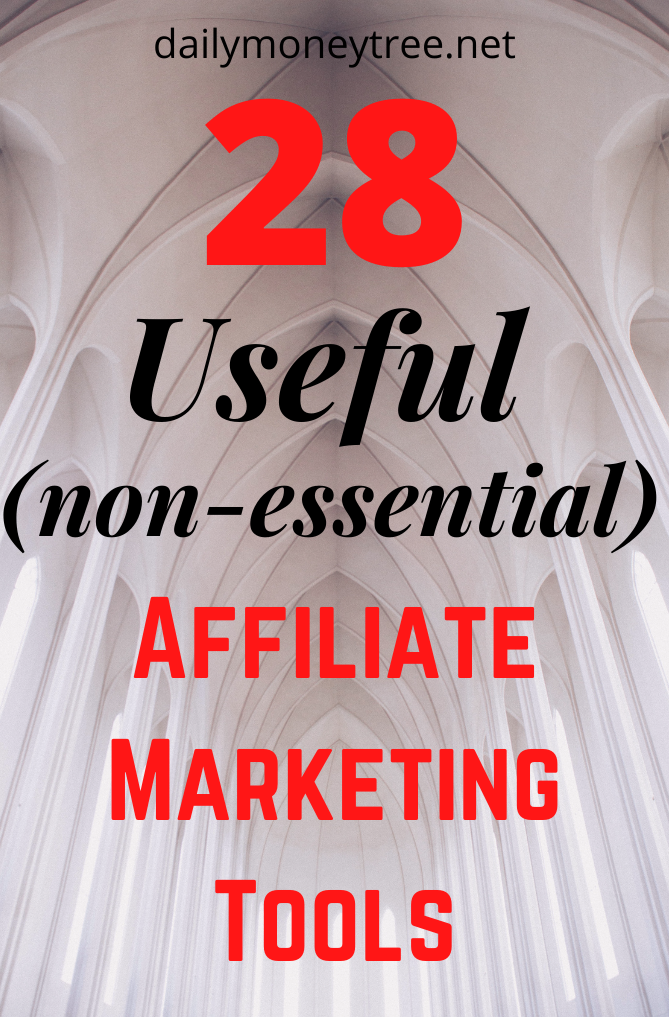 Landing pages
How do I create a landing page? If you work with affiliations this problem is secondary because you generally use advertiser landing pages and your business will be to create prelanding. When you have your own product or information to distribute, you will need to create your landing pages.
You can create them in pure HTML, through the various WordPress composers or use LeadPages or Clickfunnels – again it depends a lot on your needs. Personally, for AffiliatePRO® events and products I prefer to use Clickfunnels because it interfaces quickly with Mailchimp and other tools.
Utility
Adcalc:
This nice service allows you to calculate the various elements that make up a promotion campaign, starting from the data available. Among the calculation possibilities, we have that of the ROI (return on investment), of the CTR (percentage of clicks in relation to the number of views), of the EPC (earnings per click), and many others. Beyond this data it is also possible to do more complex calculations, such as those regarding Split Test, PPC (pay per click) campaigns and more. The service is completely free.
Raventools:
Marketing reports service designed for web agencies, it allows you to create any type of report with all the information and statistics (number of visitors, budget spent, engagement etc …) on the various web marketing actions: SEO, SMO (social media optimization) and SEA (search engine advertising). In addition, there is an analysis and correction section of the main SEO errors of the site / blog. 30-day free trial available. Followed by subscriptions starting from 99 $ / month for the Pro version.
Remember:
You don't succeed in affiliate marketing thanks to the use of tools. The tools serve to help us analyze and optimize all processes.
Stay tuned and stay safe!
S