Deprecated
: The PSR-0 `Requests_...` class names in the Requests library are deprecated. Switch to the PSR-4 `WpOrg\Requests\...` class names at your earliest convenience. in
/home/coreof/dailymoneytree.net/wp-includes/class-requests.php
on line
24
If you have an online business – but also offline! – or you are thinking about starting one, you need to know that it is not enough to create a blog, company, or website to be successful.
In fact, what differentiates a successful business from a business destined to fail is very often what is called a " marketing strategy ", ie all those actions that are undertaken to achieve certain business objectives.
If until a few years ago there was only traditional marketing, i.e. the one mainly conveyed by classic media, thanks to the advent of the internet a new marketing model has come forward called digital marketing.
But what are the best digital marketing strategies that can be implemented to grow a business? And how is an effective strategy built?
I want to answer these and other questions in this article. We will see together what digital marketing means, how to build an effective strategy and what means to use to bring your business to success.
So enough with the premises and let's get started!
What is digital marketing
To fully understand what they are and how to apply the best digital marketing strategies, it is important first of all to answer a fundamental question.
What is digital marketing?
Digital marketing is a branch of marketing that uses the web channel "to develop its sales network, analyze market trends, predict trends and create offers on the target customer profile" (definition taken from the web).
In an even simpler way, when we talk about digital marketing we mean all those activities that are done on the web to achieve your business goals, such as:
do market trend analysis
acquire new customers
understand what they need
offer them our best offer
optimize conversions
… and so on.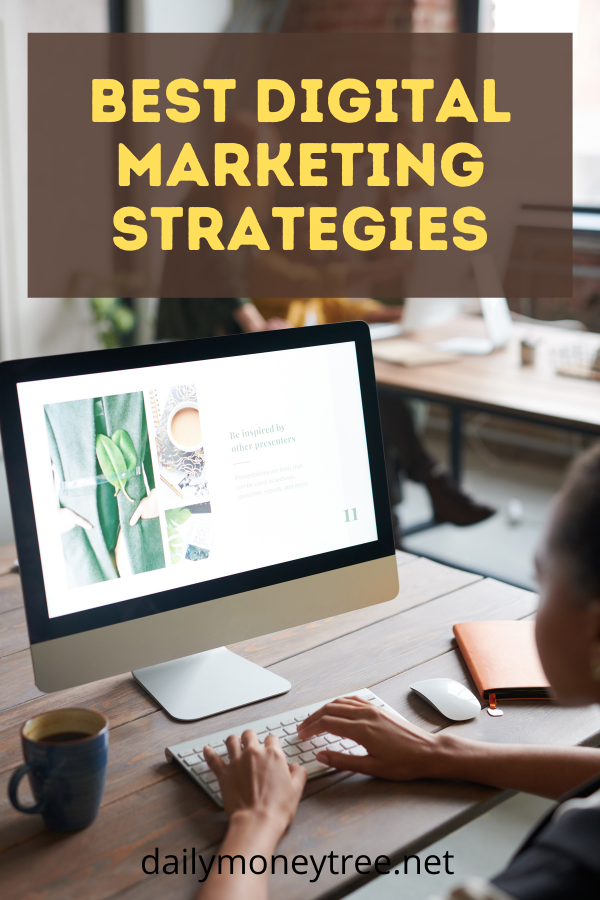 Why it is so important to create a good digital marketing strategy
But why is creating a digital marketing strategy so important nowadays?
Unlike traditional marketing, i.e. what is conveyed through classic media such as radio, television, and print media, digital marketing has a number of advantages:
it is generally less expensive than traditional media marketing
often has higher conversions
it is more easily traceable and measurable (so it is easier to use the data to optimize our strategy and improve our results)
you can reach specific target audiences (and therefore reduce costs).
It goes without saying that digital marketing does not necessarily have to exclude traditional marketing as well, but the two strategies can both be integrated into your business.
The best digital marketing strategies
Ok, we have seen what digital marketing consists of and why it is important to build a solid and effective strategy.
But what are the best strategies that we can implement in our business?
Here we will see together the most effective ones. I will also show you the main digital marketing tools for each individual strategy so that you really have everything you need to start reaching your goals.
You don't necessarily have to implement all these strategies. Test them, choose the ones that work best in your business, and optimize them. This way you won't waste your energy, time, and sometimes even your money on techniques that aren't effective enough for your blog.
1. SEO
Well, you have created your online business. You've prepared a terrific website, awesome articles, gorgeous graphics. And now tons of people will land on your site and buy what you sell!
Quite right? Um… no, wrong!
To gain traffic leads and paying customers, you must first be able to be found. And to do this, one of the most effective and practically no-cost methods is to be found first on Google.
SEO should therefore be one of your top priorities when you develop your digital marketing plan.
Let's think of a person who wants to start working by writing articles on the web. This person may not know where to start so go to Google and search for "web writer" for example.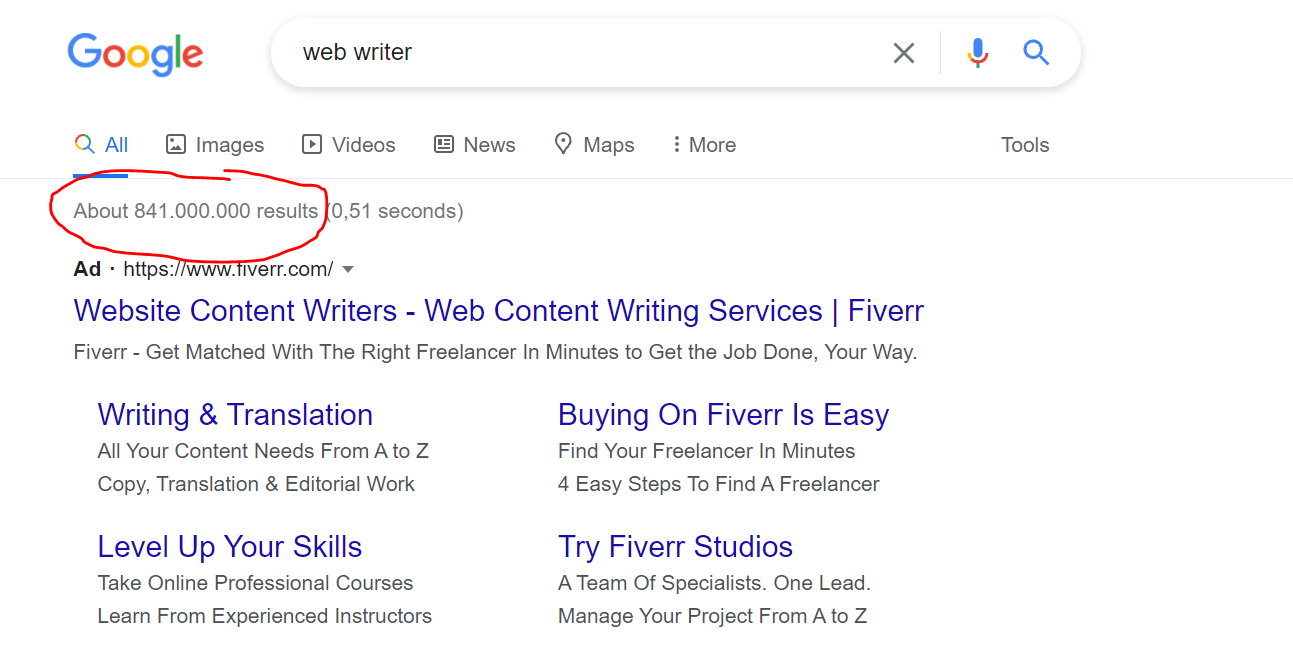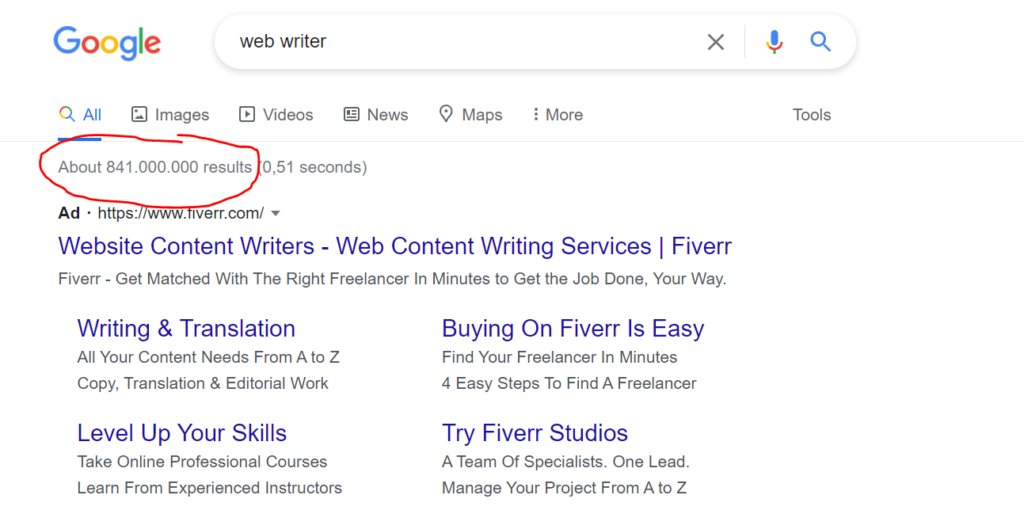 And here it is that 841 million results will appear!
Imagine you are that person. How many of those results will you decide to read? Maybe the first 3, maybe even down to the tenth result. But you will hardly get to the second page.
In fact, think that almost 40% of clicks are directed to the first Google search result and that only 7.19% of users go to visit the second page of Google.
Not surprisingly, it is often said that the second page of Google is the best place to hide a dead body ?
Being first, therefore, allows you to be found more easily by all those looking for information on a given topic, consequently increasing your traffic and your revenue.
There are many SEO strategies you can apply to your business. Here are some examples:
2. Social media marketing
Another high-performing marketing strategy is social media marketing. And the reason is very simple.
According to a 2020 estimate, around 3.78 billion people are on social media every day. And if you don't understand how many people they are… well, they are 48% of all people on Earth and according to Statista, their time spent on social media is about 144 minutes a day.
And it is an estimate destined to grow in the coming years.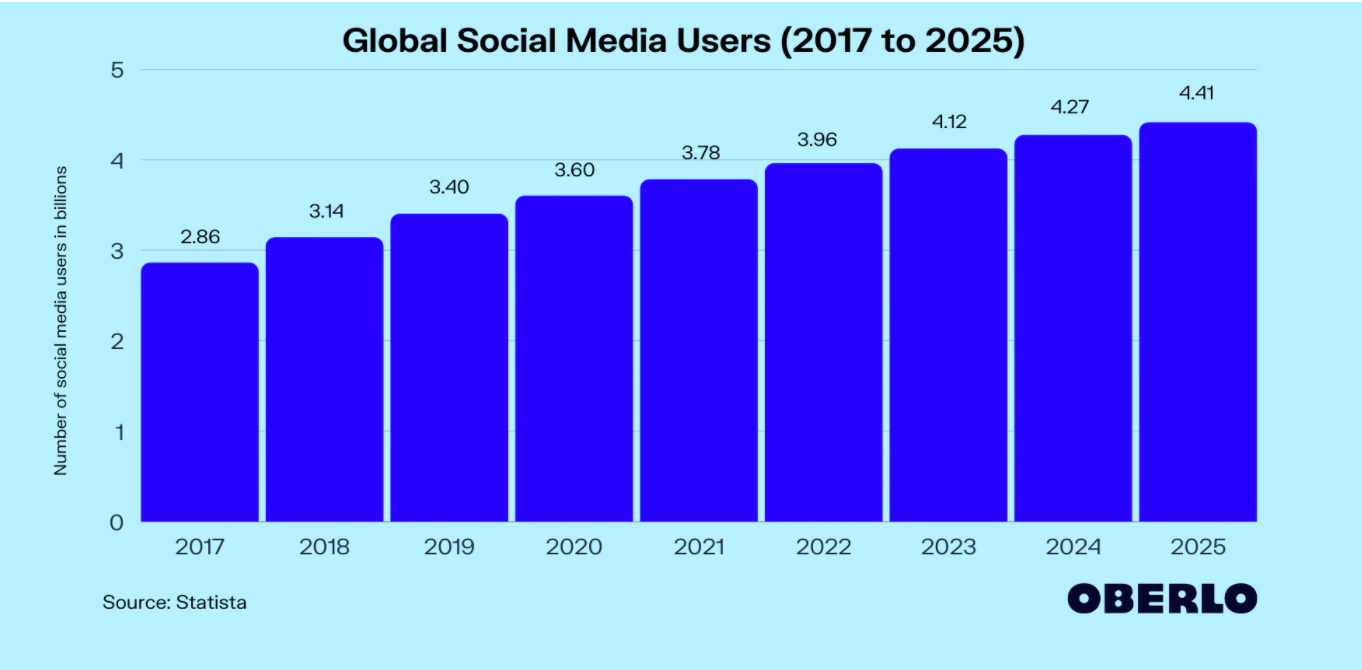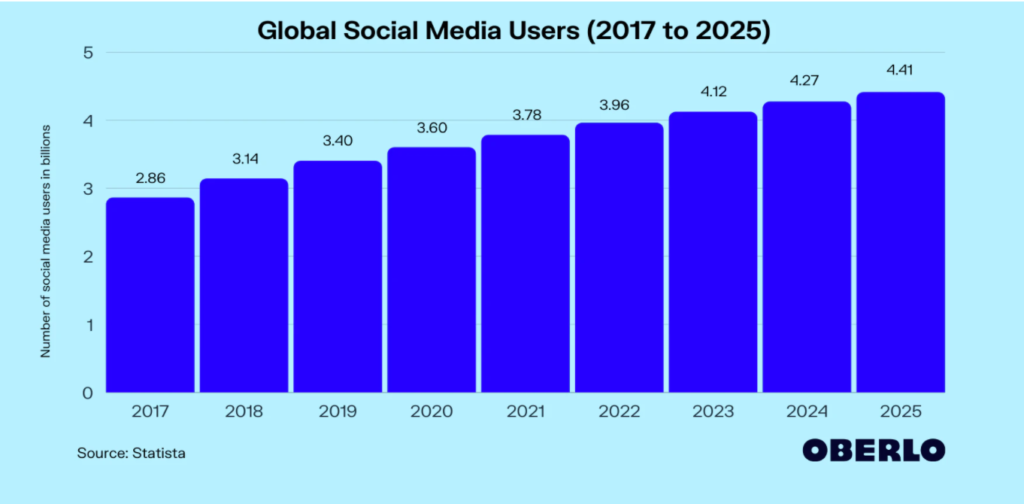 So do you understand the enormous potential of this tool?
Regardless of the niche, you have decided to target, with such a large audience it is undoubtedly that the target is on social media. It remains only to find it – and be found!
This does not simply mean opening a Facebook page, where, among other things, organic engagement is at an all-time low. In fact, you need a specific social media marketing strategy for each social network.
Creating a simple post and sharing it on all social networks is not an effective strategy since each channel has a specific target audience.
3. Email marketing
"E-mail? Nobody reads emails anymore! Email marketing is dead! "
Bla Bla Bla.
Email marketing is alive and well and right now is making even the necessary incantations.
Through email marketing, you can inform your readers of the publication of new blog articles but also promote your products and services and – last but not least! – build stable and lasting relationships with them, based on mutual trust.
There are a number of tools that can help you build your contact list.
Here are my favorites:
But how to create an effective email marketing strategy? Just follow 6 simple steps:
Identify the goals you want to achieve
Create a strategic action plan
Choose the best email marketing service
Make grow your list
Monetize your list
Monitor the results and optimize the strategy.
4. Content marketing
Content marketing is often the digital marketing strategy among the most used by those who have an online business.
In fact, if you think about it, everything is content marketing. Everything you create, every post you write, every image you post, every video you shoot.
Everything is contained.
Through content marketing you can achieve dozens of different goals :
Expand your audience
Disclose your belief system
Grow your authority
Increase your visibility
Build relationships with your audience
Acquire new leads
Convert users into paying customers
Forge partnerships

5. Affiliate marketing
We have often talked about affiliate marketing on this blog but always from the point of view of publishers, that is, those who sponsor products to earn a commission and thus earn with their blog.
This is the case, for example, with Amazon affiliations: you sign up, sponsor the products you prefer on your blog and you will receive a commission for each sale made.
But there is also an opposite point of view: that of advertisers, that is, you are the person with a product to sponsor and other marketers will promote it in exchange for a commission on sales.
Affiliate marketing, therefore, allows you to get more sales simply by finding new affiliates. There are numerous platforms that allow you to do this, based on your niche.
Some of the most famous advertising platforms are for example:
6. Influencer marketing
Even influencer marketing is increasing rapidly in recent times and has been strongly accelerated particularly during the pandemic.
According to some statistics, more and more brands are relying on influencers and micro-influencers who have managed to build a good following, especially on social networks.
But why is influencer marketing taking off so much?
The statistics explain it well:
70% of teenagers trust influencers more than traditional celebrities
49% of shoppers followed the advice of an influencer
influencer marketing is relatively cheaper and the ROI is higher (an estimated profit of $ 6.50 for every dollar spent)
74% of people believe the opinions they read on social media , particularly from friends, family and – indeed – influencers they follow.
If you have a product or service to sell, then you should also consider implementing relevant influencers in your niche for your digital marketing strategy.
But be careful: having many followers does not mean being influential. Followers can also be bought (but I advise you not to do so if you don't want to kill all your marketing efforts).
What matters is in fact the real involvement of people towards that influencer. So do not be fooled by the so-called vanity metrics but investigate the results that that person is obtaining in terms of sales and engagement.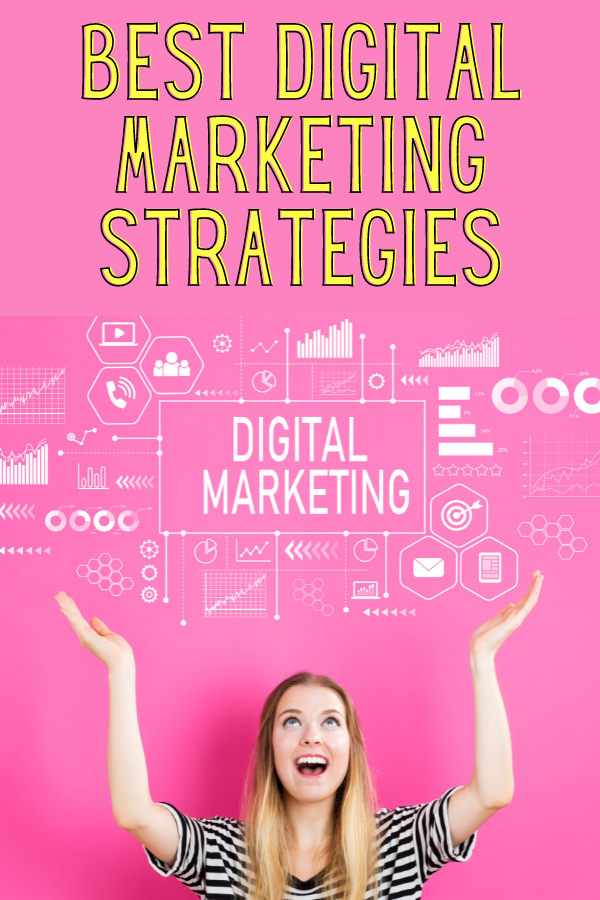 7. Online Advertising
Last but not least for your digital marketing strategy is advertising.
There are different types of advertising that you can do on the web, such as social advertising, i.e. sponsored on social networks such as Facebook, Instagram, or LinkedIn, or Google ADS, i.e. advertising campaigns made on Google.
Google, for example, allows us to mainly create two types of campaigns:
display campaign
search network campaign
Display campaigns are the classic banners that often you can find by browsing the websites. One of the most used strategies for this type of campaign is retargeting which allows you to show your advertising for example to all those who have visited your website but have not made a purchase.
Have you ever wanted to buy, say, a new kitchen table and suddenly, surfing the web, you find kitchen tables everywhere?
This is exactly one example of retargeting.
The other type of campaign that you can do with Google is instead the campaign on the search network that appears instead in the search results and allows you to skip the line and immediately position yourself in the first results of the SERP.
These results are labeled "Ad".


Therefore, creating paid campaigns is an excellent digital marketing strategy that allows you to expand your audience, generate new leads, and increase your sales.
While creating an advertising campaign on Google or on social networks is a fairly simple thing from a technical point of view, setting up the campaign to show the right advertising to the right audience at the right time is a little more complex.
So if you don't want to throw your money out the window, before starting to launch sponsored campaigns, I recommend that you study the subject well .
How to create an effective digital marketing strategy
Well, we have seen what are the best digital marketing strategies that you can apply to your business to make it grow.
Just one last fundamental point is missing: how do you create an effective digital marketing strategy?
A good digital marketing strategy consists of 4 main phases:
The preliminary analysis
Set goals
Define the channels to use and the strategy to use
Analyze the results and optimize.
The preliminary analysis
The first thing to do is a preliminary analysis of your business, your target, and your competitors.
Who are your customers? How to find them? What can you offer them? How is the competition moving? What are the most relevant influencers in your niche?
There are two techniques that can prove useful in this first phase: the SWOT analysis and the definition of your buyer persona.
Through the SWOT analysis (or SWOT matrix ) you can go and intercept what are yours:
strengths ( S trengths )
weaknesses ( W eaknesses )
opportunities ( O pportunities )
threats ( T hreats ).
Once you have done this first analysis, you can focus on building your buyer persona, that is, the representation of your ideal customer.
Creating one (or more!) A buyer persona will help you personalize and optimize your content and communication as much as possible since you will always know who you are addressing.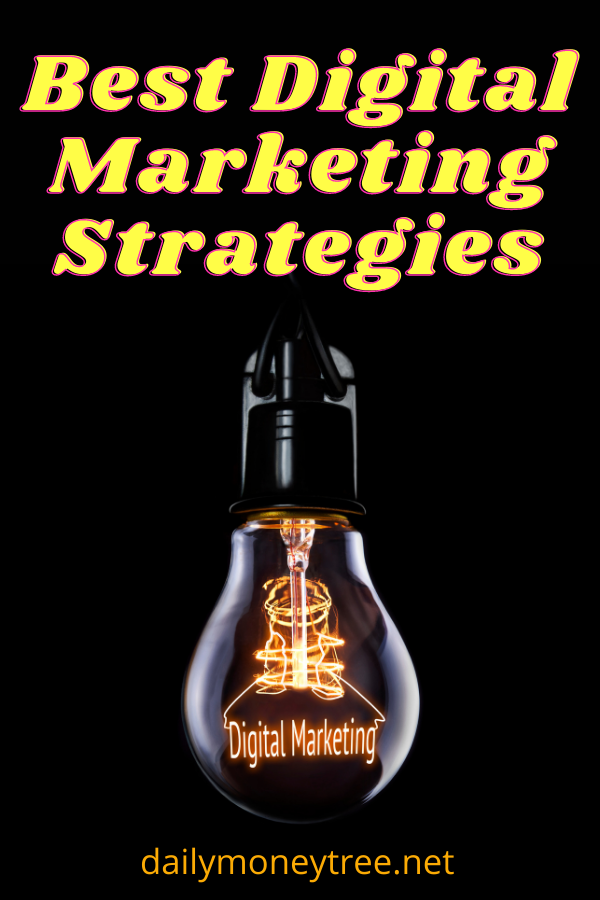 Set goals
Once you have finished the first phase of analysis, it is time to start working more practically on our strategy. And what is the first step to take?
Obviously the choice of one's goals. Because if we don't know which direction we are going, how do we choose the right path?
Think of your business trip just like a road trip.
Do you want to go from New York to New Orleans? It is obvious that you will start going south. You will probably go wrong a couple of times, you will have to go back and take a new path, but the direction is undoubtedly that.
But what if you are leaving New York and you don't know where you are going? Which path will you take?
So think of the preliminary analysis as the starting point (NY) and the choice of objectives as the destination (NO). Now we have a direction so we can start moving by defining our strategy.
Define your best digital marketing strategy
Resume now all the digital marketing strategies that we have seen before. These are the main roads you have available. There are certainly others, it's true. But let's say that what we have seen so far are the highways.
Start driving. Divide your path into many small steps, many small steps. You already know the direction you need to follow so it won't be too difficult to get close to your destination.

Analyze the results and optimize
Ok, now we have probably arrived close to our destination or rather to achieve our goal. Or maybe we are still a little far?
It does not matter. What matters is that we have to get a little closer. To do this, we need to analyze what we have achieved, what has prevented us from reaching the goal, and what has instead brought us closer.
Without going too far into the specifics so as to remain simple, you need to know that there are metrics, called KPIs ( Key Performance Indicators ), which allow you to better analyze the results achieved and thus optimize your strategy.
Eliminate what doesn't bring results, optimize what works, and set new goals for yourself. And so on, from goal to goal, until your personal and professional success is achieved.
Best Digital Marketing Strategies – Final Thoughts
Did you get this far? Well, thank you!
It's been a rather intense article.
Now it's your turn: you have to roll up your sleeves and start implementing all these digital marketing strategies to achieve your goals.
And if you have any questions, suggestions, or want to add something, feel free to write me in the comments below this article.
To your success!
S