Among the many email marketing platforms on the market, one of my favorite ones is undoubtedly GetResponse, a tool that goes beyond the classic auto-responder since it is a real all-in-one marketing platform.
Apart from creating automatic emails, with GetResponse you can create real sales funnels, monitor your e-commerce in detail, recover abandoned carts but also do webinars or paid advertisements.
A truly incredible tool that I have already implemented in some of my projects and that I will probably implement soon in this blog as well.
So if you have a blog, an e-commerce website, or a social community that follows you, GetResponse can really be the tool that will make a difference in your business.
And in this guide, I want to introduce it to you and show you its features so that you can evaluate if it is the tool you are looking for.
Let's begin!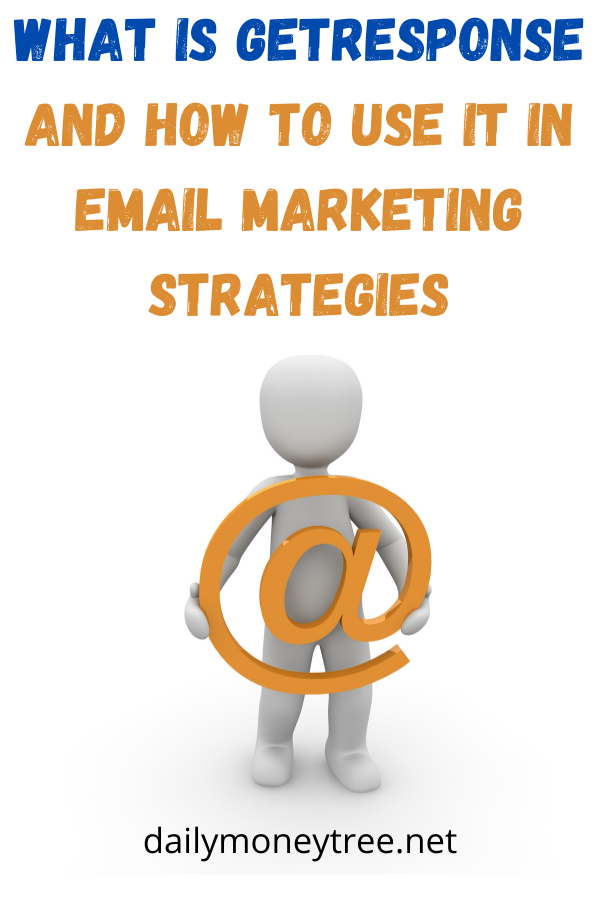 What is GetResponse for?
Creating a mailing list is one of the most important things for a blog.
The reason is simple: it's the only traffic you own.
In fact, if Facebook, Instagram, or Twitter ceased to exist tomorrow, or if your website went down, your contact list is the only thing you have left. This is why it is important to create one right away.
GetResponse was born just like an email marketing tool. Said in the simplest (and simplistic) way possible, it is a tool for creating a contact list and sending emails to them.
Over time, however, its features have increased dramatically, and GetResponse became an all-in-one marketing platform, through which you can not only send emails but also make an in-depth analysis of the user journey, i.e. the path that a user takes. from when it enters your blog until the final purchase (and beyond).
When it comes to email marketing, it is therefore very important to choose the most effective tool. In spite of what many marketers claim, email marketing is not dead at all (on the contrary, I would say that it's alive and kicking).
To give you a concrete example, almost 80% of the income I produce with my blog comes from emails. This is why they say that the money is in the list.
A solid list of email contacts, especially a targeted one, is in fact still a great way to monetize a blog.
It is therefore clear that choosing the best email marketing tool is not only important for sending your daily, weekly or monthly newsletters but above all to analyze data and results in order to constantly optimize your work.
And GetResponse is a tool that helps you achieve precisely these results. So let's see what its main features are and how to use them.
>>> Joins GetResponse and receive a €25.00 credit <<<
What is GetResponse and what are its main features
As mentioned before, the number of GetResponse's features has increased year after year. Here are all its main ones and how to use them.
Email marketing
The main function of GetResponse is – naturally – to send emails.
You can send a single email to your entire contact list, for example, to notify them of a promotion, or create a sequence of emails that are automatically sent.
But how do automatic emails work? I'll give you a practical example.
If you download my "Traffic Wildfire Bundle", you will automatically become part of my subscriber's list. Then, when there is an offer, a promotion, or a course, that I think is valuable, you will receive emails every day for a certain number of days.
Obviously, I do not do it manually but I have set the autoresponder so that when the checklist is downloaded, the first and subsequent emails start automatically after 24 hours.
This can be created quite easily by going to the top menu and clicking on Create> Create autoresponder.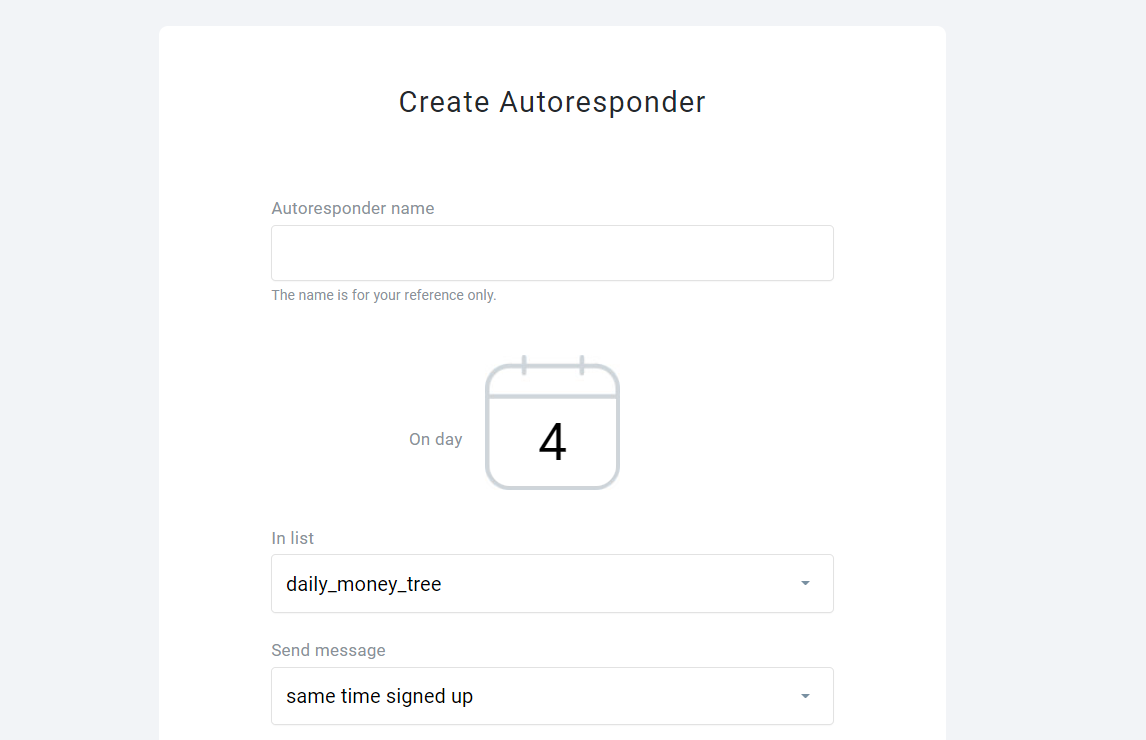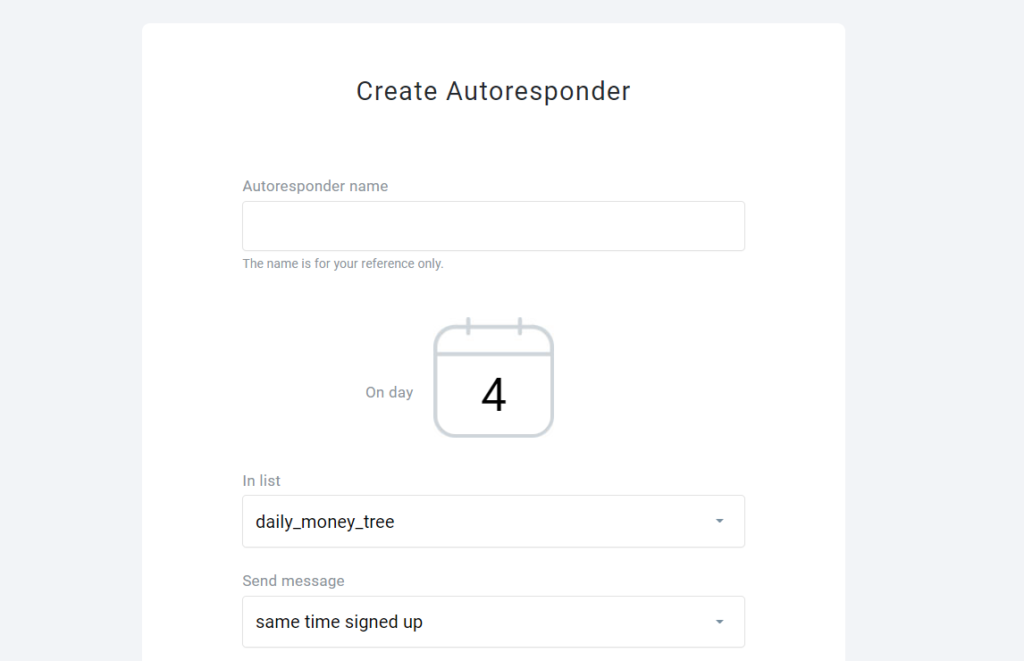 Then, depending on if you decide to create your email from scratch or use one of the ready-made templates, you go on and create engaging emails very easily with a drop-down system.
Another interesting feature of GetResponse is that of being able to create customized segments by assigning tags and scores based on the behavior of the contacts, in order to always be able to understand "who is on the other side" and therefore always send the right content. to the right person.
You can also deliver emails based on your users' preferred time thanks to a feature called Perfect Timing, which analyzes when will your subscribers most likely open your emails.
>>> Joins GetResponse and receive a €25.00 credit <<<
Landing page
Another feature of GetResponse is the ability to create highly personalized landing pages, capable of capturing attention, converting traffic into leads and leads into buyers.
As in the case of emails, even with landing pages, you can decide whether to create an email starting from a blank page or use one of the many templates already in the GetResponse archives.
The most exciting thing about GetResponse landing pages is the ability to create A / B tests. Through the A / B test you can create two identical pages that differ in particular detail. It could be the header, the color of a button, the landing text … whatever you wish.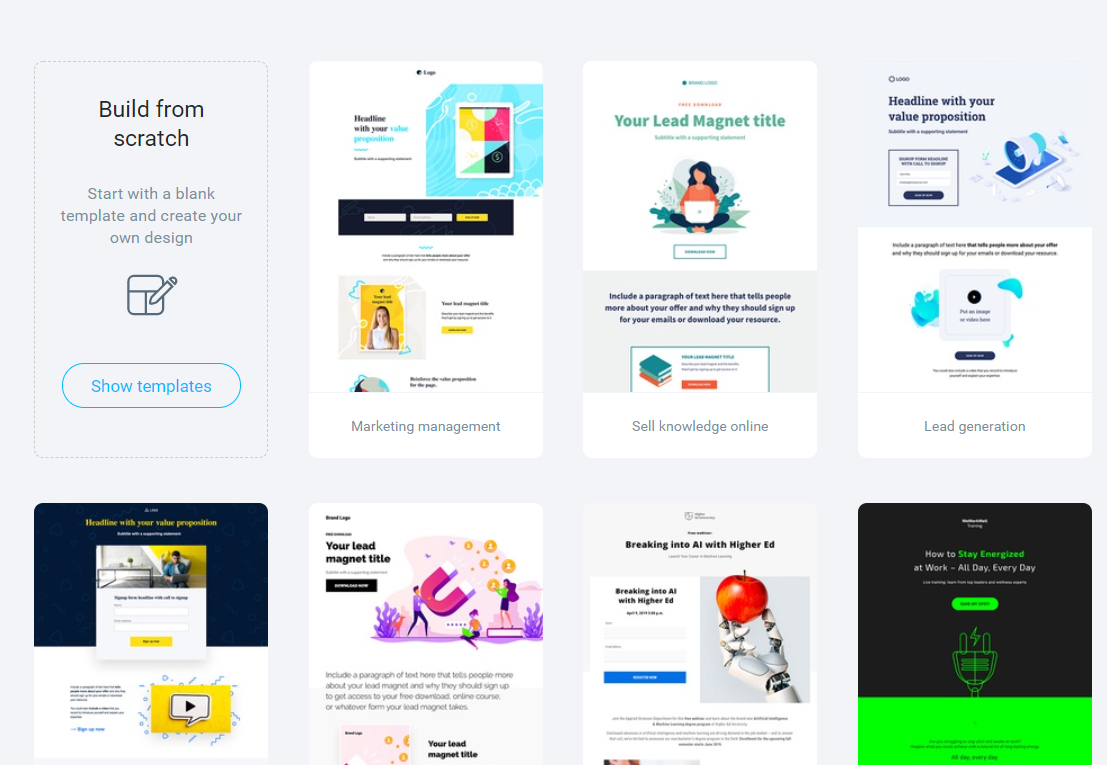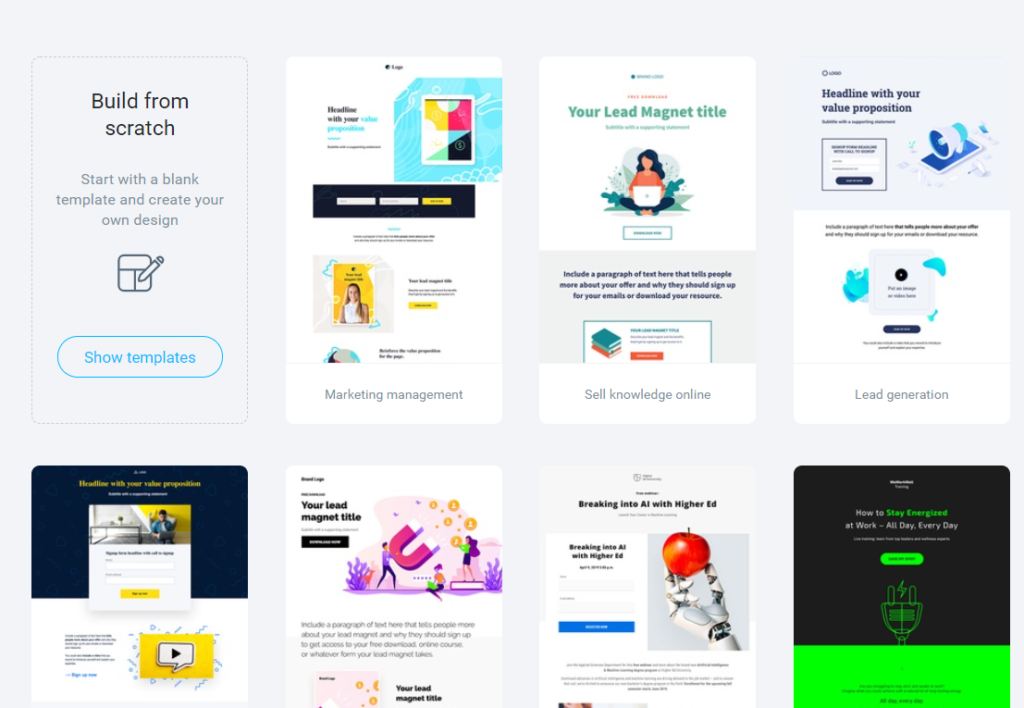 By launching the A / B test, both pages will be displayed to users and at the end of the test, you will be shown the winning page, which is the one that gets the most clicks or conversions.
This way you can make sure you're always optimizing your results, based on your goals.
On the landing page, you can insert texts, images, GIFs but also popup windows and forms, as well as the possibility of inserting a timer with a countdown, in order to offer a sense of urgency and incentivize them to click or buy.
Marketing automation
Through Marketing Automation you can create a real path for your users based on their interests and behaviors.
Based on their actions, in fact, you can assign a tag or move them to another branch of the path. Therefore, if a user often clicks on a certain product category, clicks a specific link, or adds items to the cart but does not complete the purchase, you can send specific emails.
This way, each user will always receive the most relevant message based on their position in the sales funnel so that your emails are always relevant.
Here are some Marketing Automation examples you can create.
Nurturing. You can create a welcome email, start a conversation with your users, tell your story, present your products and promote your offers
Recommend the most suitable products. Automation records user preferences and sends personalized product recommendations based on their purchase history
Recover lost sales. You can send reminders to customers to remind them to finish purchasing the products left in the cart
Behavioral Targeting. You can track and rate user actions on your website, landing pages and messages to send more relevant emails or assign them to specific segments.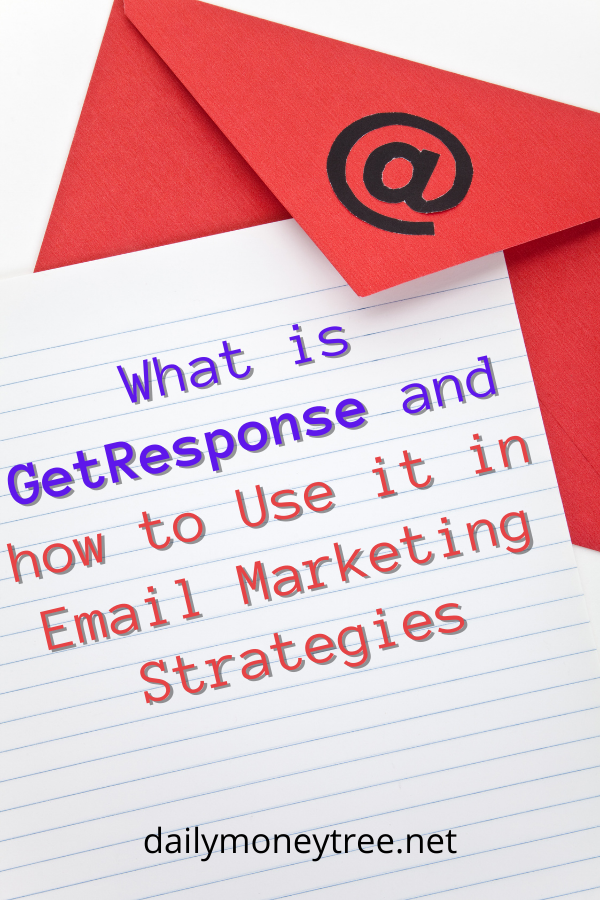 Conversion funnel
Another feature of GetResponse that fascinated me is the conversion funnel, a feature that allows you to create automated structured paths with the aim of transforming leads into customers.
You can use dozens of ready-made funnels to acquire new leads (lead funnels), possibly through the use of a lead magnet, but also create a sales funnel or webinar funnel through which you can distribute your free or paid webinars.
Webinar
Webinars are a really powerful tool because they allow you to really offer great value to your users and have much higher conversion rates than many other sales techniques.
Through a webinar you can talk about an interesting topic for your niche, tell a case study, or present a new product service, giving your users the opportunity to buy directly online.
There are numerous platforms for doing webinars, the most famous and probably one of the best is EverWebinar.
But if you want to keep costs down, then through GetResponse you can also create both live and on-demand webinars and create special funnels to promote your webinar, collect payments for access or invite you to purchase a product or service in the following days.
Creating a new webinar is super easy. Just go to the GetResponse menu and click on Webinar.
From here you can choose whether to launch a live webinar, an evergreen webinar that users can watch at a certain point in their path, or recall, edit or delete previous webinars.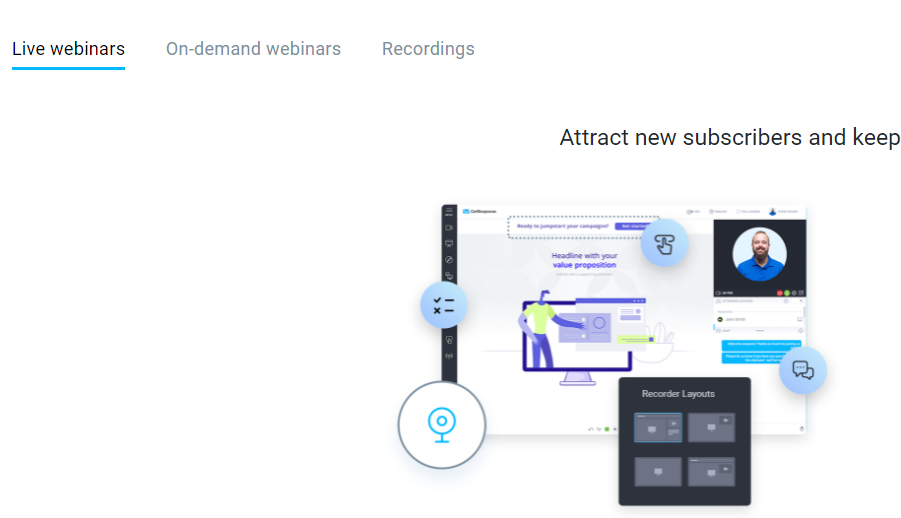 With GetResponse you can:
organize unlimited webinars
collect payments before accessing if it is a paid webinar
create webinars with up to 1,000 attendees
add more speakers
save up to 20 hours of recording
customize the webinar URL
share your pc screen, perfect for lessons and tutorials
add a call to action button
launch polls
analyze all the data and results obtained, in order to constantly optimize your work.
>>> Joins GetResponse and receive a €25.00 credit <<<
GetResponse Integrations
You can integrate GetResponse with over 100 third-party tools: analytics tools, social media, CRM, CMS, and e-commerce so that your entire structure is perfectly aligned.
How much does GetResponse cost?
GetResponse can be used for free for 30 days, after which you will need to choose one of the paid plans.
There are 4 plans that are paid based on the size of your list:
The difference between the plans is in the number of features available. If you're starting out and still have a small list, the BASIC plan is more than enough to get you started.
You can still upgrade or downgrade at any time if you should need different features.
Why choose GetResponse
As you can see, what fascinated me about GetResponse is the fact that it is not just a simple email marketing tool but a real all-in-one marketing tool.
So here is my (very personal) list of PROs and CONS:
PRO
✅ It has a large number of features
✅ It has a low price compared to other email marketing platforms
✅ It has a 30-day free trial, during which you can try the tool and decide if it is suitable for our business
✅ Customer support is active in chat 24 hours a day
✅ The provisions in accordance with the GDPR are integrated
✅ It can be integrated with numerous tools.
CONS
❌ Not all features are available with the basic plan
❌ It is quite intuitive but you have to "dive into it"
What is GetResponse Website Builder?
The GetResponse Website builder is a recent feature that allows you (you guessed it) to build your own websites.
As I mentioned above, GetResponse is growing year by year, and adding new amazing features, and this is one of them.
Whatever your goal is; to show off your creativity, promote your services, sell products, or create a community, the Website Builder is an easy-to-use tool that allows you to do just that.
You can start with a template and design your site, or you can let GetResponse know exactly what you need, and the integrated smart builder will create a site for you.
>>> Joins GetResponse and receive a €25.00 credit <<<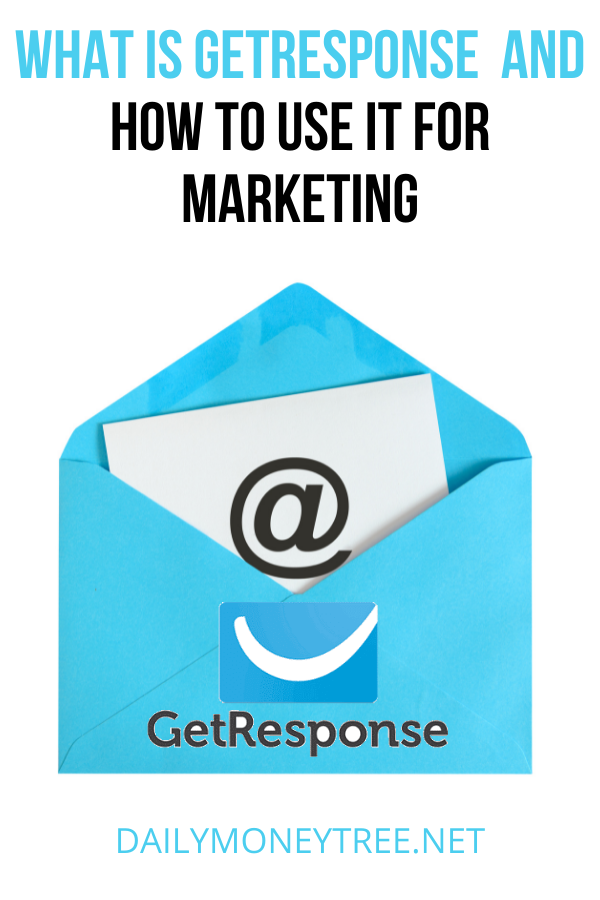 What is GetResponse and how to Use it in Email Marketing Strategies – Conclusion
What is Getresponse? Getresponse is the most complete, beginner-friendly, and budget-friendly email marketing tool out there.
The vast number of awesome features and the low price make it my absolute favorite.
I hope this guide has shed some light on GetResponse features.
My advice, however, is to create an account and start using it for free so that you can test for yourself if GetResponse is really the tool for you.
To your success!
S