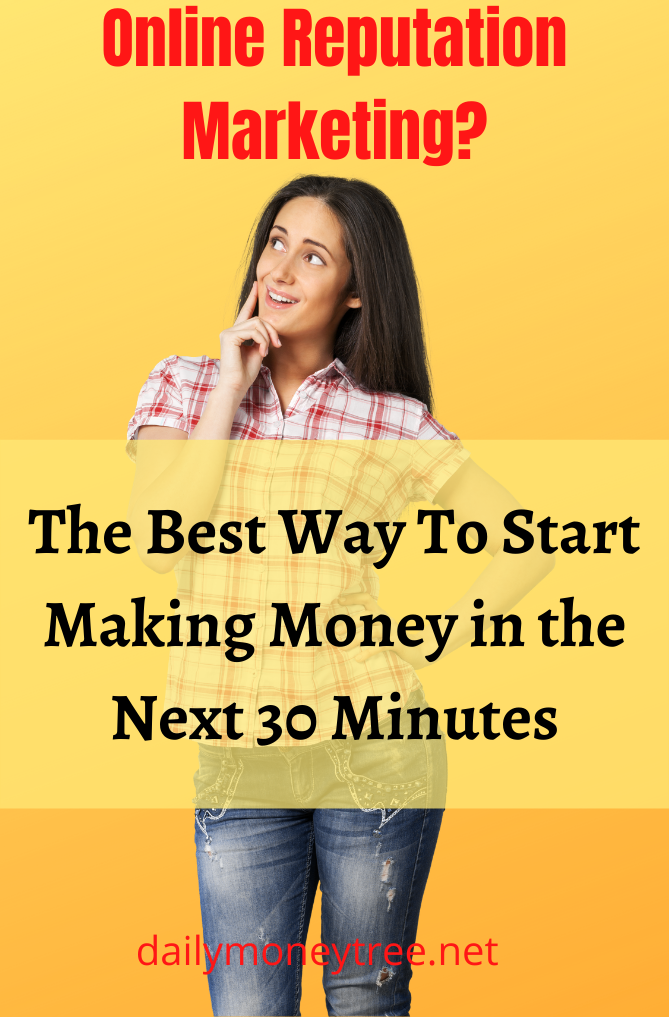 What the Heck is Reputation Marketing?
Maybe you still haven't heard of Online Reputation Marketing, but if you own an online marketing agency, or you're a business owner, I'm sure you heard of Online Reputation Management. Online reputation management is a fairly common strategy used to cancel the effect of bad reviews and removing them in a way that you leave only positive reviews at the top for people to see.
So, what is reputation management and how is it different from reputation marketing?
Reputation management is reactive and is used as a remedial activity (sort of damage control) after bad reviews start affecting your business in a negative way. Reputation marketing is a proactive strategy with the aim of creating as many new reviews as possible and a method that uses both good and bad reviews and transforms them into a marketing asset of the business.
How Exactly Does This Work?
Reviews are not only important because of the people that read them, your prospects. There is also a SEO factor involved. In fact, Google will give advantage to a business with more good reviews over a business with poor reviews in terms of ranking. Furthermore, Google's algorithm will rank better the businesses with a greater number of reviews even if they have a lesser overall reputation score. Last, but not least, Google will give advantage to businesses that have a greater number of recent reviews.
Related SEO articles:
How did Google come up with this algorithm? Simple, by looking at consumer stats.
97% of people on the internet aged 17 – 34 read online reviews to judge a business.
92% of ALL online users read reviews.
84% of customers trust online reviews as recommendations from a personal friend.
85% of customers think that reviews older than 3 months are not relevant
When you look at the numbers, it's clear that a HUUUGE portion of consumers on the internet (we're talking hundreds of millions of people) consider online reviews as highly important. Google is just giving the audience what they ask for.
Furthermore, online reviews are social proof of how good or bad your business is. It may sound exaggerated, but every business is 1 review away from getting a bad rep and loosing tons of money.
Now, how do you transform reputation marketing into a powerful asset of your business, and how do you use it exactly?
Most business owners do not answer online reviews. Some because they just don't have the time, others because they frankly don't know how to reply. The ones that do reply, do so with a general, unenthusiastic tone when it comes to positive reviews…" thank you so much", "we appreciate your support", we are happy to have you as a customer", etc.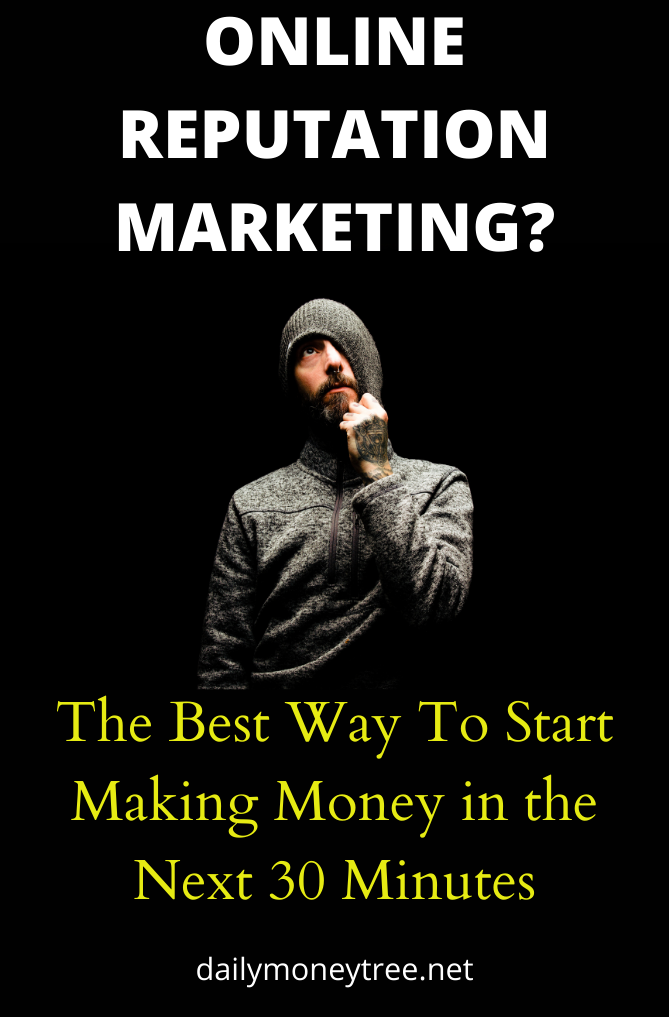 The Right Way and Wrong Way to Do Online Reputation Marketing
When it comes to negative reviews most people answer and engage directly with the person who has written a review. Very often it comes down to a debate, stating that the reviewer got it wrong, or it's not the company's fault.
This way of replying is the wrong way and is downright unprofessional. We must all remember the old golden rule: "the customer is always right". You must remember that you are answering reviews not for the people that wrote them, but for the people who will read them in the future. Let this really sink in…NOT FOR THE PEOPLE WHO WROTE THE REVIEW, BUT FOR THE PEOPLE THAT WILL READ IT DOWN THE ROAD.
That's Reputation Marketing. You are using your reviews to talk to the people that are reading them. And this goes for both positive and negative reviews.
For example, to answer to a good review I would say something like this: "Thank you so much John, for your support. As our valued customer we would like to give you a 15% discount on all of our services you decide to purchase in the future. We will send the coupon to your inbox that you can use whenever you want". Do you see how this is speaking to the people that will read my reviews? They will instantly form an opinion about the customer experience being great. They will see that I take my business to the next level by being personal with my clients and rewarding their loyalty.
You could even run a special offer campaign through your reviews by letting people know that you're launching a new product or service next week, and anyone with a coupon code (that they'll find on your website or FB page) will get a special launch discount. That way you can even get more visitors and traffic.
How Online Reputation Works in Real Life
It's a little different with negative reviews. What I'm about to tell you is a true story that my old boss and mentor David told me. David had been doing reputation management for many years and had a very successful marketing agency in the U.S. This was the breaking point when he realized how he could change the whole concept of reputation management and make it a marketing strategy.
David and his wife Linda were preparing for a business trip to Savannah, Georgia, and they were looking for a hotel to stay in. David had asked Linda to find the hotel. When Linda informed David that she made reservations, David went online to check out the hotel. He was surprised that the hotel had a 4.0 reputation score and 2 negative reviews in their top ten on Google.
David asked Linda why she choose that specific hotel, when there were 2 clear examples of unhappy guests. Linda then replied: "Read what the owner replied back." The first negative review was a complaint about other guests being too loud during the night. Clearly, it's not a quality of service issue, and it was not really the owner's fault if the guests misbehaved. Nevertheless, the owner had taken the responsibility on himself. He apologized, said that he would make sure to fix the issue by having a more active night-time manager, and offered a free stay in the hotel to the dissatisfied guest.
Linda just commented: "Yes, it's true they had a couple of bad reviews, but if some problem turn up, I know this guy is going to take care of it.
Instead of trying to explain that it wasn't the hotel's fault if some guests get too loud, that they had asked the troublemakers to keep it down several times, that he was not around the hotel at that time of night, the owner politely apologized and took ownership of the bad experience, and, ultimately offered a redemption. He came across as extremely professional and customer experience focused.
When I heard this story, that was the big "Aha" moment for me. Aside the statistics and consumer behavior analysis, it's just common sense and logic. Every single company, no matter what the size, niche, should be engaging and responding to reviews every day.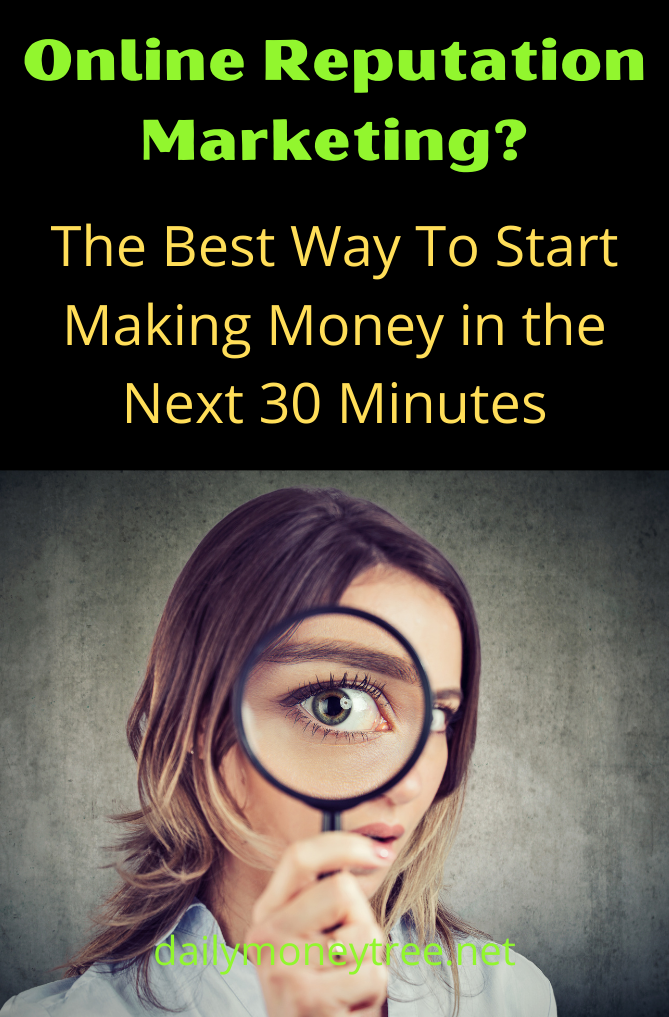 You can Start Providing Online Reputation Marketing as a Service for Businesses in the Next 30 Minutes
If you're a business owner, start doing reputation marketing today. If your problem is getting more reviews, the best and easiest way to get your customers to write a review on your website or Google My Business profile is ….to simply ask for one. That's right. Most of your satisfied clients will be more than happy to leave a review for your business. They will be glad to give back something if they had a positive experience, and they will feel important to be asked. Include a link in your email signature, advertise reviews on your social media platforms or plain ask them in person.
If, on the other hand, you are an online marketer and looking for a way to start making some money online each month, offer this service to small or medium businesses that need it. Start in your area. You could charge up to $100 – $200 / month to actively respond to and grow the number of reviews.
Either way, whether you're a business owner or an internet marketer looking for a source of income, I will give you the tools you need to get started.
Subscribe to our contact page, and I will send you a spreadsheet with template responses to both negative and positive reviews. I'll go even beyond that and give you the first 50 contacts for businesses that need your service, for any location and niche you choose.
Just Sign in and write Reputation Marketing in the message box and I will get back to you as soon as possible.
I hope you enjoyed this article and feel free to share it to your friends.
Thank you and stay safe
S
Online Reputation Marketing FAQ
What is Reputation Marketing?
Reputation marketing is a marketing strategy that consists of using your company's reputation to market your business to new prospects. It's the process of leveraging positive brand content to use your reputation as a promotional asset.
What is Brand Reputation?
Brand reputation is simply how a brand  is viewed by everyone else. A great brand reputation shows clients are happy with your brand and they trust you to do business with you.
Why are online reviews important?
Online reviews are not only important in terms of your credibility and building relationship with your customers, but they can have a significant SEO impact, and help your ranking.
How are online reviews helpful?
A very high percentage of customers ALWAYS consults reviews before making a decision to buy or engage with a business. Online reviews are social proof of how good or bad your business is.
Why do people read reviews?
People read reviews because they help them make a decision whether to buy a product or service based on previous clients' experience with a company.
What is the difference between Reputation Management and Reputation Marketing?
Reputation Management is a reactive strategy for companies to "save face" after getting negative reviews. Reputation Marketing is a PROACTIVE method used to create a greater number of reviews which are then used to promote the company through reviews engagement regardless of whether the reviews are positive or negative.